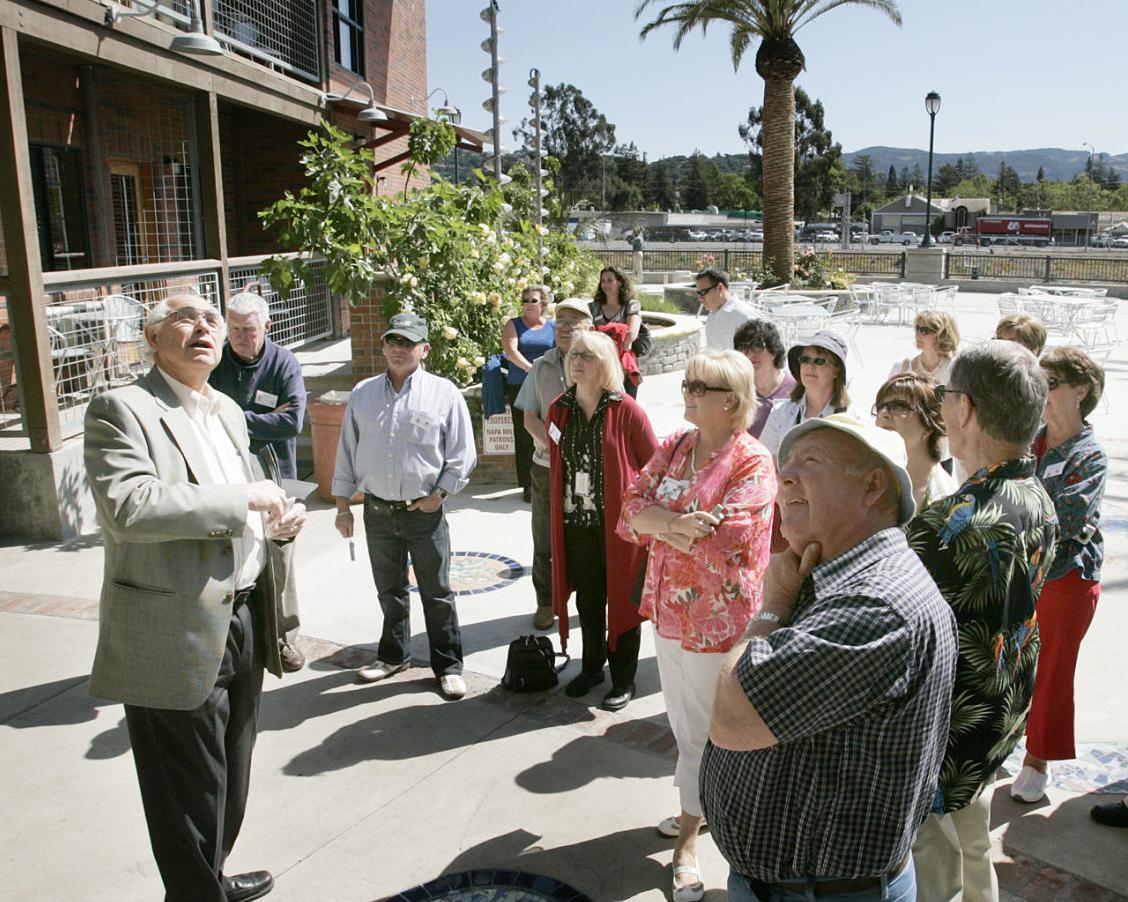 A longtime developer and patron of the arts who helped reshape much of downtown Napa will be posthumously honored by organizers of the city's Art Walk exhibit.
The sixth edition of the Art Walk, which is beginning its two-year cycle this month, will be dedicated to the memory of Harry T. Price, city Recreation Manager Katrina Gregory announced to the City Council on Tuesday. Price, who led the transformation of the Historic Napa Mill into a tony hotel-retail block and the creation of Napa Square on downtown Franklin Street, died in February at age 77.
A history buff and a longtime warehouse and industrial park developer, Price purchased a then-deteriorating Napa Mill property at the south end of Main Street, then led an effort starting in 1995 to transform it into a tourist hub centered on the Napa River Inn. Napa Mill's art centerpiece is a fountain mosaic illustrating the city's history.
The reborn Historic Napa Mill was one of the first jolts of energy to attract a growing tide of visitors to a once-sleepy downtown – a downtown whose busiest streets became a rotating outdoor gallery with the debut of the Art Walk in 2010.
The Napa River promenade near the Napa Mill also became home to an early star of the Art Walk. Fish On, a giant metal likeness of a largemouth bass snatching a frog, was moved to the walkway beside the development in 2015 after a successful two-year run at the inaugural Art Walk, which ended in the exhibit's first People's Choice award.
Sculptures and installations for the latest Art Walk began going on display in June, featuring the work of eight artists based in the western U.S. The exhibit, which will receive its formal introduction at a July 30 ceremony, will remain until until mid-2021, culminating in a People's Choice contest to select viewers' favorite piece.
Brochures containing maps of the new exhibition, arranged on the theme "Sense of Place," will be provided at various downtown hotels, businesses and the Napa Valley Welcome Center at 600 Main St.
Get local news delivered to your inbox!
Subscribe to our Daily Headlines newsletter.