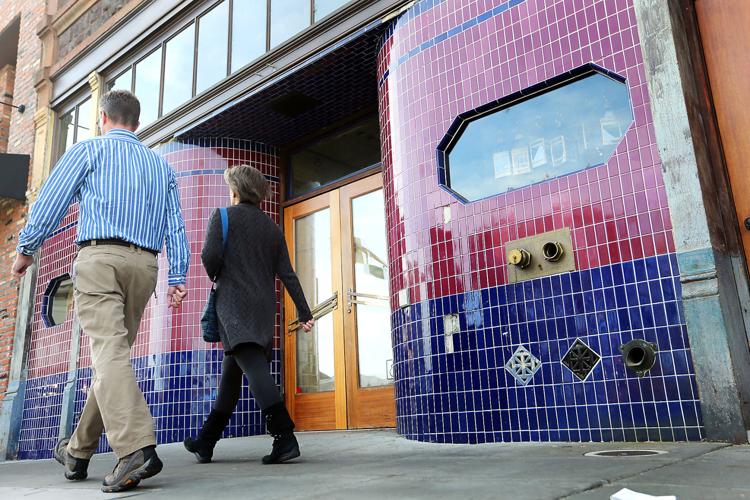 For decades, the building that once housed Fagiani's bar has presented two old and contrasting faces to passers-by in downtown Napa.
Thursday night, the city's historic preservation leaders voted to keep the older one.
The owner of the early 20th century landmark at 813 Main St. has been cleared to begin a throwback overhaul that will peel away the bands of blue and maroon ceramic that have been wrapped across its first-floor exterior since Nicola Fagiani opened his namesake tavern there in 1945.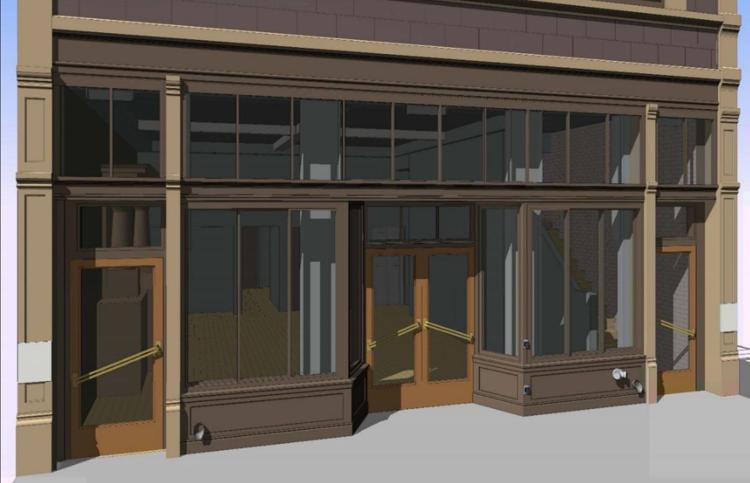 In their place will return wooden paneling and broad, sliding plate windows inspired by the building's appearance when it opened around 1908. The Cultural Heritage Commission approved this option in a unanimous 4-0 vote.
The third floor is to receive a metal trellis with a retractable fabric awning.
It was an easygoing and low-key coda to a debate that had sharply divided Napans seven years ago, when the Fagiani site's then-owner battled city officials for the right to keep the ceramic cladding – a fight that inspired "FREE FAGIANI'S" and "SAVE THE TILES" buttons in a fight against what the tiles' backers called city overreach.
By contrast, a mere half-dozen people were on hand in the City Hall chamber to watch the acceptance of owner Joe Wagner's back-to-the-past makeover, which required a certificate of appropriateness from the commission because of the building's place on Napa's inventory of historic resources.
A more authentic look – and a design with more light, air and connection to a now-thriving downtown – is needed to give a future restaurant a fighting chance in a space where two other eateries failed in four years, according to Kevin Alfaro, spokesman for Wagner, the owner of Copper Cane Wines and Provisions.
"It didn't lend itself for public gatherings other than as a bar, and we wanted something that was more than a bar," said Alfaro. Wagner purchased the property in February 2016.
A new eatery is planned for the Fagiani's building, according to Alfaro, with construction scheduled to start in the late winter and completion expected in August.
Fagiani's surviving look will be the one penned by its original architect William Corbett, who designed a two-story Main Street façade in Renaissance Revival style. Corbett's vision lives on in its second floor, but the building came to be defined, for many observers, by the Art Moderne-style tile cladding it wore during nearly four decades as Fagiani's bar.
The tiled envelope remained part of the downtown streetscape even after Fagiani's closure in the aftermath of the July 1974 stabbing murder of the founder's daughter Anita Andrews within its walls. (Roy Melanson, who already was serving a lifetime prison sentence for a slaying in Colorado, was convicted of killing Andrews in 2011.)
The storefront remained empty until the developer Steve Hasty bought it from Andrews' surviving relatives in 2007. He persuaded the City Council to overturn a Planning Commission veto on keeping its tile-clad exterior.
A restaurant, The Thomas, opened it in 2012 but closed after three years. Its successor, Ninebark, also shut down in July 2016 just nine months after its debut.
Whatever attachments Napans may have to the distinctive tiling, a change of vision is needed for a modern eatery to succeed there, according to Naomi Miroglio, the Oakland architect partnering with Wagner. "Two good restaurants failed in this location, and we need to look at our objectives in reusing this location," she told commissioners.
City staff also supported the move to an unmistakably early 20th-century identity for Fagiani's. Earlier, senior planner Karlo Felix had described the later tiling as "not an exemplary specimen" and notable only for its connection to the Fagiani family, rather than as outstanding design in itself.
Fagiani's present-day image may not disappear completely, however. A pair of commemorative plaques are planned for the outer pillars of the storefront, and Miroglio said one or both can carry the image of the building as it appeared in the tavern's heyday.
Even while complimenting the Fagiani building's new-old appearance to come, Commissioner Beverly Shotwell asked Napans to respect what the landmark had once been.
"There are hundreds of people in this town who appreciated the tile, in that it incorporated different designs and eras into an older building," she said. "I don't think you can say the tiles are not a good thing, because that's a matter of opinion. I think the tiles were and are super-cool."
"It's time for it to become something else, but there was a time when it had to be this way."