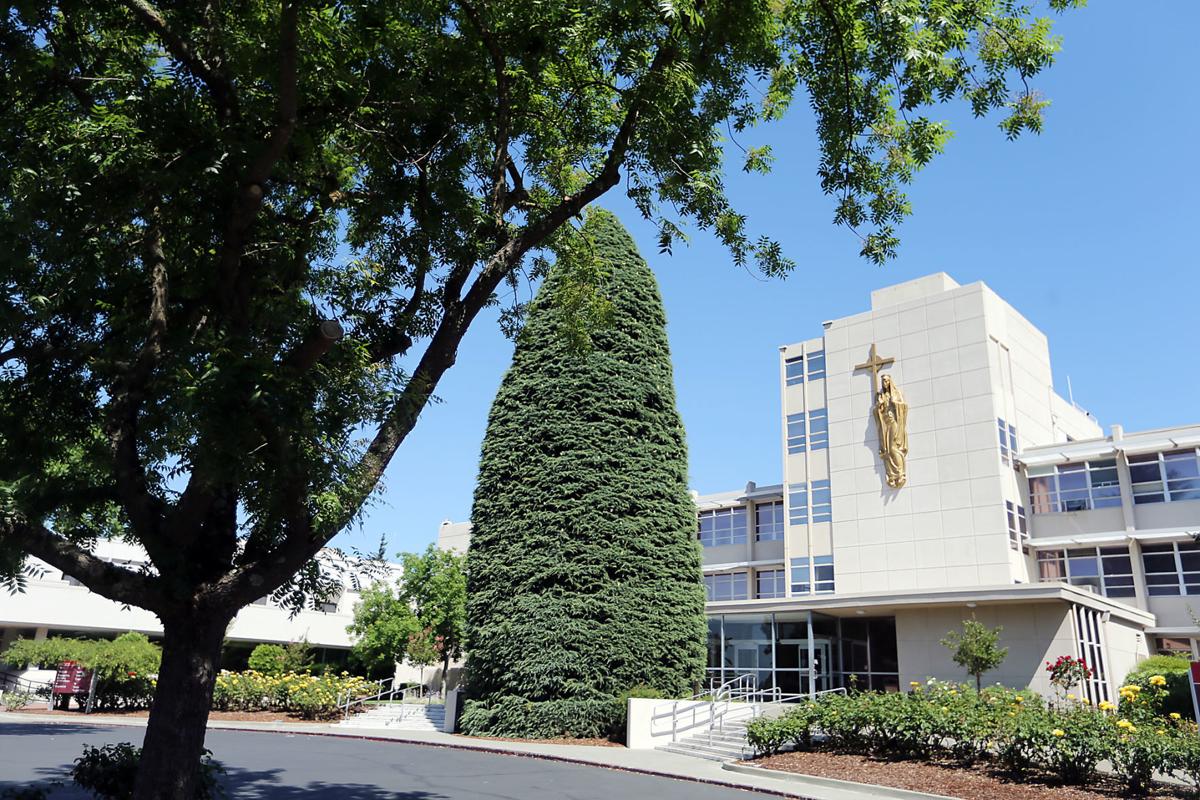 Health officials said the Napa community should not be apprehensive following Tuesday's news that one confirmed coronavirus patient and another suspected patient — both transfers from Travis Air Force Base — are being treated at Queen of the Valley Medical Center in Napa.
Both patients had been under quarantine for two weeks aboard the Diamond Princess cruise ship in Japan before being evacuated with other Americans to West Coast facilities. In addition to sending two patients to the Queen, Travis sent five more to Solano County hospitals.
Napans shouldn't be afraid of getting the coronavirus, said representatives from the Napa County public health department, Queen of the Valley and the Centers for Disease Control and Prevention.
"I want to allay fears in the community," Dr. Amy Herold, the Queen's chief medical officer, said Thursday morning. The hospital is equipped and trained to handle such treatment, she said.
"It's scary and I get it," the medical doctor said in an interview. "When you look at the news, it looks terrifying." But the hospitals in China where the coronavirus was first identified were completely overwhelmed, she said. That's not happening in Napa.
"The safety of our patients and caregivers is our top priority and we are following contact and airborne isolation precautions that all our caregivers have been trained on," Herold said earlier.
"The risk to the Napa County community is very low," Jason McDonald, spokesman for the CDC in Atlanta, told the Register on Wednesday.
Fearing coronavirus
Herold said she understands why people might fear the virus or the fact that a patient is being treated in Napa.
"It's an evolving disease and people are learning about it as they go," said Herold. "Any time there is uncertainly or something new people are always afraid."
As of Thursday, the virus is reported to have killed more than 2,000 people worldwide — the vast majority in China — and infected over 75,000.
"We're a hospital," Herold said. "We don't get to choose the types of illness that walks in the door. We take care of people that need our help. This is what we do."
As with any patient, "we are committed to providing personalized and compassionate care, while at the same time minimizing any potential for transmission," said Herold.
And "it's scary to our caregivers too," she acknowledged.
In fact, "We asked our caregivers, 'Is anyone willing to take care of these patients?' We had brave nurses and doctors step up and I'm really proud of them."
This is what doctors and caregivers devote their careers to, Herold said. So when she reads comments on social media such as "(I) hope the doctors catch" the coronavirus, "my heart breaks a little bit," she said. "It's tough."
Some Napa residents have questioned whether the Queen is the best place for someone with such a feared virus.
Herold offered reassurance, saying, "Our caregivers are well prepared; they have received training and have practiced for these scenarios." Also, "We are working closely with the CDC, Napa County Public Health, the California Department of Public Health and following all established protocols."
Queen of the Valley has "board-certified infectious disease physician specialists who are available around the clock and are part of our patient care team," Herold said.
The Queen patients under federal quarantine for possible coronavirus, also called COVID-2019, are staying in specialized negative pressure isolation rooms, Napa County Public Health Officer Karen Relucio said in a statement. "Their movement is restricted to remaining in the room and they are not engaged in tourism in the Napa Valley."
All healthcare workers taking care of these two patients are wearing full personal protective equipment, said Relucio.
"The number of healthcare workers assigned to them are minimal and the Queen of the Valley and Public Health are working together to ensure that healthcare workers who are taking care of potential coronavirus patients are using their personal protective equipment correctly," said Relucio.
Who are these two patients?
Herold said that due to patient privacy rules, the Queen could not say much about the patients or course of treatment.
However, they are both American citizens, said Herold, which is why they were brought to the U.S. from a cruise ship in Japan.
According to the Seattle Times, one of those two Napa patients is Marianne Obenchain of Olympia, Washington, who has been confirmed to have the COVID-19 virus.
In an interview with a Seattle TV station, KING5, Obenchain, 59, said, "When I found out, I just thought back, 'Well, you know I haven't shown any symptoms yet, so I'm still doing good,' so I'm not going to complain."
While it is a surprise to many that a coronavirus patient would end up in Napa, the Queen was already preparing for such an instance, said Herold.
During the height of the Ebola virus crisis, "we were a designated Ebola facility," prepared to accept such patients, Herold said.
"In January, we began proactively screening for potential cases of coronavirus, using a series of criteria including recent travel history, as part of our efforts to ensure the safety of our patients, caregivers and visitors," said Herold.
The Queen has a screening system in its electronic health record to help identify patients at risk for this infection "and if we receive a patient with a travel history and symptoms suggestive of coronavirus, we follow the CDC's infection control recommendations," said Herold.
Those include: patient isolation, distribution of appropriate personal protective equipment for caregivers and patients and implementation of environmental infection-control measures, such as negative pressure isolation rooms.
When the patients arrived at the Queen on Monday, "They did not go to the ER," said Herold. "They were not in common areas. They were held in an ambulance. They came in isolation and went straight to negative pressure rooms."
The Queen's certified infection preventionist was present. The California Department of Public Health also observed, said Herold.
"We've had two board-certified infectious disease doctors involved in their care from the beginning," she said.
"We made sure everything was done appropriately from the very second they got there."
Living in quarantine
The small rooms that each patient is now "living" in are specially designed to keep disease from spreading.
These are the same rooms that patients with diseases such as measles or tuberculosis would stay in, Herold noted.
Within the negative air pressure rooms, the air is filtered and does not go through the rest of the hospital, Herold explained.
The patients have to stay in the rooms but don't have to stay in bed. They can wear normal clothes and read, watch TV, use cellphones and laptops. "We try and make them as comfortable as possible," Herold said.
"They're not in jail. They're in isolation. These people are patients, they're not prisoners."
"They are human beings" who have been kept from their own homes and lives for weeks now, she noted.
Herold said the hospital does not post signs on entry doors alerting visitors that coronavirus patients are being cared for inside.
"I don't do that when there's other patients" that have other viruses being treated at the Queen, she said. "We're keeping our care consistent and we're also respecting the dignity of the patients."
Caring for these two patients "doesn't affect any of our hospital operations," said Herold. "We're business as usual."
"I'm incredibly proud of our team of caregivers here taking care of everyone in the hospital so professionally."