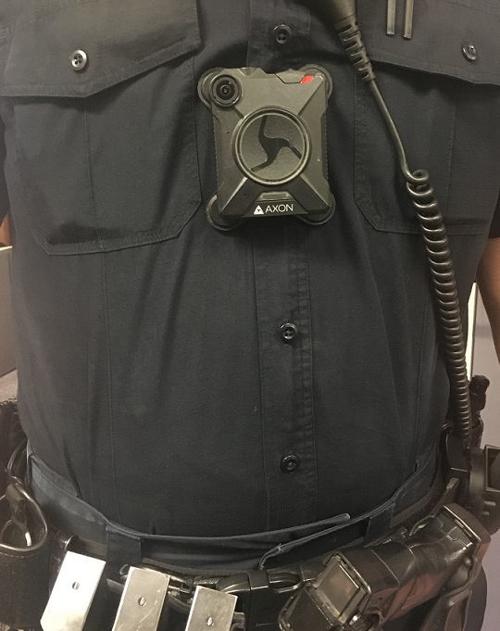 When a Napa Police officer goes on patrol, a third eye will soon be watching.
Years in the making, a system of body-worn video cameras and digital evidence storage won the City Council's approval Tuesday night. A five-year, $572,069 contract with the Arizona-based Axon company will equip about 80 police officers with the pocket-size cameras, which can be worn on the chest or shoulder, by November or December, Police Chief Robert Plummer said after the unanimous vote at City Hall.
Police officials have called the move to in-the-field video a way to increase the accountability of law enforcement officers while building trust with Napa residents. In an August interview with the Napa Valley Register, Sgt. Kristofer Jenny said one goal of the camera rollout is to encourage police to behave "as if your mom was with you on a ride-along."
The St. Helena Police Department also will start using body cameras this year, probably within a few weeks, joining a national trend of law enforcement using technology to record its interactions with the public.
As soon as the equipment arrives, St. Helena's 13 sworn officers will manually turn on the cameras every time they interact with a member of the public, said Lt. Chris Hartley.
"Even if it's just a little old lady who needs help crossing the street, that camera will be on," he said.
In Napa, the palm-size devices – 4 by 3 inches and weighing 5 ounces – will capture video of officers' interactions with suspects and other people, and come with desktop docks to transmit their footage into a cloud-based network for storing police evidence. Battery life is sufficient to power each camera for a full shift of 10 to 12 hours, Plummer said.
Axon-made camera units come either in a version mounted to a chest bracket or in a design mounted on the shoulder. A chest-type version demonstrated Tuesday featured a large central pushbutton to switch video on and off, with a lens mounted in the corner.
A wireless Bluetooth connection lets an officer view videos and photos captured by the camera on a police-issued smartphone, but the phone does not store any footage, according to Axon spokesperson Bob Dillon. A special phone app allows the addition of notes and metadata to help the department keep track of evidence and any requests for it.
Officers can tag videos with case and state penal code numbers, but will not be able to erase or redact anything from the cameras, said Plummer.
Equally as important as the video devices is the network that will capture and safeguard it, according to Plummer, who took the helm of Napa Police in late July. An Axon-operated and password-protected website, Evidence.com, stores the footage, and the company hires so-called white-hat hackers four times a year to check its system for online intrusions and security flaws, Dillon told councilmembers.
"The equipment is not where the cost comes in; the cost comes in storing the evidence," said Plummer, who served 27 years in the Las Vegas Metropolitan Police Department and helped guide that agency's adoption of body cameras starting in 2012.
Napa's selection of Axon equipment followed trials that ran from December to May, and the police department recorded more than 2,300 videos totaling 305 hours during testing, according to the city.
Body-mounted cameras were first adopted by Napa traffic officers several years ago in hopes of refuting complaints about traffic stops, according to Jenny, who has said the footage can be used for training officers in handling critical situations.
As Napa officers prepare to wear cameras on their rounds, the resulting increase in video evidence is expected to come with a greater time demand on those investigating alleged crimes.
Napa County District Attorney Allison Haley has said that even a routine drunken-driving case could involve viewing five to 10 hours of footage. Jenny, of Napa Police, estimated a high-profile case like an officer-involved shooting could involve as many as 40 cameras producing a few hundred hours of video – a quantity requiring several days to watch in full.