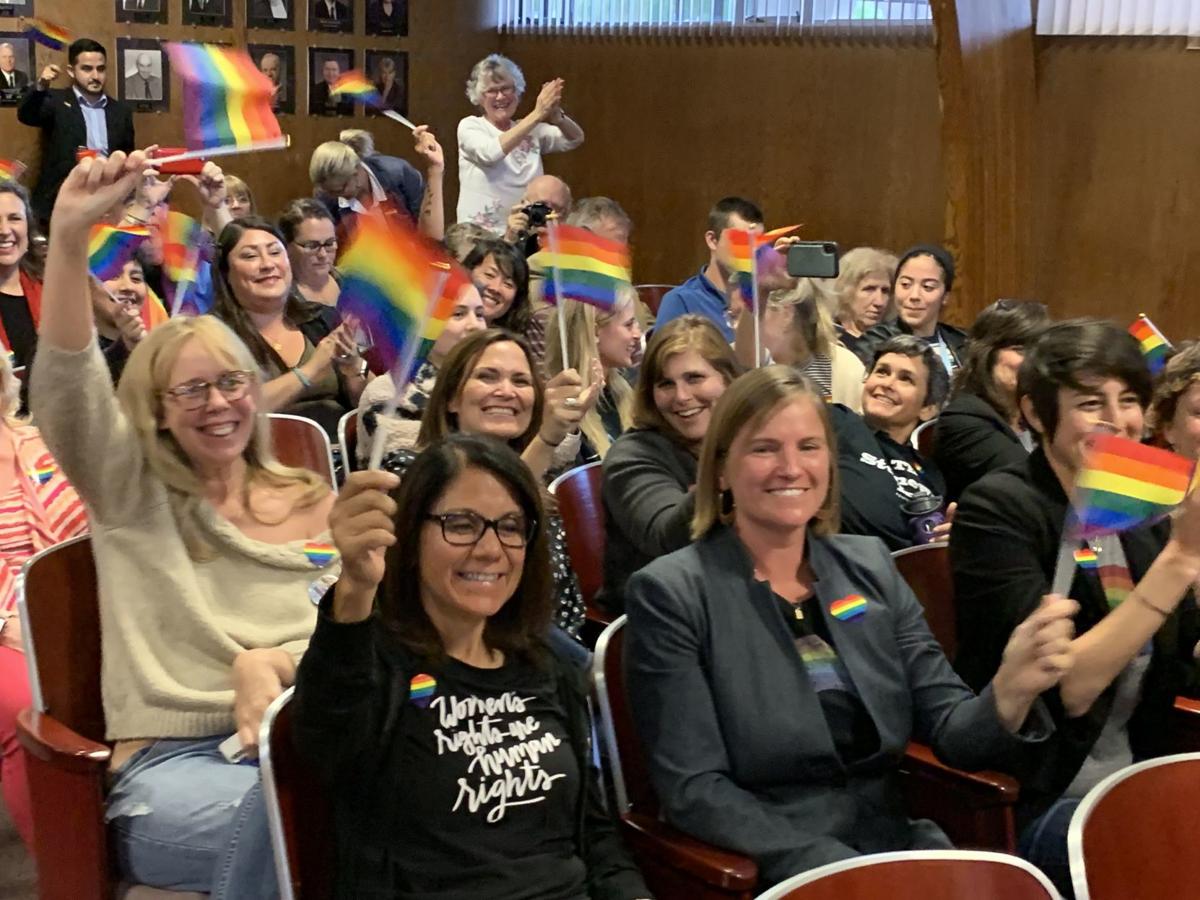 The somber mood in City Hall was momentarily lifted last week when council voted unanimously to commemorate June as Pride Month during which it would raise the rainbow flag to declare Napa's official and public support of the LGBTQ community.
"With all the sadness and difficulty, when I saw this on the agenda, it was uplifting," Councilman Scott Sedgley said of the council's recent focus on addressing immediate needs caused by coronavirus.
Though the multicolored flag flew outside government headquarters last year for the first time in Napa history, last Tuesday's decision by the City Council made it "official city sentiment" in accordance with the ordinance passed in September providing an approval procedure for ceremonial, non-governmental flags.
"This is not just a symbol. It's powerful and it says here in Napa we are an inclusive community," Councilwoman Mary Luros said before the vote.
Pride Month originated from the Stonewall Uprising in New York City in June 1969, when a police raid on a gay bar ultimately resulted in fiery riots and violence between law enforcement, residents and patrons.
June has since been the time of year when LGBTQ individuals celebrate their identity in the form of global Pride parades and demonstrations, both identifying the strides that have come in their fight for equal rights and calling out the areas where governments and societies continue to fall short.
The rainbow-striped flag has symbolized the LGBTQ-rights movement since 1978, when artist and activist Gilbert Baker created the eight-color banner (it's now been reduced to six) as a show of solidarity for the San Francisco gay community, a vanguard in nationwide efforts to secure equality. It was first flown during the city's Gay Pride Parade that year.
Celebratory pride events all over the world, including Napa Valley LGBTQ Pride, scheduled to take place next month have been cancelled due to social distancing guidelines. But Napa's own LGBTQ community, which has struggled historically to secure formal gestures of support from City Hall, will celebrate the raising of the flag and declaration of Pride month as a sign of official solidarity.
"I can assure you as a closeted Napa resident for many years that this makes a difference. This matters," Beth Nelson from Rainbow Action Network, a design project of First 5 Napa County aimed at increasing visibility, support, safety and connection for LGBTQ community members, said during last Tuesday's public comment period.
In 2013, over 1,000 people signed an online petition calling for the rainbow flag to be raised, but council members ultimately didn't vote on the measure. They instead opted to team with local merchants to declare a 10-day Pride Week downtown during which rainbow banners were hung from lamp posts.
The fight reached a crescendo last May, when activists and advocates organized a campaign in under one month to request City Council approve an ordinance allowing the rainbow flag to fly outside City Hall in June. Two weeks later, Council gave it the green light in a 4-1 vote.
The rainbow flag flew on City Hall's single pole, below the American flag on top and the state flag in the middle.
Then-Councilwoman (now Vice Mayor) Doris Gentry was the only dissenting vote. She voiced support for LGBTQ residents, but questioned how the city could equitably decide what non-governmental flags should be displayed at the seat of government.
"What will our policy be for other groups to fly other flags? Do we fly a Democratic flag or a Republican flag? Planned Parenthood? Pro-life? Gun rights? No flag represents every person, except the flag of the United States of America. Any (other) flag will have some people who love it and some people who don't," she said at last year's public hearing.
The procedural concern prompted staff to craft a proposal for a new flag arrangement that would allow for the unfurling of other ceremonial flags deemed emblematic of recognized city positions.
Three flagpoles will soon sit side-by-side above a landscaped area in front of City Hall's east steps. The Stars and Stripes fly on the original central mast and the new poles, to the right and left of it and 5-feet shorter, carry the state flag and any non-governmental banner like the rainbow flag.
Funding for the fresh layout has been delayed, in part due to budget cuts spurred by COVID-19.
Raising a ceremonial flag requires a council member to ask for a resolution specifying the message and dates, limited to a period "reasonably related" to a specific event. Only one banner of the sort can be flown at a time.
Napa's LGBTQ flag, provided by Rainbow Action Network, will be the first to fly in accordance with the new procedure.
"I do not think I will ever forget delivering the city flag," Nelson said, adding the flag will "continue to serve as a marker of peace," even as global festivities for Pride Month are forced to cancel.
Near tears, Councilwoman Liz Alessio recalled last year's emotional public hearings, saying she was proud of the feat council achieved alongside advocates for the LGBTQ community.
"We stepped up and made it right," she said.
Get local news delivered to your inbox!
Subscribe to our Daily Headlines newsletter.