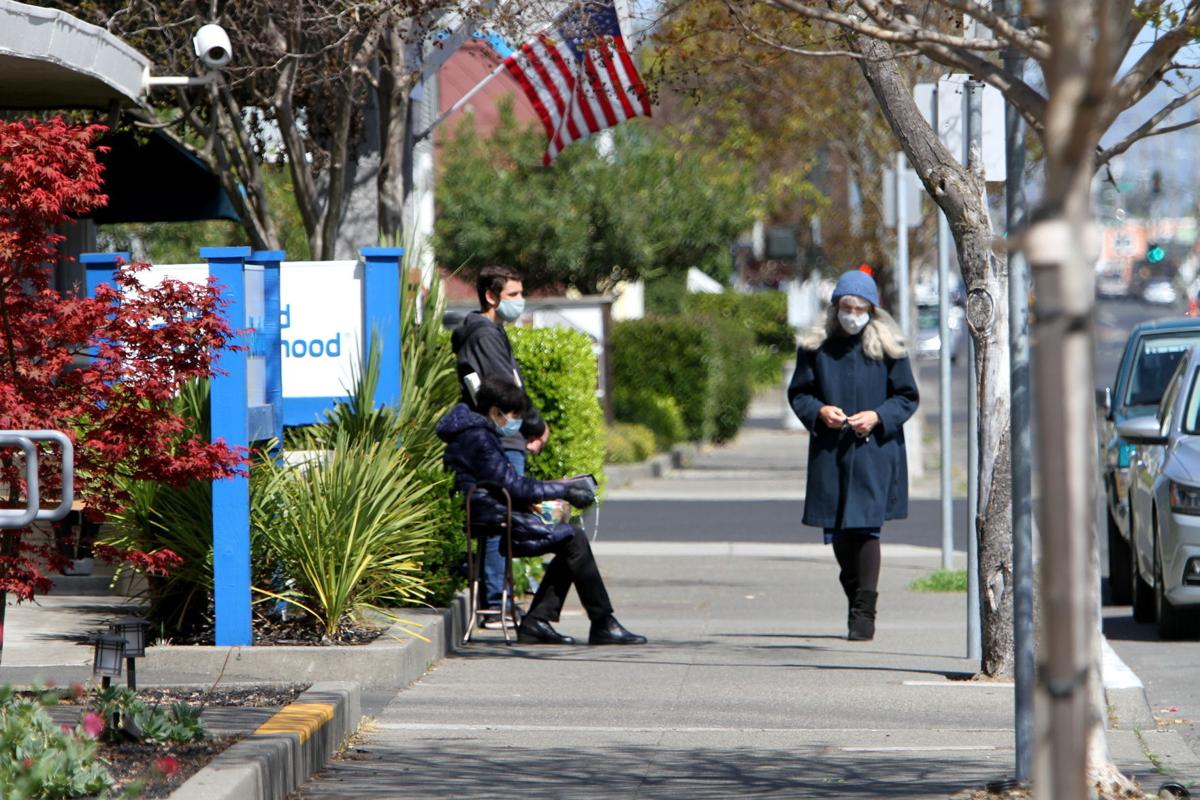 An ordinance passed by the Napa City Council will prohibit people near the city's Planned Parenthood center from using amplified sound, shouting, obstructing passage, or following visitors against their will near the building's entrance – a move embraced by supporters as valuable protection against harassment from anti-abortion protesters, but condemned by local abortion opponents as crimping their free-speech rights.
The ordinance, which sets a buffer within 30 feet of the clinic entrance at 1735 Jefferson St., was supported by all five council members in the first of its two required votes. It would take effect 30 days after passing a second vote expected on April 20.
The decision came eight months after staff and volunteers with the local branch of Planned Parenthood Northern California urged the council to support a protective zone near the building, where the nearby sidewalk has for more than a decade been the site of demonstrations calling for an end to abortion, including a local branch of the nationwide, twice-yearly 40 Days for Life campaign.
Opponents have kept up a daily presence outside the clinic for the 40-day periods each spring and fall, although the Napa branch does not list surgical abortions among the services provided. (RU-486 abortion pills and "morning-after" contraception are offered in Napa, according to the Planned Parenthood website.)
Support local news coverage and the people who report it by subscribing to the Napa Valley Register.
While the ordinance would not ban protests or vigils inside the 30-foot buffer, it would block protesters from "harassment" within the area from one hour before a reproductive health clinic's opening to one hour after it closes.
Harassment would be defined as moving closer than 8 feet to a person who states he or she does not want to be approached; following a person in a way causing "a reasonable person to fear bodily harm" to oneself, another person or to property; shouting at a person; intentionally touching a person without permission; making violent or threatening gestures; or blocking the safe passage of pedestrians or vehicles.
The ordinance also prohibits shouting and amplified sound up to 50 feet from a reproductive clinic's property line.
To create such a buffer, a clinic would send a written request to Napa Police, and the city would measure the zone and post boundary signs within 14 days. The city ordinance provides for a range of enforcement measures, ranging from a police dispersal order to civil action by a clinic to a misdemeanor charge.
About a dozen people telephoned the council and more than 130 people weighed in by email in support of either Planned Parenthood or abortion opponents before the council vote, drawing sharply different pictures about the nature of the protests outside the clinic.
Planned Parenthood volunteers, clients and allies called the step necessary to protect against harassment by demonstrators, while 40 Days for Life participants denied any misconduct and said they limit their actions to prayer, polite greetings and passing out literature opposing abortion and urging pregnant women to find other options.
Vigil organizers deny harassment
Several vigil organizers and members called the reported number of police department calls to the Jefferson Street clinic – about 90 since 2016, according to Napa Police – irrelevant, saying none has resulted in criminal convictions for abortion opponents.
Others cited former Napa Police Chief Robert Plummer's statement in August that existing laws – such as a city ordinance against placing objects to obstruct sidewalk access, and a state law forbidding interference with someone entering a reproductive health center – can govern the actions of protesters.
"Every time I've been at Planned Parenthood, when police respond to a call they assess the situation, and they've found none of us in violation of any law," said Dominic Figueroa, a local 40 Days for Life organizer. "This ordinance is making its case from the number of police calls when in reality there have been no actual violations of the law as written. It's because we haven't been violating the law, and we're committed to being a peaceful presence at the clinic."
Most of the police calls involving the Napa Planned Parenthood building have involved complaints of people blocking the clinic entrance and sidewalk as well as allegations of verbal harassment and threats, City Manager Steve Potter, a former Napa Police chief, wrote last week.
The council received emails urging the creation of the safe zone, saying protests disturb not only women seeking reproductive health services but others – including lower-income residents with few options – arriving for cancer screenings and other procedures unrelated to pregnancy.
Napa resident Carol Barge described escorting patients into the Napa center past abortion opponents insistently pushing brochures toward her, while Carol Whichard suggested expanding the buffer around clinic entrances further, to 50 feet.
"People are shouting 'How far along is your pregnancy?' when they're coming in for a cancer screening," said Cheryl Fiedler, who called the protests a hindrance to those seeking a range of medical services.
"It's nobody's business why a patient is there, except for the patient and the clinician. … Planned Parenthood does so much more for the community than the one issue the protesters focus on."
Councilmembers comment
Before voting in favor of the ordinance, Vice Mayor Liz Alessio recounted a 40-minute visit on Monday to the Planned Parenthood building to meet the clinic director. During a five-minute period, she said, abortion opponents contacted a young couple and two individuals, one of whom put her head down and extended an arm to avoid contact with a demonstrator. A woman wearing medical scrubs also attempted to pass pamphlets to the couple before they finally entered the clinic, she added.
"I let the couple in and asked how it made them feel," said Alessio. "The woman said, 'I didn't know what she was talking about, but I just wanted to get in and go.' She felt intimidated."
"I learned we need to do more," Alessio said of the visit. "Somebody called and asked me why we need to do this; that 40-minute experience gave me a lot of reasons to do it. Clearly, there is intimidation, confusion, manipulation, blocking, and frightening people. There's a lot of direct and passive-aggressiveness in terms of blocking people from health services, which is just not right."
Demonstrators who describe themselves as non-threatening to clinic visitors must learn to see their encounters from the visitors' point of view, according to Councilmember Beth Painter, who has previously served on Napa Planned Parenthood's board of advocates.
"We've learned a lot this year about perspectives and discrimination," she said. "Someone may not feel they're shaming an individual, when in fact they really are. You have to look at life through the lens of another individual; to shame someone who's just trying to access a health care facility is just wrong."
Responding to 40 Days participants criticizing a buffer as undermining their rights to free speech and assembly, councilmembers framed the rule as a way to protect public safety.
"Everyone has the right to peacefully assemble and this law does not prohibit that," said Luros. "Protesters say their intent is not to harass or intimidate, try to be as peaceful as possible. We don't say you can't give info or peacefully pray. We just ask you take a few steps back and not harass or yell at people."
"… It's not enough just for protesters to be respectful; this has become a safety issue. It's simply not OK to interfere with access to health care."
"To me, this is a public safety issue, which is within the city's constitutional authority to address," said Bernie Narvaez, who described himself as personally knowing "people on both sides of the issue." "I'm concerned for both sides, to prevent people not just from being intimidated, but from being physically hurt."
"I think this is a great compromise, a great solution to let the party that's protesting to continue to protest, but to do it at a safe distance," said Mayor Scott Sedgley. "It's the right thing to do."
WATCH NOW: COVID-19 VACCINATION AT NAPA'S CIA AT COPIA
PHOTOS: NAPA VALLEY NEWS IN PICTURES FOR MARCH
Catch up on Napa County's top news stories