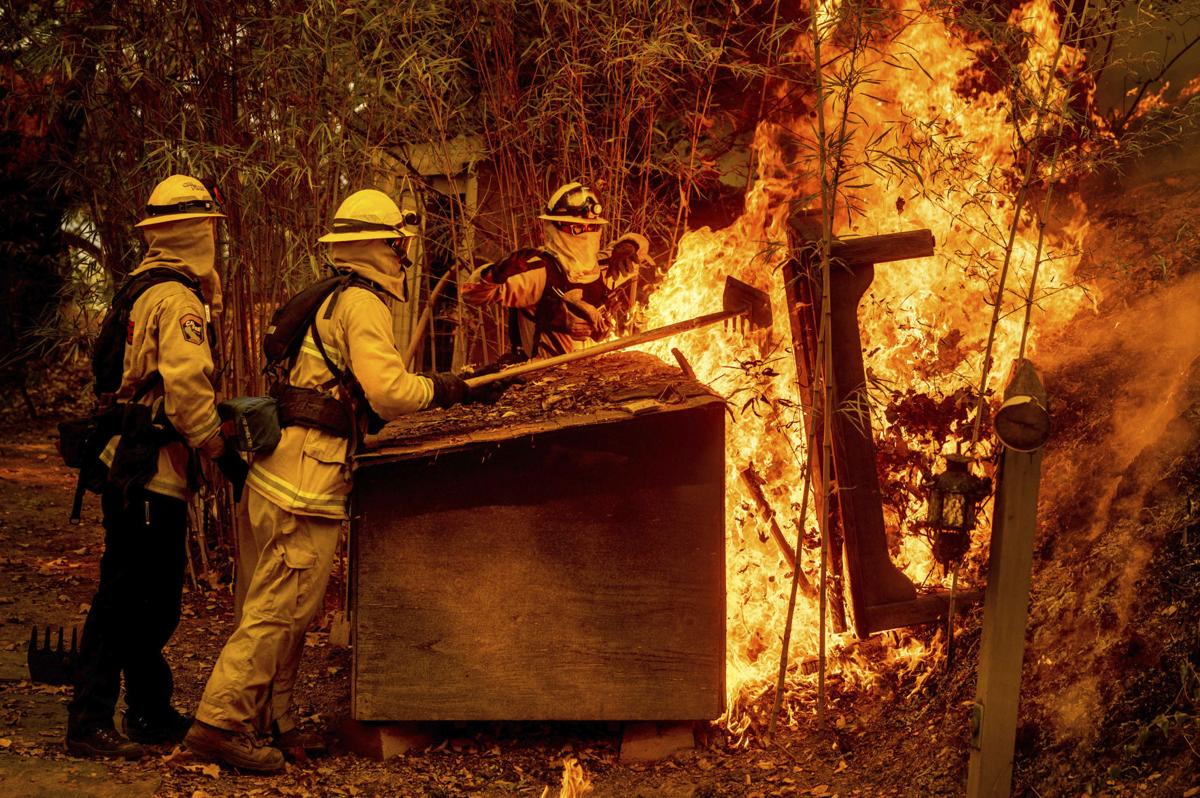 Napa County authorities have a short and succinct motto for those who need to know whether to evacuate or keep watch during future emergencies: Know Your Zone.
An evacuation mapping system rolled out by the Sheriff's Office divides the county into more than 250 numbered zones that can be targeted for alerts about wildfires and other threats to life or property.
Operated by the San Francisco software company Zonehaven and previously adopted by Sonoma, Marin, and other California counties, the zone-based alert system is intended to more rapidly and precisely target public safety announcements during disasters, and reduce confusion about which areas are under the most immediate threat.
Support local news coverage and the people who report it by subscribing to the Napa Valley Register. Special offer: $1 for your first 6 months!
Napa County has added a Know Your Zone page to the Sheriff's Office website, where users can type in addresses and find the zone number for their home or business. Emergency alerts made on social media and other platforms will mention which zones are under orders or advisories, according to Undersheriff Jon Crawford of the Sheriff's Office.
"We will get the word out so that it takes 30 seconds, a minute tops, to go to the Sheriff's Office page, where there will be a Know Your Zone button taking people to the Zonehaven portal – they enter their address and it takes them to where their zone is," he said during a Thursday interview. "That way when (authorities) issue a message, there is no confusion."
Zones will cover segments of Napa County's five municipalities as well as unincorporated communities like Angwin, Lake Berryessa, Pope Valley, and Oakville. Boundaries are based on a Zonehaven algorithm that takes into account the fire history of various areas as well as population density, with cities split into more parcels than unincorporated areas of similar size, Crawford said.
Napa Valley Community Foundation donates funds to purchase public warning system. 
Napa County will continue issuing alerts through the Nixle text notification system and various social media accounts, he added. In addition to wildfires, the mapping system will help to target announcements about power outages, floods, hazardous material spills, and post-fire debris flows.
Grant funding will cover Napa County's costs for five years of Zonehaven service, with the Gordon and Betty Moore Foundation of Palo Alto contributing $84,370 and the Napa Valley Community Foundation offering $112,500.
Momentum to take up Zonehaven mapping picked up last fall during the battle against the Glass Fire that erupted Sept. 27 and scorched swaths of the Upvalley, according to Crawford. Napa County personnel based at the fire's Santa Rosa command center saw the cloud-based system in action, as Sonoma County officials used it to quickly convey information about the fire's progress from first responders to agencies and then to the public into zones that were "like ZIP codes but smaller," he said.
Currently, local fire and law enforcement agencies issue alerts that define evacuation areas using compass points and referring to highways and roads that form their rough boundaries, a practice Crawford said leaves many residents uncertain about whether their homes and properties really are in immediate danger.
"Right now we list roads as borders of evacuation zones and you have to imagine, 'OK, do I fall within that big area?'" he said. "Many times we have people saying they didn't understand the order, or they weren't clear about how to respond to those warnings. We want to improve our communications so they're more clear."
Come the next wildfire season, Calistoga will be better prepared with state-of-the-art, highly detailed digital wildfire maps and response plans.
Zonehaven, which already had mapped Napa County territory, offered local authorities a trial run, which public safety agencies used internally to guide road and power crews as well as the repopulation of areas cleared out during the wildfire, according to Crawford.
In addition to pushing out evacuation warnings to residents and first responders as they happen, the platform assists agencies in making decisions about when to evacuate areas.
Zonehaven monitors road traffic in real-time, assists in creating traffic control points, and marks potential evacuation centers based on the flow of people leaving various zones, the Community Foundation said in an announcement earlier this month. The software also allows incident commanders at a wildfire to help guide the modeling of its potential spread.
In Calistoga, the Zonehaven platform will be coordinated with a new set of digital wildfire maps the city commissioned from Colorado-based Anchor Point to improve local fire response. The Calistoga-area charts, which show potential fire paths based on a site's fuel level, will inform firefighters in real-time without the need to wait on reports from Cal Fire or other agencies.
Napa County will promote the zone-based alert system at meetings of city councils and the Board of Supervisors, and a public-service video about the system is being prepared for social media, Crawford said. Another promotion being considered is the issuing of evacuation tags for homeowners to place on their mailboxes to inform public safety workers of their departure ahead of a disaster – but with QR codes added to take users directly to the county's Know Your Zone page by scanning the code with a smartphone camera.
Crawford was scheduled to speak about Zonehaven in a radio interview Friday, and said a Spanish-language outreach about the system is planned later in the year.
Announcements also will continue to use references to roads and directions as the zone system is publicized, partly for the benefit of visitors unfamiliar with the system, but Crawford described the new setup as an important tool in a time when drought and higher temperatures have placed the Napa Valley under increasing threat.
"This is just another step forward in improving our response, our resilience as a community, in the event we have another fire or another disaster where we have evacuations," he said. "We're hoping we'll be that much more prepared this year."
Napa's Burning Problem: A Napa Valley Register series taking an in-depth look at Napa County's vulnerability to wildfires
The Napa Valley Register takes an in-depth look at Napa County's vulnerability to wildfires in this four-part series.