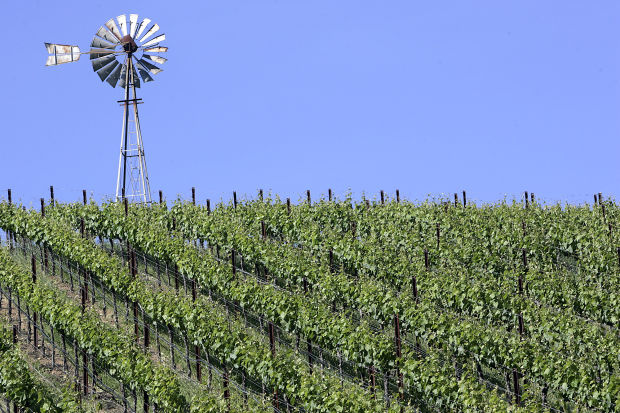 Napa County's record-breaking agricultural production value in 2018 topped a billion dollars for the first time, and as usual, it was almost all about grapes.
Total agricultural production value rose 37.8 percent from 2017, which also set a record. Wine grapes value accounted for 99 percent of the grand total.
To be exact, the agricultural production value was $1,043,192,400 in 2018, compared to $757,115,100 in 2017.
"A huge number," Agricultural Commissioner Humberto Izquierdo said.
The billion-dollar total came as a surprise, Izquierdo said. He attributed it to a 29.6 percent rise in grape production and 6.7 percent rise in the average price paid for Napa County grapes compared to the previous year.
Weather played a role. The newly released agricultural crop report said last summer had an absence of heat spikes that have characterized recent seasons.
"It is important to note the figures provided here are gross values and do not represent net profit or loss experienced by individual growers or the industry as a whole," the agricultural report said.
Napa County's agricultural production value is far from a state record, with counties such as Kern and Tulare having multi-billion values. But Napa County achieved most of its value with only 43,365 acres of harvested grapes. Kern County in recent years has topped $7 billion with more than 550,000 acres of crops ranging from oranges to pistachios to carrots.
"When you talk about wine grapes creating economic value of over a billion dollars, yet that's only 9 percent of the land covering Napa County," county Supervisor Alfredo Pedroza said.
The county Board of Supervisors on Tuesday heard a presentation on the 2018 crop report.
"That kind of economic value in other places looks far different in buildings and pavement," Board chairperson Ryan Gregory said. "Here, it's beautiful open space."
The county's 43,365 acres of grapes harvested was down 219 acres from 2017. But the harvest yielded 3.98 tons per acre, up from 3.13 tons per acre.
Cabernet Sauvignon, Chardonnay and Merlot led the way. These three varieties accounted for 73 percent of all production and 82 percent of total grape value.
Statistics for Cabernet Sauvignon are 21,747 acres, 89,097 tons and a price of $7,925 per ton. Chardonnay came in at 5,900 acres, 29,874 tons and $2,917 per ton. Merlot came in at 4,154 acres, 16,459 tons and $3,760 per ton.
Not every crop value went up. Olives saw tonnage fall from 321 in 2017 to 51 in 2018. Producing acres fell from 133 to 88 and the dollar value from $520,300 to $104,300.
Izquierdo said the favorable weather conditions for grapes hurt olives.
The value of the vegetable crop fell from $249,900 to $170,500. Twenty-four acres were harvested, compared to 25 acres the previous year.
Livestock and poultry saw values fall from $4.1 million in 2017 to $3 million in 2018. Field crops such as hay saw values rise from $493,400 to $539,200. Floral and nursery crops saw values rise from $651,700 to $704,500.
Now that Napa County has shattered the billion dollar mark for the first time, the question is whether it can do so again in coming years. Did 2018 establish a new normal or was it a rare convergence of weather and economic conditions?
Izquierdo made no predictions, but referred to past trends.
"It will go up for a number of years, and go down a little and then it will go back up," he said.
In 2014, the county set a then-record value of $724 million. The value fell to $553 in 2015, with county officials blaming the weather. It then rose to a new record of $737 million in 2016 and $757 million in 2017.
Get local news delivered to your inbox!
Subscribe to our Daily Headlines newsletter.