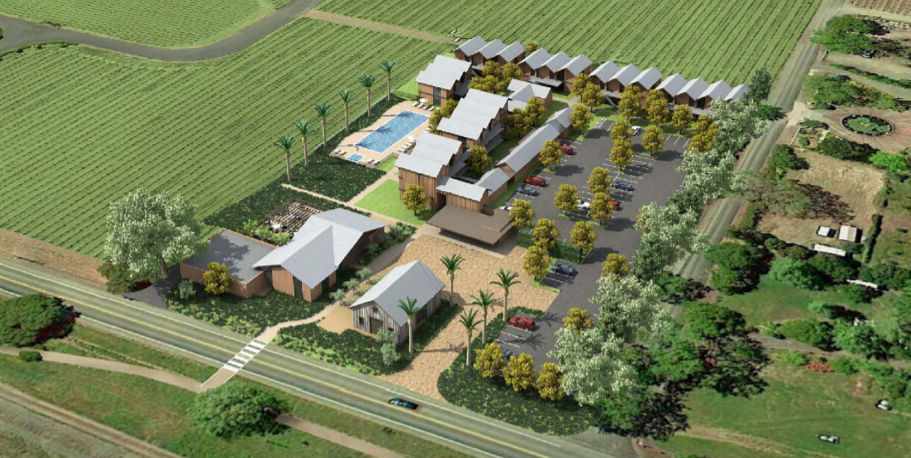 A proposal to build a hotel between Napa and Yountville on a rare commercially zoned property amid agricultural preserve vineyards has raised concerns, and Napa County is providing answers.
Whether the answers prove satisfactory remains to be seen. The county Planning Commission will discuss the Oak Knoll hotel on Jan. 22.
Oak Knoll hotel would be located at 5091 Solano Ave. This 3.5-acre property is the ghost of the once-bustling Red Hen complex, with buildings that contained a restaurant, antique shop and other uses sitting vacant and deteriorating behind a chain-link fence.
Developers want to demolish the buildings and build a 50-room hotel, 100-seat restaurant and retail space. New buildings would range from one to three stories tall.
More than 40 people submitted comments on the project in writing and verbally in 2018. Now the county has released a final environmental impact report by Ascent Environmental, Inc. that provides answers.
Anthony Assereto is among the area residents who questioned the project's scope. The site has vineyards to the south and west and a scattering of rural homes to the north.
"This is not downtown Napa and shouldn't become a bustling center," he wrote to the county. "It should remain the tranquil retreat it has always been."
Ascent responded to this and similar comments by noting the project is zoned for commercial uses. In fact, the property had commercial uses even before Napa County adopted zoning laws in 1955.
In more recent times, the Red Hen restaurant that moved from the site in 2003 was permitted for 295 seats. Combined with a hot-air balloon operation and antique store, the site historically had intense uses, Ascent wrote.
Chuck Wagner of Caymus Vineyards said the old Red Hen property is an eyesore and he hopes a new business there will have great success. But he questioned having three-story buildings.
"It feels like the city is coming into the ag preserve," Wagner said. "Maybe not as high and maybe a smaller scope."
Ascent responded that the county allows buildings up to 35 feet tall in both commercial and the agricultural preserve zoning districts. The Oak Knoll hotel buildings wouldn't exceed this limit.
Two buildings would be three stories and they would be located near the center of the property. Views would transition to them from one–story and two-story buildings on the edges, helping the three-story buildings blend in, Ascent wrote.
Traffic concerns have also arisen.
Resident Sandra Burke wrote that Solano Avenue traffic is already bad. Adding a hotel project that can have 24 marketing events annually is a "recipe for traffic disaster."
Judith Lindsey wrote that Solano Avenue traffic has substantially increased each year.
"If we are not careful, Napa will become so tourist-orientated, it will be like living in the middle of Disneyland," she wrote. "It is imperative to maintain Napa County's rural ambiance."
Project studies show intersections in the area have rush-hour delays of eight seconds to 16 seconds, depending on the intersection. This increases to eight to 17 seconds when planned projects other than Oak Knoll hotel are added. Add Oak Knoll hotel and predicted delays increase to eight to 19 seconds.
Based on forecasted intersection delays, Ascent concluded the hotel's traffic impacts will be "less than significant."
Bill Hocker expressed fear that projects such as the Oak Knoll hotel will lead to Napa County including overnight accommodations in its definition of agriculture. Having overnight stays in the heart of the agricultural landscape is a bigger impact than "event-center" wineries, he wrote.
The Oak Knoll hotel property is viable agricultural land. It's not a government taking to disallow development on prime Napa Valley farmland because money can be made growing grapes, he wrote.
Ascent responded that, while the site could be used for agriculture, it is mostly paved and developed with dilapidated and deteriorating buildings. The project would not covert farmland to development.
Eve Kahn of Get a Grip on Growth wrote about water—wastewater, stormwater management, drinking water coming from the city of Napa, recycled water for irrigation and an onsite laundry treatment system.
"The applicants want to cram a hotel, restaurant/cafe, pools, spa, fitness, on-site laundry and events all supported by a complex series of water systems," she wrote to the county.
She proposed that water and wastewater be listed as a potential significant impacts that could be reduced with mitigation.
Ascent responded that the wastewater system must comply with state and local laws to protect public health and water resources. The calculations used to estimate water demand incorporated typical values for similar projects.
The Planning Commission on Jan. 22 will discuss whether to certify the environmental impact report and approve the use permit. The hearing is scheduled for 9 a.m. at the county administration building 1195 Third St.
Barry Eberling's memorable stories from 2019
Here's some of my 2019 stories from the Napa County world of transportation, wine and communities - nothing too heavy, but hopefully with useful information.
Get local news delivered to your inbox!
Subscribe to our Daily Headlines newsletter.