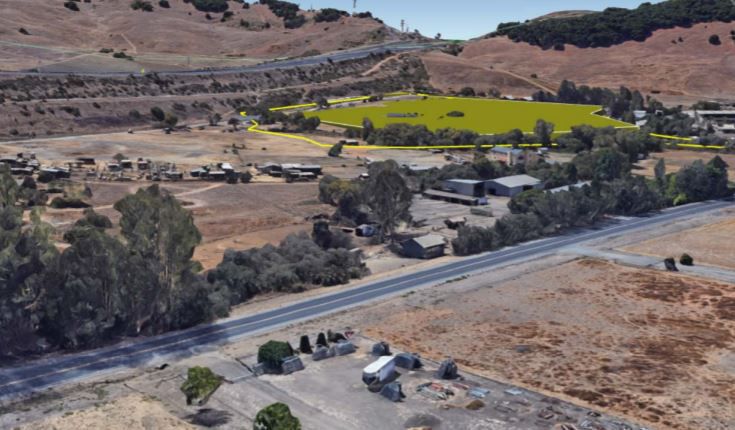 A bid to build Napa County's first solar commercial farm won approval from the Napa County Planning Commission, with critics saying they will appeal the outcome to the Board of Supervisors.
Renewable Properties LLC wants to install 12,000 solar panels on 18 acres at 2180 American Canyon Road along Interstate 80. The 3-megawatt project would sell enough power for 1,000 homes to Marin Clean Energy, which provides electricity in Napa County.
The Planning Commission on Nov. 28 deadlocked 2-2 over the proposal. Commissioner Jeri Hansen was present on Wednesday to cast the tie-breaking vote to grant approval.
Concerns have centered on county regulations that allow electric generating plants in all zoning districts, but don't specifically address commercial solar farms.
"I understand the concerns about a project like this opening the floodgates and all of a sudden renewable energy projects are proliferating through the county and we can't do anything to control it," Hansen said.
But, she said, she respectfully disagrees with this slippery slope argument. The Planning Commission treats each proposal individually, and she doesn't see a dangerous precedent being set.
Laura Tinthoff, Eileen Pereira and several other residents asked the county to craft commercial solar regulations before considering the American Canyon project.
Hansen said she thinks the American Canyon project is a "poster child" for the type of project any future commercial solar regulations would allow. She didn't want the county to hold it up out of an overabundance of caution.
"Right now in Napa County, these types of projects are allowed in this zone," Hansen said. "For us to make policy on the fly at a Planning Commission meeting is not appropriate. That is something that happens at the Board of Supervisors level."
Aaron Halimi of Renewable Properties said after the meeting he would like to begin construction of the commercial solar farm in January. But Tinthoff and Pereira said an appeal to the Board of Supervisors to try to overturn the commission's approval is forthcoming.
Before the Planning Commission hearing, Pereira questioned whether Hansen should be allowed to cast a tie-breaking vote. She said Hansen has a conflict of interest, given Hansen is CEO of Sustainable Napa County and the group promoted bringing Marin Clean Energy to the county.
County officials disagreed that Hansen had a conflict.
The Planning Commission agreed with American Canyon solar project critics that the county needs policies for commercial solar farms. It will ask the Board of Supervisors to embark on a renewable energy ordinance.
"I'd like to thank you and offer our support from the public," Tinthoff told commissioners.
Several residents addressed the Board of Supervisors on Tuesday on the topic of a possible renewable energy ordinance, prior to Wednesday's Planning Commission hearing. Eve Kahn of Get A Grip on Growth asked supervisors to get a grip on solar.
Supervisors didn't respond, as they usually don't during the public comments section of their meeting. Whether the Board will agree that a renewable energy ordinance is needed and where it fits in with other county priorities remains to be seen.
Neighboring Solano County began dealing with commercial solar proposals in 2013, with a proposal to build a solar farm near Travis Air Force Base and another on the Delta agricultural area of Ryer Island.
In 2015, Solano County prohibited commercial solar in agricultural areas and allowed it in commercial and industrial areas with a permit. An exception was allowing a SolAgra Ryer Island research facility to see if crops can be grown under solar panels.
In 2013, neighboring Sonoma County passed commercial solar rules. The county doesn't allow commercial solar farms on designated important farmlands. It allows them on non-prime farm areas with a rezone to a renewable energy district. It requires a decommissioning plan.
Renewable Properties also proposed to build a commercial solar farm in the Coombsville area near the city of Napa. That idea provoked opposition from neighbors.
Halimi said the application for the Coombsville project is being withdrawn. Renewable Properties intends to seek an alternative site for another Napa County commercial solar project.
Napa County in 2010 approved a proposal for a 6.7- megawatt commercial solar farm on the closed American Canyon landfill owned by the Napa-Vallejo Waste Management Authority. That facility was never built.
Get local news delivered to your inbox!
Subscribe to our Daily Headlines newsletter.