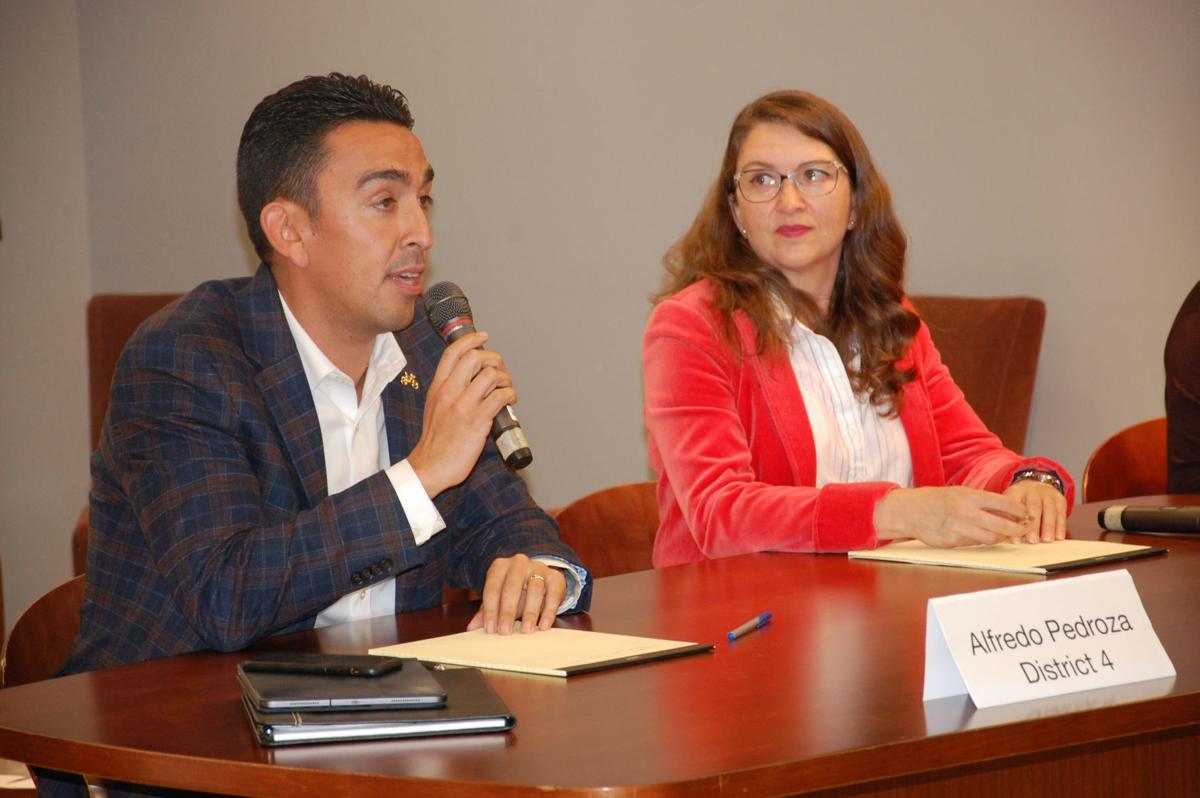 Candidates for two Napa County Board of Supervisor seats on the March 3 ballot sat next to each other Thursday and described different ways to shape the future of world-famous wine country.
Incumbent Supervisor Belia Ramos and challenger Mariam Aboudamous are competing for the 5th District seat. Incumbent Supervisor Alfredo Pedroza and challenger Amber Manfree are competing for the 4th District seat.
They participated in a forum held by the League of Women Voters of Napa County at Napa Valley College. All four candidates sat at a table at the same time and answered questions submitted by the public.
Some people think the needs of the hospitality and wine industries are taking precedent over the needs of locals, the candidates were told. Their response?
"One of the things that is interesting is the way in which what the county does is reported," Ramos said. "Everything that is top news, everything that becomes divisive, everything that is the talk of the town, ends up being about land use."
In fact, the county's largest charges are health and human services, corrections and road maintenance. The county's priority is the most vulnerable. She can't help what's the top story in the newspaper, Ramos said.
The county has due process for land use applications, Ramos said. She added that the Board of Supervisors should consider such things as a remote winery law as it defines the future and puts people first at all times.
Her challenger Aboudamous said the question isn't based on the county providing basic services versus approving wineries. No one is saying not to approve wineries. But the county needs to figure out how to deal with traffic and housing workers.
"That's where I'm at on this," said Aboudamous, who is on the American Canyon City Council. "I'm tying it right back to housing and traffic."
In the 4th District race, Pedroza said development cannot come at the expense of quality of life. Thirty-year cycles for the Napa County general plan aren't appropriate any more. Shorter cycles are needed so residents know how the county will grow in a responsible way.
"If our residents are not feeling appreciated and supported by the community we're building, we're building the wrong community," Pedroza said.
He said a significant number of development requests that are inappropriate for Napa County don't make it to the point where they are up for approval.
Manfree, his challenger, said her campaign slogan is "putting locals first," something she perceives isn't happening. Projects need to be evaluated for how they affect the bigger picture of traffic, housing and the mix of jobs.
"I'm concerned that we have been treating winery permits as a right for a long time," Manfree said. "But they're not a right. They're discretionary. If it's bad for the community, we don't have to grant them."
Candidates considered how to balance the divergent needs of a supervisor district.
The issues in the 5th District are different in such places as American Canyon and rural Coombsville, Aboudamous said. It's important to be in constant contact with residents by walking precincts, hosting town halls, going to events and holding office hours.
"It's also a self-check," she said. "There are a lot of very engaged community members in District 5. When I give them the opportunity to see me, they let me know, 'You're doing a great job, but you messed up here.' And they hold us accountable."
You have free articles remaining.
Ramos said she's held six town halls during her three years as supervisor. She has a newsletter and attends stakeholder meetings. At 5:12 a.m. that very morning, she answered a tough question involving county finances.
The unincorporated county has different needs than the cities, Ramos said. The 5th district is 62 percent American Canyon, 26 percent city of Napa and 12 percent rural Coombsville. City residents have city council members, but she's the only representative for Coombsville.
"Taking that into consideration is one thing," Ramos said.
Pedroza said he holds an annual town hall meeting when it's not election season. At them, he covers issues, listens and answers questions. He also holds neighborhood coffees.
The 4th District is diverse, Pedroza said. He's been proud to work on the county taking over the resort concessions oversight at Lake Berryessa and working with Silverado homeowners to form an urban Firewise program.
"It's really taking the time to invest in those relationships, understand issues and provide the solutions," he said.
Manfree said she lives in rural Soda Canyon. Issues there are remote wineries, permitting and vineyard conversion. She's opposed to remote winery locations for such reasons as fire safety and impacts on roads, water and habitat.
"There are water resources concerns you have in remote areas that you don't have in town because you're running on wells," Manfree said.
On the city side, she supports smart growth, making the community more bike-and-pedestrian friendly and focusing on mass transit instead of increasing infrastructure for single-occupancy vehicles, Manfree said.
The forum included a separate question session for county Treasurer-Tax Collector candidates Michael Basayne and Robert Minahen. The department among other things manages a pooled portfolio of more than $600 million for the county, schools and special districts.
They considered the potential challenges for the county's tax base and investments over the coming 25 years.
There is the potential for natural disaster, terrorist attacks and economic downturn, Basayne said. The United States is enjoying its longest sustained economic expansion in history. At some point, the other foot will drop.
"It's only a matter of time and therefore we have to really look closely at ways we can not only preserve, but create healthy reserves to sustain us through that 25-year period," he said.
Minahen said by far the biggest risk is another real estate bubble burst, though economists see nothing imminent. Skyrocketing real estate prices have led to a rising tax base. Pockets within the county have a significant amount of exposure.
"American Canyon is a prime example," he said. "It has grown up quickly. It has larger homes and the volatility in its housing market is dramatic. A housing market turn impacts them greatly."
Minahen is Napa County's assistant auditor-controller. Basayne has held banking and financial positions for more than 30 years.
About 50 people attended the League of Women Voters forum.
Get local news delivered to your inbox!
Subscribe to our Daily Headlines newsletter.