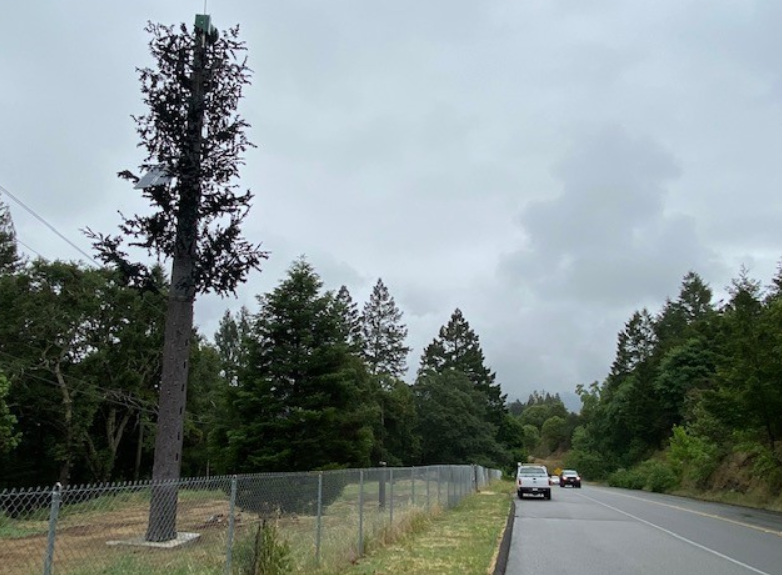 Illumination Technologies California has a pitch for Napa County – let us install 32 monopoles in county rights-of-way along Napa Valley and you'll get emergency sirens and better telecommunications.
Chris Canning made the proposal to the county Board of Supervisors on Tuesday. He acted not as mayor of Calistoga, but as Illumination Technologies CEO.
These monopoles would be about 60 feet tall and could be disguised as faux pines or cypress. The sirens would sound the alarm to sleeping residents the next time an Atlas or Tubbs-like wildfire breaks out.
"There is absolutely no impact to your budget on this," Canning told supervisors. "We have never in our almost 20 years of existence taken a dollar from a municipality."
Rather, under the proposal, the county lets Illumination Technologies build in right-of-way space along county roads, the county gets emergency sirens and Illumination Technologies makes money by leasing monopole space to telecommunication companies.
Supervisors said they need more time to consider the idea.
"I think this is very worthy of discussion and fleshing out," Supervisor Brad Wagenknecht said.
There's a precedent for the proposal from 2019. The county allowed two emergency siren monopoles in its right-of-ways near Calistoga, one next to Rosedale Road and the other next to Petrified Forest Road.
But county Public Works staff decided a proposal for 32 monopoles needed Board of Supervisors consideration. A map showed locations spanning from Calistoga to south of the city of Napa, many along the eastern hills.
These 32 sites would allow sirens to be heard by 70 percent of the county's population. The 70-decibel blasts would be equivalent in noise level – not in tone—to a freight train from 50 feet away, Canning said.
"The intention of this is to get your attention at night so you will seek further information," he said.
Plus, the 400-pound rotating sirens are solar-powered, so they would work during a PG&E public safety power shutoff. They store solar power in a battery, Canning said.
Illuminated Technologies offered to add eight more sites if the county chose, most along Lake Berryessa and one in Pope Valley. Canning said these sirens would reach another 10 percent of the population with emergency sirens.
Plus, the county would have improved telecommunications, with 4G service in areas that don't get out of 2G. For some folks, "it's going to be whiplash when they turn on their phones," Canning said.
During public comments, Angwin resident Kellie Anderson asked why the county, if it is interested in sirens, doesn't put out a request for proposals. She questioned why one particular firm should receive a red carpet to the Board of Supervisors.
"This is not something we're asking for and it's not something we want to spend any money on necessarily," Public Works Director Steven Lederer later responded.
Canning, in response to Anderson, said he has no conflict-of-interest in being mayor of Calistoga and making a presentation for Illumination Technologies to the Board of Supervisors.
"Those of us who are electeds in small towns have to have day jobs," Canning said. "This is my day job. I chose this day job because of the public benefit if offers, living in a community impacted by this."
Supervisors and county officials had a range of concerns, from who would control the siren buttons to whether monopoles near roads might cause traffic problems or hinder county road widenings. In addition, the public has yet see details of the proposed siren locations.
All of that proved too much to cover in detail during a one session on a day when supervisors had a packed agenda. Illumination Technologies will return at a yet-to-be-determined Board of Supervisors meeting.
"I'm interested," Board of Supervisors Chair Diane Dillon said. "But I think we need more knowledge."
Illuminated Technologies has set up 4,800 telecommunication sites in various countries, Canning said. It isn't a telecommunication company, but builds the infrastructure for a public safety benefit and then leases monopole space to companies such as AT&T, he said.