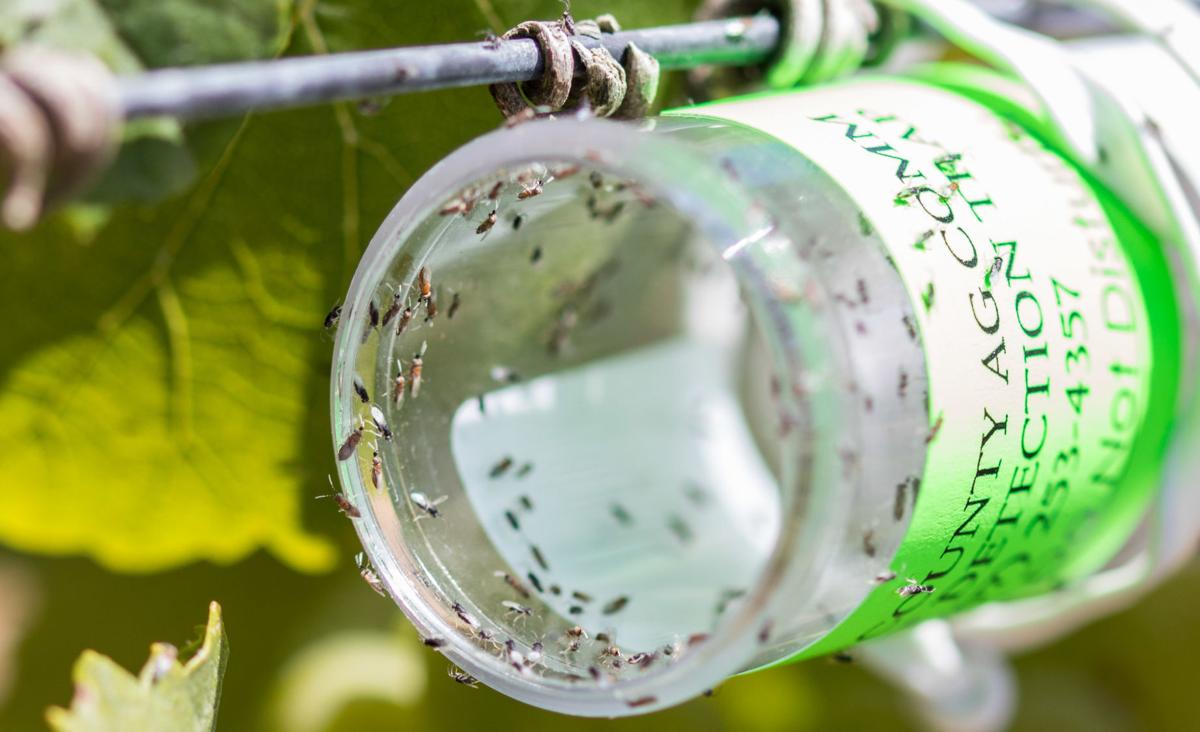 The Napa County Agricultural Commissioner's Office will continue its strategic release of parasitic Anagyrus wasps this month as part of a comprehensive effort to diminish Napa County's vine mealybug population.
Rest assured: though "parasitic wasps" may sound like yet another frightening development out of 2020, the insects are the size of gnats and are harmless to humans, Weights & Measures Inspector Sommer Marie Woolley said. They do not sting or bite, and pose no apparent threat to any of Napa County's other insect populations apart from the vine mealybugs.
Vine mealybugs are a known economic pest of grapevines, and were first detected in Napa County in the early 2000s, according to Woolley. The bugs damage both grapevine fruit and foliage, making grapes unmarketable, according to a press release from the Ag Commissioner's Office.
Adult female Anagyrus wasps lay their eggs inside adult vine mealybugs, immobilizing and eventually destroying them so they cannot reproduce or spread.
"Vine mealybugs are a huge economic concern for growers, and they're hard to find and kill because they hide under vine bark or under soil," Woolley explained.
The Ag Commissioner's Office is continually encouraging the county's growers to use "a solid integrated pest management program" – essentially utilizing a diverse range of pest control methods. Anagyrus wasps are an important addition growers' pest control, Woolley said, and they do not disrupt organic growing as many pesticides do.
The Ag Commissioner's office has been using the wasps as part of its own pest management since 2012, Woolley said. The office releases the wasps, which it procures from different area insectaries, in May and July. It has released about 115,000 wasps and will release another 75,000 this month, according to Woolley, who noted growers are continually encouraged to make their own private purchases of the wasps.
Funding from the Winegrape Pest & Disease Control District makes it possible for the Ag Commissioner's Office to release supplementary wasp populations. The concept of a pest district is distinct to Napa County, Woolley said: grape growers self-fund the program, whose principle purpose it is to maintain the health of the county's grape crop.
Assessments paid by growers are based on land ownership, and the pest district's supervisorial five-member board is appointed by the County Board of Supervisors.
Vine mealybugs can be found in virtually every part of Napa County, Woolley said, though the county has recorded "lower than historical" population numbers in the last few years. Adult mealybugs do not fly, Woolley added. They generally travel from vineyard to vineyard via shared equipment or similar vehicles. Growers and vineyard workers are encouraged to properly sanitize shared equipment to ensure reduced risk of the pest's spread.
Watch Now: How to create a sanctuary at home