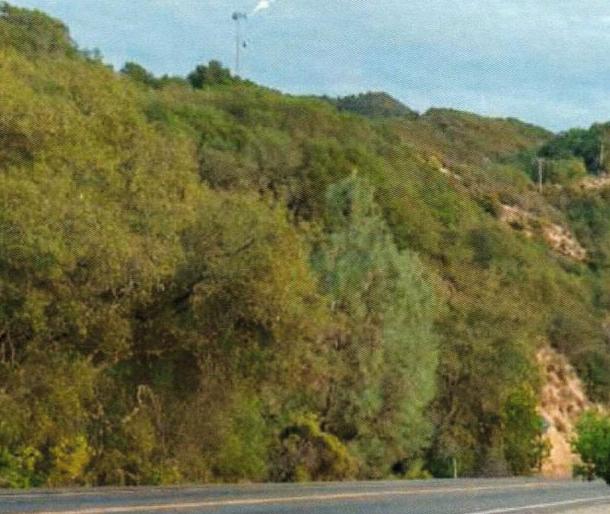 Napa County decided the best disguise for a planned telecommunications tower along remote Highway 128 south of Lake Berryessa is no disguise at all.
The Napa County Planning Commission approved allowing AT&T to build a 64-foot-tall monopole telecommunications tower about two miles from Monticello Dam. The tower will be on a hill with an elevation of about 1,400 feet.
Napa County had to decide what the new cell tower would look like. County law requires telecommunication towers to blend in with the landscape so they are "effectively unnoticeable."
AT&T offered to build a 93-foot-tall tower that looks like a pine. The hilltop location isn't a pine forest and a simulated photo view from Highway 128 of this would-be stealth tower shows what is obviously a fake tree towering over shrubs and brush.
Telecommunication companies have camouflaged cell towers as water towers, steeples, flag poles, pines, palms and cactuses, but apparently not as the chaparral needed in this case.
Napa County decided the best choice is a plain pole with antennas. Without the need for faux foliage tapered in a certain way, the tower need only be 64 feet tall. The tower will have a smaller silhouette against the sky than the pine.
You have free articles remaining.
"I do believe this design alternative is least impactful on the viewshed, given the terrain and the circumstances," Planning Commissioner Michael Basayne said.
Napa County has decided before against going with the stealth cell tower approach near Lake Berryessa. The Planning Commission in 2013 concluded a faux pine along Capell Valley Road would, as one commissioner said, stick out like a sore thumb.
In other cases, the county has gone with the disguise, such as a faux water tower along Highway 12 in Jameson Canyon.
In making their latest decision, planning commissioners had more on their minds than hiding a cell tower. They wanted to improve cellphone reception along this stretch of Highway 128.
"Cell coverage at this location is virtually non-existent," Basayne said. "The new tower indeed provides enhancement for emergency services, which certainly in this day and time is a very important consideration."
AT&T will build the tower in part with money from "The Connect America Fund" created by the Federal Communications Commission. The goal is to bring high-speed broadband to rural areas that lack it, an AT&T report said.
"It is very needed out there," consultant Maria Kim said on behalf of AT&T.
County officials said the tower must be on top of a hill for maximum coverage. The site chosen has already been cleared, so no additional vegetation needs to be removed, officials said.
Get local news delivered to your inbox!
Subscribe to our Daily Headlines newsletter.