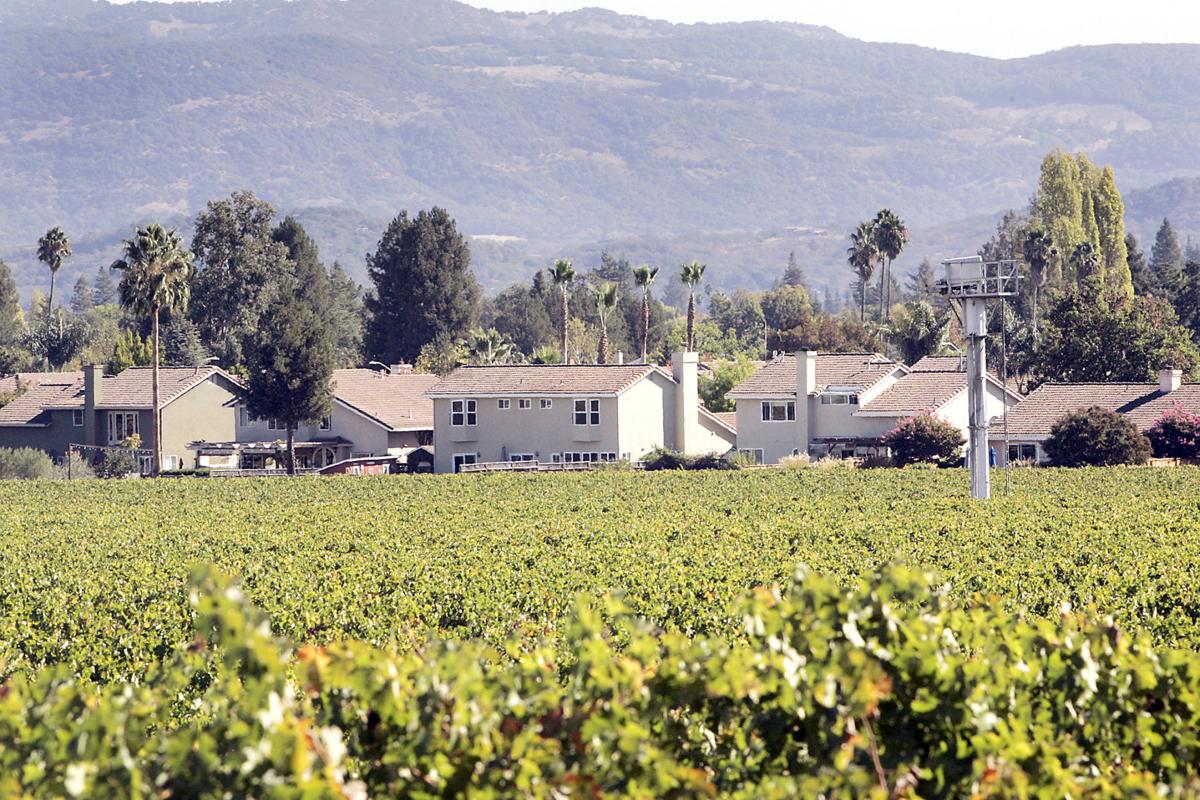 Napa County Planning Commissioners are pondering what the state's drive to spur more housing development might mean for rural wine country farmland.
The county in 2018 issued 31 building permits for new housing units in the unincorporated areas outside of city boundaries. That low number is because county policies funnel subdivisions and apartments into cities to protect agriculture and open space.
Meanwhile, Gov. Gavin Newsom wants 3.5 million more housing units built in California by 2025. Potential, new state housing laws and mandated housing numbers could affect both cities and rural areas.
Can the county continue to successfully argue to the state that house-building mandates should be tempered in its unincorporated areas? Planning Commissioner Dave Whitmer sees this as becoming a harder sell.
"It seems we're having a harder time representing why Napa should be treated differently, in a sense," Whitmer said as the Planning Commission discussed housing on Wednesday.
County Planning, Building and Environmental Services Director David Morrison said the state under Gov. Jerry Brown provided incentives for housing and asked for cooperation. Today, the state is looking at more drastic measures.
Many cities and counties don't relish adding more people. Meanwhile, housing advocacy groups say the needs of tens of thousands of families looking for housing outweigh the needs of communities that feel special, Morrison said.
Still, he didn't paint a doom-and-gloom picture for county efforts to help bring more affordable housing to its cities while protecting the farmland and open space of its unincorporated areas.
"I think there is recognition about Napa's unique place in the Bay Area," Morrison said. "I think that fight gets harder every year, but it's still there."
California assigns each region numbers for new housing at various affordability levels over eight-year cycles. In the San Francisco Bay Area, the Association of Bay Area Governments then breaks this regional number into state-mandated Regional Housing Need Allocation (RHNA) numbers for each city and county.
From 2015 to 2023, Napa County and its five cities must provide 1,482 new homes of various affordability levels. Of that total, 180 housing units are assigned to the unincorporated county.
In the middle of this eight-year cycle, Napa County has issued 134 permits for houses in the unincorporated areas. But 99 of these homes are in the above-moderate category, where only 67 homes are assigned.
The county has work to do in other categories. It has issued permits for 11 of its assigned 32 moderate units, six of its assigned 30 low-income units and 18 of its assigned 51 very low-income units.
"Can you talk a little bit about the consequences if those numbers aren't met?" Commissioner Anne Cottrell asked.
County Principal Planner John McDowell noted the state is suing Huntington Beach for allegedly refusing to allow for enough affordable housing. Consequences might not be grave if a jurisdiction is trying. Napa County is trying to meet its mandated numbers, he said.
"We're halfway through the cycle at this point," he said. "We're well on our way to meeting those numbers."
Unincorporated Napa County would exceed its RHNA targets with the building of Napa Pipe, McDowell said. This planned development on 154 acres along the Napa River is to have a Costco and other businesses and up to 945 homes. The county plans to use its affordable housing funds to help bring 140 affordable housing units to the site.
A roadblock tied to the RHNA situation has arisen and Napa Pipe construction has yet to begin.
The county planned to issue building permits for the Napa Pipe houses, receive credits toward its state-mandated housing numbers and then have the city of Napa annex the land to provide police, water and other services. The city has already annexed a Phase I area, which is to have Costco but originally wasn't targeted for homes.
But the Napa Pipe developer has concluded that the project can move forward only if some of the housing is relocated to the Phase I area, a state report said. Because this land is in the city, the city, and not the county, would receive the RHNA credits.
Sen. Bill Dodd, D-Napa, is carrying legislation to change this situation by enabling the county to receive Napa Pipe credits. His Senate Bill 235 recently passed the Senate and is now in the Assembly.
"This bill will allow the city and county to work together to get critically needed housing built," Dodd said in a press release.
Meanwhile, county officials are already thinking about the 2024-2032 RHNA cycle and future state-mandated housing numbers for unincorporated Napa County. They expect the numbers to be far higher than the present 180-unit mandate.
The Planning Commission wants to talk more about housing at a future meeting.
"A future RHNA number could impact the ag preserve…. That's something we're looking down the road to, but I think that's worth thinking about," Cottrell said.
Get local news delivered to your inbox!
Subscribe to our Daily Headlines newsletter.