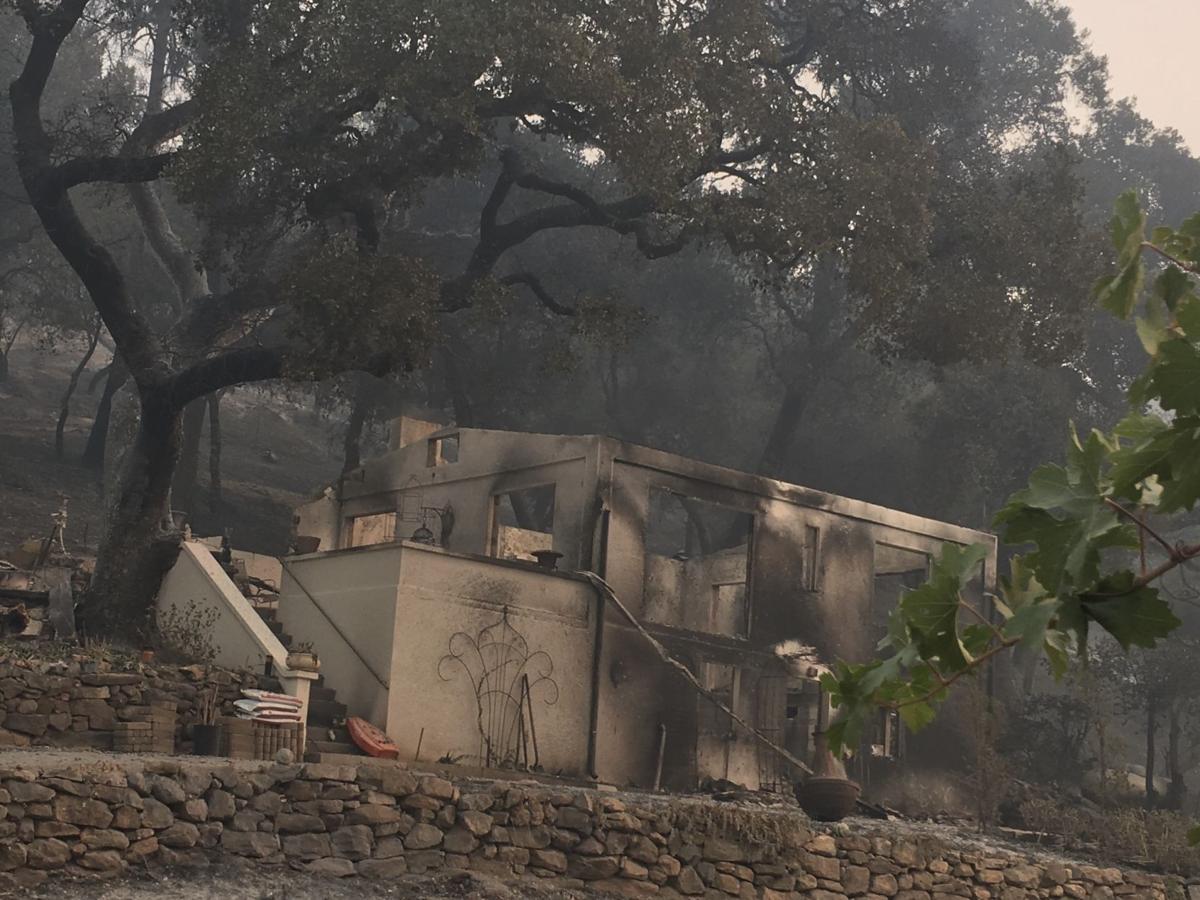 Between the structure-destroying Hennessey and Glass fires, there is one big mess to clean up.
Combined, the fires destroyed about 600 homes and 350 commercial buildings. That's close to 1,000 lots with ash and debris that must be hauled away.
Karl Van Orsdol lost his small farmhouse and barn at his James Creek Olive Ranch on Butts Canyon Road to the Hennessey Fire on Aug. 24. He wants to get started with clean-up.
"It's actually quite depressing to look at it," he said. "And the house is slightly uphill from the olive trees. I don't want all the ash to be running into the orchard."
Phase One clean-up is the state Department of Toxic Substances Control removing household hazardous materials, such as pesticides and gasoline, for free. Ninety percent of this cleanup has been done for the Hennessey Fire. Van Orsdol had his lot cleaned a week ago.
That leaves the much-bigger Phase Two job of ash and debris removal. Napa County announced Thursday that the Federal Emergency Management Agency (FEMA) has issued the order to provide a public cleanup option for the Hennessey Fire.
"That's great news," Van Orsdol said.
Fire victims can choose to clean up the lots at their own expense with county oversight. Or they can let the government remove the mess for free – though they turn over insurance cleanup receipts—with the Governor's Office of Emergency Services and CalRecycle overseeing the work.
Van Orsdol looked into cleaning up his property at his own expense but found insurance wouldn't cover the entire cost. He favors the public option.
There has not yet been a federal declaration for the Glass Fire regarding either Phase I or Phase II cleanup, county Planning, Building and Environmental Services Director David Morrison said Thursday. The county has submitted its request and is optimistic a public option will be available, he said.
Napa County has been through all of this before in the wake of the 2017 Atlas, Nuns and Tubbs fires. Trucks rumbled down rural roads carrying ash and debris wrapped in tarp to out-of-county landfills.
In the 2017 fires, about 250,000 tons of ash and debris were removed over about seven months, Morrison said. The Hennessey and Glass fires combined destroyed more structures.
"Getting to 100% cleanup of all sites in both the Hennessey and Glass fires is important to ensure the health and safety for property owners, neighbors, employees and visitors," Morrison said.
It's also important to protect the environment, including waterways and drinking water supplies, he said.
Van Orsdol plans to live in a trailer on his property after cleanup to watch the rebuilding. He has no plans to leave the 20-acre farm where he has lived since 2001.
"No, I keep focusing on what I think will be a better, more fire-resistant location and structure," he said.
Watch now: Firefighters race to save homes from wildfire