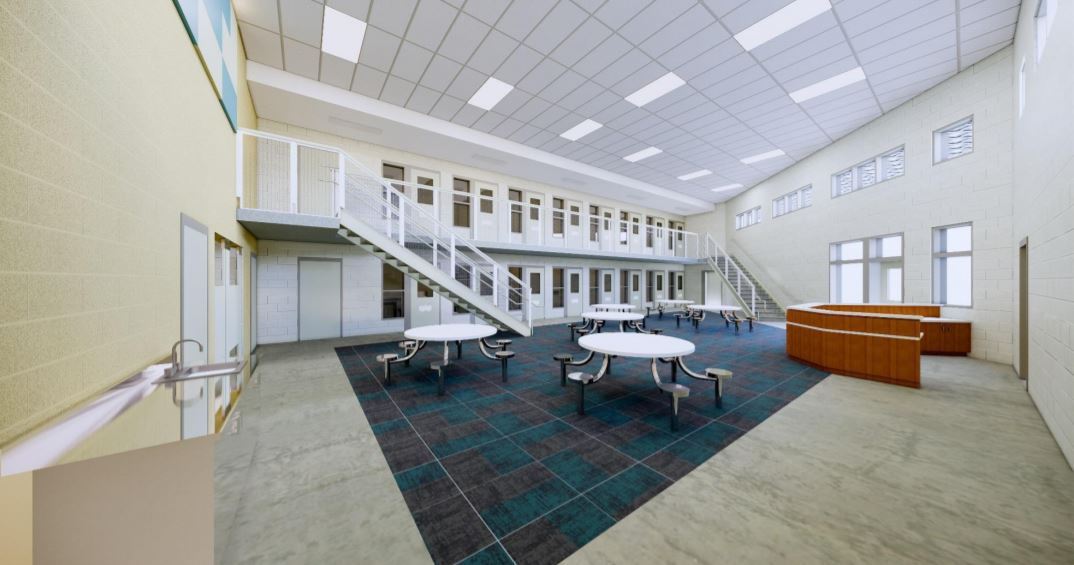 Napa County will build its new, $128 million jail without a project labor agreement favored by unions.
Union officials said such agreements have a host of benefits for both workers and the builder. But county consultants concluded an agreement could increase the $87 million construction-phase budget by 10 percent to 15 percent, or $9 million to $14 million.
For the Napa County Board of Supervisors on Tuesday, the bottom line was the bottom line. Supervisors didn't want cost overruns.
The decision left some in the audience upset. After the meeting, Danny Bernardini of the Napa-Solano Building and Construction Trades Council repeatedly asked a county official to prove that a project labor agreement would add 10 percent to 15 percent to the cost.
Project labor agreements are pre-bid collective bargaining agreements negotiated with labor organizations that must be followed by contractors. They stipulate such things as wages and benefits and usually guarantee against strikes and other work stoppages.
The question facing supervisors was whether to use such an agreement on the 304-bed jail to be built along Highway 221 near the Syar quarry. The jail, which is to replace the downtown Napa jail, is to start construction in October.
A Napa County report said project labor agreements require the payment of union dues, union health and welfare fees and union pension benefits for all laborers. Non-union contractors must pay these costs in addition to the benefits they already pay.
"These extra costs will be added to their bid, assuming they are willing to bid at all," the report said.
California law ensures fair wages and benefits, even on projects without project labor agreements. A project labor agreement wouldn't prioritize Napa workers over non-local workers, the report said.
Neighboring Solano County passed a policy in 2004 supporting the use of project labor agreements. It has used them on such projects as the $89 million Claybank Jail expansion and $25.6 million jail jobs training and education center.
Vacaville City Councilmember Mitch Mashburn, who works for the Solano County Sheriff's Office, was involved with the projects. He told Napa County supervisors that the agreements helped alleviate problems, helped create jobs for local workers and didn't cause big cost overruns.
"We built to the cost just as you are doing and we were within budget," Mashburn told supervisors.
Bernardini said there would be complaints in Solano County if project labor agreement projects came in 10 percent over budget. The Fairfield-Suisun Unified School District in that county is doing six projects using the labor agreements.
"They will be on budget, on time, because that's what we do," Bernardini said.
Assistant Napa County Executive Officer Mary Booher didn't deny that project labor agreement projects come in within budget. But, she said, that is because added project labor agreement costs are included in the front-end estimate.
Eric Christen of the Coalition for Fair Employment In Construction spoke out against project labor agreements. The group's website calls the agreements a "kickback scheme" to ensure companies with union ties receive special advantages on contracts.
"Project labor agreements, like your staff said, will reduce your bidders and increase your costs," Christen told supervisors. "It's not something that serious people argue. The question is how much will that cost increase be."
After hearing the conflicting testimony, the Board of Supervisors had to make a decision to keep the jail project on its timeline. County officials said each month's delay will add $370,000 to the cost.
"I want a (project labor agreement) at some point, but I haven't been able to come up with a good way to get there," Wagenknecht said.
Board chairman Ryan Gregory said he has great respect for the unions and what they do for their people. He also has great respect for non-union contractors that get projects done on time and treat workers well.
"I just hate this is an indictment of one or the other, " Gregory said.
The county has a lot of things to pay for and can't afford more than $128 million for the jail, Gregory said. His number one goal is to protect the county's budget, he added.
Napa County in 2016 looked at using a project labor agreement for its $23.4 million reentry facility. Negotiations with labor organizations proved fruitless, with the two sides on Tuesday giving different reasons.
On Tuesday, supervisors decided they didn't have time to try to work out project labor agreement issues for the jail and keep the jail on schedule.
"We can't do anything to increase the cost of this project," Supervisor Diane Dillon said.
Barry Eberling's memorable stories from 2019
Here's some of my 2019 stories from the Napa County world of transportation, wine and communities - nothing too heavy, but hopefully with useful information.