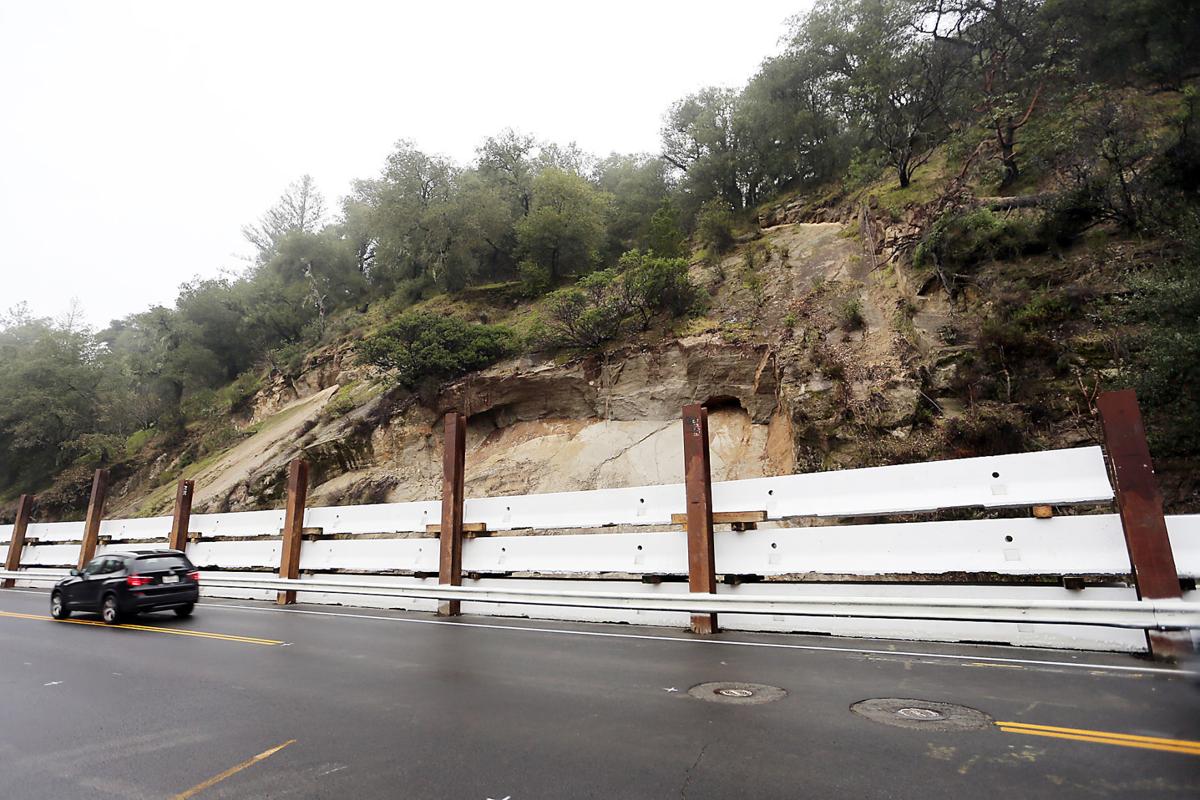 Get ready for a summer road construction season that will include such high-visibility projects as building three city of Napa roundabouts, repairing a bridge on Soscol Avenue and replacing an Upvalley Silverado Trail bridge.
The Napa Valley Transportation Authority (NVTA) Board of Directors last week heard presentations from Caltrans and Napa County on upcoming projects. Directors are local elected officials.
"Just a request for the patience of the motorists and users here in Napa," said Kelly Hirschberg of Caltrans. "Because it does take a little time and sometimes it's noisy and a little bit dusty."
But the projects are needed, she said.
City of Napa roundabouts – A major summer construction job is creating three roundabouts at consecutive intersections—on First Street at the northbound Highway 29 exit, on First Street at California Boulevard and on California Boulevard at Second Street.
The $9.3 million project is being built by O.C. Jones & Sons. And it's complex.
"Because of the complexity with all the local streets, this will require eight-stage construction," Hirschberg said. "There will be eight different times they will be shifting traffic in a different direction."
A Caltrans information sheet said the project is to last two years. But Chris Moulton of Caltrans told the NVTA Board of Directors that the roundabouts could be built by May 2020, with the contractor trying to combine some of the stages.
"You've just become a hero in Napa," Calistoga Mayor and NVTA Board of Directors chairperson Chris Canning said.
Caltrans will send mailers to businesses and local residents on the project and will have a website with updates on traffic shifts, Moulton said.
The project is to start June 10th, city of Napa Deputy Public Works Director Eric Whan said on Monday. Caltrans is managing a cooperative project between the city and Caltrans.
Bottom line – people driving through this area this summer and beyond will see changing conditions as the project progresses.
"Construction is always difficult," Whan said. "You just try to make it work the best you can."
The city has posted a computer simulation on its website showing how traffic should flow once the roundabouts are completed. Go to https://bit.ly/2EkMlOV and scroll toward the bottom of the page to view it.
Tulocay Bridge on Soscol Avenue – This 1918 stone arch bridge on one of the city of Napa's busiest streets needs corroded steel reinforcement and concrete chipping repaired. Tulocay Creek is located about a half-mile north of Imola Avenue on Napa's Auto Row.
The $900,000, 80-day fix-it job by American Civil Constructors West Coast is to begin in mid-June. Traffic should keep flowing during the day, with one-way traffic and a flag-person possible at night.
Chris Moulton of Caltrans said Soscol Avenue at the bridge will be too narrow for pedestrians during construction. They can cross Tulocay Creek on the nearby Gasser property.
Conn Creek Bridge/Silverado Trail – The bridge over Conn Creek on busy Silverado Trail east of Rutherford is to be replaced, but Caltrans officials said the traffic will keep moving.
The existing bridge from the early 1970s has been damaged by creek scouring. Caltrans plans to reconstruct the bridge in two sections so one side is always available to carry traffic. Work is to extend through construction seasons.
St. Helena Mayor Geoff Ellsworth said he appreciates the work Caltrans is doing. He asked if traffic will be able to move through the area at its usual speed.
"That's one of our main arteries," Ellsworth said.
Two lanes will be open, but traffic might travel more slowly because some motorists look to see what is going on, Hirschberg said. Also, motorists might drive more slowly because of the constrained shoulders.
Ghilotti Construction will do the $7.5 million construction project, Hirschberg said.
Silverado Trail/Pratt Avenue – Napa County has its own Silverado Trail projects, and one is repairing a slide near St. Helena triggered by the winter 2017 storms.
A temporary fix in place involves a makeshift concrete barrier to block rocks that might otherwise tumble onto the road. This configuration required closing Pratt Avenue where the street meets Silverado Trail. Now comes what is meant to be the permanent solution.
The Napa County Board of Supervisors could on Tuesday award a $1.9 million contract to McCullough Construction Inc. of Arcata to start the project in June and finish in October. Workers are to build a 280-foot-long retaining wall with the height varying from five feet to 23 feet. They'll backfill the slope to buttress the unstable hillside.
"Unfortunately, it's a very complicated project that wouldn't lend itself to working at night," county Public Works Director Steven Lederer told the NVTA Board of Directors.
The county will prohibit work from 3 to 7 p.m. to avoid the afternoon rush hour. Other than that, workers will do as much work as possible behind the makeshift retaining wall. That won't be possible all the time, because there's not enough room for a big crane.
There may be times when only one lane is open on Silverado Trail with flagging, Lederer said.
Silverado Trail paving – Napa County plans to repave Silverado Trail from Yountville Cross Road to Skellenger Lane, a distance of three miles. Work is to start June 14 and end by Aug. 1, before crush.
The county will coordinate this Silverado Trail project with the Caltrans work on Conn Creek bridge, though the two projects aren't really related, Lederer said. No work will be done from 3 to 7 p.m.
Capell Creek Bridge – This 1956 bridge on Highway 128 in the mountains between Lake Hennessey and Lake Berryessa will be replaced at a cost of $12 million.
A landslide has damaged the bridge. Gordon N. Ball, Inc. is the contractor that will replace the bridge and install 13 horizontal drains. A rented, steel module bridge will carry traffic during the two seasons of construction work.
"It will be one-way traffic control onto the temporary bridge that will be out there," Hirschberg said.
Highway 121 – Storms of recent years have damaged the embankment on this rural highway west of Lake Berryessa near Moskowite Corner.
Granite Rock Co. will spend about 30 days repairing the embankment and improving drainage at a cost of $700,000. Hirschberg said rocks will be used to bolster the slope.
Because of environmental laws, work in a nearby creek for the project cannot begin until June 15, Hirschberg said.
Get local news delivered to your inbox!
Subscribe to our Daily Headlines newsletter.