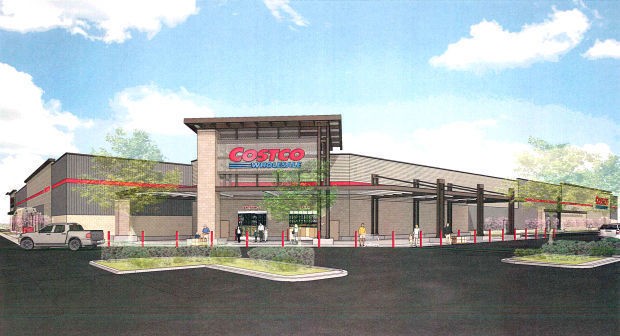 "Where's my Costco?" is a question being asked not only by many local residents, but also the Napa County Grand Jury.
The 2018-19 grand jury recently released a report with that title. But finding an answer proved difficult, despite an investigation that delved deep into the tangled Napa Pipe development saga that began in 2005 and has included a Costco proposal since 2012.
"Will Napa ever see a Costco?" the report stated. "The answer to that rhetorical question remains to be determined. At this time, a 'yes' or 'no' answer or any response to 'when?' is impossible to answer."
Napa County and the city of Napa should take all necessary steps to annex the remainder of the property into the city, the grand jury recommended. Then the developer can deal with one jurisdiction to bring a Costco, businesses, parks and up to 945 residences to the former industrial land.
"The jury also recommends that the city honor its commitments to the county Board of Supervisors, and all voters, to make the completion of Napa Pipe a priority, rather than merely continue to drag its feet," the report stated.
Napa Mayor Jill Techel said Friday the city over the years had concerns about previous versions of Napa Pipe to be built on county land at the city's border. But the county and city worked through these issues.
"The past is the past," Techel said. "It was a long past. At this point, we are working very well together."
Even if the city and county do everything within their power to make development possible, it's still up to the developer to build, the report stated. The grand jury can't compel answers from investors who make economic decisions.
The developer could pay as much as $100 million to prepare the Napa Pipe property for housing, after paying $20 million to prepare the site for Costco construction, the grand jury said.
A search of public records led the grand jury to conclude that Napa Pipe partner Farallon Capital has substantial assets. Still, interviews revealed city staff and elected officials came to believe the "myth" that the developer was broke and couldn't proceed, the report said.
"This myth continues to persist to this day, as recently presented to the grand jury by a member of the Napa City Council," the grand jury report said. "Obviously, given Farallon's assets, nothing could be further from the truth."
Techel addressed that point Friday.
"We haven't seen it move very fast so far," Techel said. "At this point, if the grand jury says it's a myth and they have plenty of money to do it, that works for me."
City and Napa Pipe officials sounded an optimistic note at the June 18 City Council meeting during a Napa Pipe update. City officials described a schedule that had the city annexing the remaining Napa Pipe land later this year.
Scott Whiskeman of Catellus Development Corp., representing the Napa Pipe partners, said this is a great time in the market cycle. Developers want to hit the ground running once they receive various approvals. Costco's biggest priority is receiving assurances the project is moving forward so it can peg an opening date, he said.
"That building happens very fast. Once they start, they'll open that warehouse within about five months," he said.
City Council comments were generally optimistic as they talked about Napa Pipe development agreements and other details.
"As long as there are not any big, major shifts, I'm supportive and hopeful this can move along," Vice Mayor Scott Sedgley said.
City Councilmember Liz Alessio recalled Napa Pipe developer Keith Rogal telling her years ago about his vision for homes at Nape Pipe.
"I loved the idea then and I love the idea now," she said. "Admittedly, it took me a little bit longer to catch on with the Costco, get excited about Costco, but now I get more excited with all the traffic we have."
Without a local Costco, Napa County members of Costco drive to the warehouses in such out-of-county locations as Fairfield or Vallejo.
Techel said annexing the remaining Napa Pipe land to the city will allow the project to move more quickly. She noted this is her last term as mayor.
"I have until December 2020, and I'd love to cut the ribbon on Costco, so get it done," she said.
The grand jury said recent cooperation between the city and county on Napa Pipe is encouraging. However, a City Council meeting a year ago delivered positive statements and affirmations without written promises.
"In short, 'we have seen this movie before,' " the grand jury report stated.
One major step to moving Napa Pipe forward is Senate bill 235 sponsored by state Sen. Bill Dodd, D-Napa. It would allow Napa County to get credit toward its state-mandated housing targets for housing built at Napa Pipe, even if land is annexed to the city.
Without this legislation, Napa Pipe developers would have to continue to deal with both the city and county, instead of only the city.
The grand jury report stated that, under a best-possible scenario of the bill passing the Legislature and winning Gov. Gavin Newsom's signature, it couldn't become law until Jan. 1, 2020.
In summary, neither the economic nor the political situations provide clear answers to the question of what will happen, or when, at Napa Pipe, the report stated.
The City Council and Board of Supervisors must issue written responses to the June 28 report within 90 days. Go to https://bit.ly/2XuIF95 to read the "Where's My Costco?" grand jury report.
Get local news delivered to your inbox!
Subscribe to our Daily Headlines newsletter.