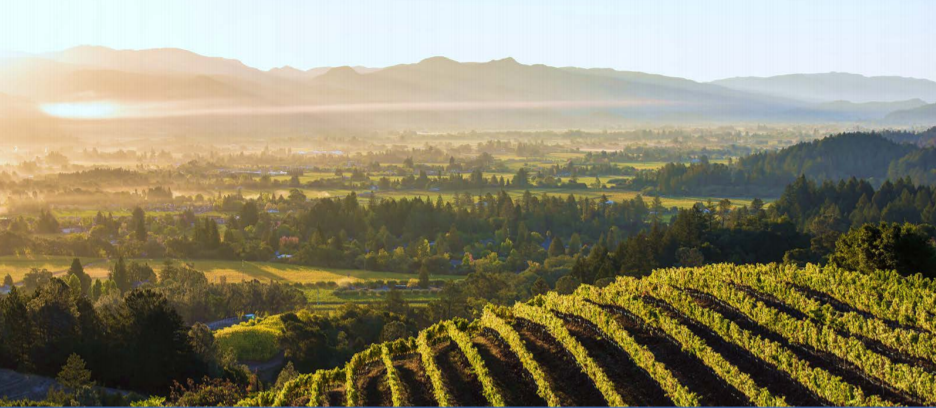 Tourism, climate change, the fate of family wineries and, of course, COVID-19 all came up as Napa County looked at wine country's economic landscape.
The county Planning Commission last week held the session for background as it wrestles with winery growth proposals. It listened to experts talk about wine and grape-growing trends.
Rob McMillan of Silicon Valley Bank Wine Division gave a history lesson on why wineries are depending more on direct-to-consumer sales. The United States in 1995 had 2,600 wineries and 3,000 distributors. Today, it has 11,100 wineries, but only 1,126 distributors.
Support local news coverage and the people who report it by subscribing to the Napa Valley Register.
"The dynamics have changed over the decades dramatically," he said.
For Napa County, the result is wineries submitting applications asking for more visitors. The county limits how many visitors each winery can have. Recent growth requests suggest wineries are looking ahead to post-COVID-19 tourism.
Commissioner Dave Whitmer asked how the county can balance the requests for more tastings and direct-to-consumer commerce with such environmental issues as more tourists, traffic and crowds.
"We're about trying to preserve the goose that's laying golden eggs, to some degree, for the economy here locally," Whitmer said.
McMillan said tourism and related taxes are part of Napa County now. The taxes provide revenue for street and services.
"There are examples of mass tourism that has kind of wrecked things," he said. "I was in Venice two years ago now. You're elbow-to-elbow."
Some tourist regions are starting to think about who is coming in terms of payback. For Napa County, the day-tripper comes for one day and doesn't stay in a hotel. Venice and other places are trying to get tourists to slow down and enjoy longer stays, he said.
Also, there's the idea of getting people to spread out more and experience the region, instead of only the mass tourism sites.
"We don't have to have everybody going to the same spots in Napa or the same five wineries and suffering from that mass tourism," McMillan said.
In response to another question, McMillan said the overall trend is toward consolidation and fewer family wineries. That concerned Planning Commission Chairperson Andrew Mazotti.
"If someone looks at Napa and says 'That's a lot of the character of Napa, we don't want that to happen,' what do you do to help facilitate these families being able to keep these wineries?" Mazotti said.
McMillan said it's a free market and it's hard to stop consolidation. If someone started a winery, the best hope is the children take over, but that doesn't always happen. The smaller wineries at some point end up finding someone to buy.
It's expensive to get into Napa because the cost of wineries is high. Buyers are strategic buyers, which are larger companies, foreign companies, hedge funds, private equity, he said.
"The old days of the vet and doctor and dentist coming and starting a winery or buying a winery are kind of ended," McMillan said. "It's going to have to be pockets of larger money to make these transactions work."
Asked how many wineries in Napa Valley are profitable, McMillan gave a "wild guess" for last year and said 60% to 70%.
"That's higher than I would have thought," Mazotti said.
McMillan said a welcome trend during the pandemic is more consumers going online to buy wine. For years he has talked about the need for wineries to diversify beyond the tasting room, using Skype tastings as an example.
"I look at that as being a positive," McMillan said. "When forced into a corner, people do make changes."
But, he noted, the changes were passive in that consumers amid the pandemic sought wines online. E-commerce is about wineries using analytics and finding ways to drive consumers to websites. Long-term, this could account for 15% to 20% of overall wine sales.
"It's an area we are underinvested in and it's going to take a while," he said.
Attracting younger consumers is the industry's biggest challenge, McMillan said. He talked about tasting rooms for "lifestyles of the rich and famous" as being more associated with his generation.
"That's kind of anathema for the younger consumer," he said.
Pent-up demand for delayed travel and celebration should help wine economic growth as the pandemic eases, he said. Overall recovery will take several years.
"We're at a base and looking up," McMillan said.
Mazotti asked how the wine industry can deal with climate change. What happens, he said, if Napa Valley grows warmer and ends up like Southern California? Would Napa wines taste different than they do today?
Garrett Buckland of Premiere Viticultural Services tackled that question.
"The one thing that's true is variability and volatility is sort of built into the system," he said. "That's something as farmers we're really good at dealing with. Essentially that's our job, is mitigating risk and every curveball that comes our way, trying to get a good swing at it."
Vines for a commercial vineyard usually have a 25-year-to-30-year lifespan, Buckland said. Replants provide the opportunity to think about a more self-sustainable vineyard that can react to adverse conditions ranging from double the rainfall to frost to hotter days.
Replanted vineyards can have such improvements as climate resilience, better row orientation, drought-tolerant rootstock and better trellis systems with more shade on the fruit. Replanting provides the opportunity for "future-proofing our vineyards," he said.
Owners 30 or 40 years ago didn't think the risks were great enough to do something about. But now the value of the crop is high enough to make sure there's a good vintage all the time, Buckland said.
His company works with several thousand acres of grapes, mostly in Napa County. He sees a shift toward organic farming, though there are challenges such as the vine mealybug and other invasive pests.
"This (shift) is really welcome and something I think you'll see more of as an industry trend," Buckland said.
WATCH NOW: NASA'S PRESERVERANCE ROVER SENDS BACK AUDIO FROM MARS
Catch up on Napa County's top news stories