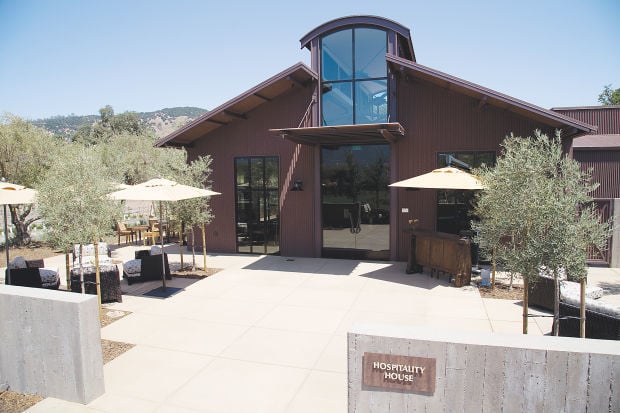 Napa County says Oakville-based B Cellars winery appears to overemphasize food service in violation of county laws for wineries in unincorporated areas, with the winery disagreeing.
The county allows food-and-wine pairings at wineries, but requires that food service be incidental to wine tasting. Wineries are to be primarily agricultural processing facilities, according to county policies.
On Jan. 31, the county issued what it calls an "apparent code violation" notice to B Cellars saying meal service there is such that the winery functions as a café or restaurant. Also, the winery's marketing efforts emphasize food too much.
"Your web page describes 'an enhanced Napa culinary experience' that does not subordinate the food to the wine tasting experience, but highlights it as a distinct reason to visit your facility," the notice said.
The notice encourages voluntary compliance before the county takes further enforcement action.
B Cellars co-owner Duffy Keys said Monday he only just learned of the apparent code violation notification. The winery hadn't received the notice in the mail yet.
"We take our operational compliance seriously here," Keys said. "I like to think we work hard to run our business inside the framework of county code, especially the nuances of it … My feeling is that we are operating inside those ground rules. What we need to do is work with the compliance team at Napa County and try to reach common ground on how things get described."
Napa County cited customer comments in the winery's website advertising saying the food is excellent and the chef-prepared tasting menu is perfect. Another section refers to an epicurean adventure led by chef Derick Kuntz, not by a winemaker.
"The cumulative effect of these web pages and advertising is such that the food being served is neither incidental nor subordinate to wine," the notice stated. "There are repeated references to food and wine pairings, which indicate that the food is, at a minimum, equal to the wine being served."
In addition, county code enforcement officials have heard a report that B Cellars offered to rent the winery for an anniversary celebration. Anniversary parties are prohibited because they are not subordinate to wine-related content, the notice stated.
"I don't know of a specific instance," Keys said. "I'm reading this today (Monday). Anything that is specified here, we'll look into."
Napa County is giving B Cellars until Feb. 11 to describe how it believes it is complying with county code and its use permit. The county also told the winery to submit all log books detailing visitors for tastings and marketing events in 2017 and 2018.
Keys and Jim Borsack founded B Cellars in 2003. They operated out of the Silver Rose Inn resort in Calistoga, then in 2013 won county Planning Commission approvals needed to move to today's site at 701 Oakville Cross Road in the heart of Napa Valley.
On Dec. 20, 2017, B Cellars obtained Planning Commission approval to increase annual tasting and marketing visitation from 13,860 guests to 25,635 guests.
"I think a distinguishing characteristic for us is that we are providing visitors with a curated wine-and-food experience," Keys told the commission. "These are high-touch, personalized visits."
This hearing included much praise for B Cellars, but also some wrestling over the question of when hospitality uses at wineries begin to overshadow agriculture. Commissioner Joelle Gallagher voted against the request, which passed 3-1.
"I really think the visitation and marketing isn't clearly incidental and subordinate to the production of wine," she said.
B Cellars neighbor and vintner Paul Woolls expressed concerns about the proposed visitation increase during that meeting's public comment period, though he said it pained him to do so. B Cellars on its website has seemed like a restaurant masquerading as a winery, he said.
This is the third high-profile winery code notice that Napa County has issued in little more than a month. Last Dec. 26, it issued an apparent notice of violation to The Prisoner alleging that winery improperly sold art objects and had food service similar to that at a restaurant.
On Jan. 10, Napa County issued a code violation letter to DDYM Inc. – a company associated with the Del Dottos of Del Dotto wineries fame – because of a mudslide from a hillside vineyard onto Yount Mill Road.