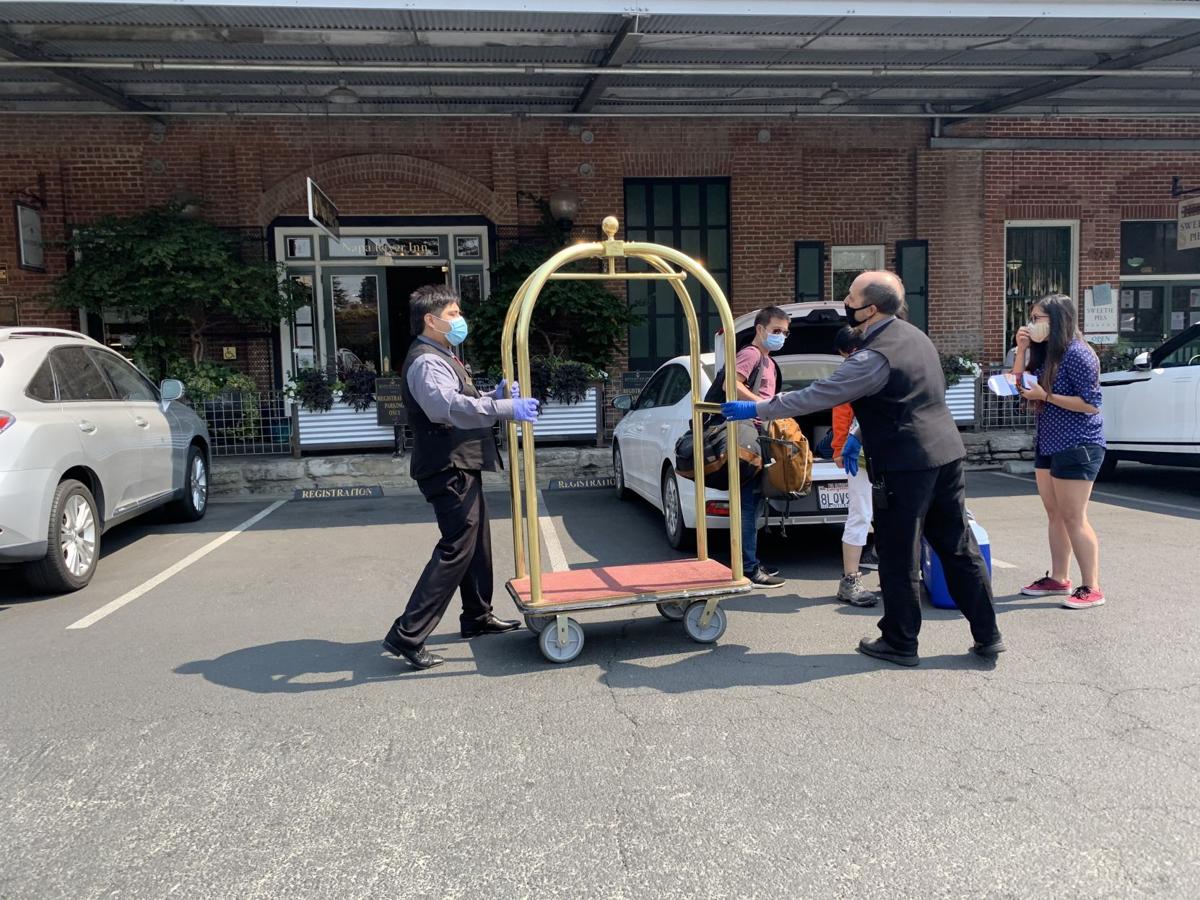 Reynaldo Zertuche, the longtime general manager of Napa's Embassy Suites hotel, is so happy to once again welcome tourists to his hotel that each visitor is personally presented a bottle of Napa Valley wine upon check-in.
"It's just to thank them for coming to see us," said Zertuche.
The thank you comes at a time when the Napa Valley lodging industry is still reeling from the impacts of COVID-19.
According to hotel research firm, STR, 2020 was "the worst year on record" for U.S. hotels.
Lodging properties across the country, including Napa County, saw devastating drops from occupancy to room rates and revenue.
Occupancy at Napa County hotels shrank to just 41%, a 42.6% drop compared to 2019. The average daily room rate also fell, to $266.61 a night. That's a 20.9% decline. Revenue sank 58.7%, to $184 million.
In 2019 hotel revenue topped $446 million, said STR.
"The impact of the coronavirus pandemic, coupled with two wildfires, on the Napa County hotel market in 2020 was devastating," said Linsey Gallagher, president and CEO of Visit Napa Valley.
The severe drop in occupancy "resulted in the loss of industry jobs for thousands of residents, reduced economic activity for our local businesses and a significant decline in revenue for our county and towns," she said.
Napa County projects Tourism Occupancy Tax (TOT) collections for 2020 will be just 40% of what was generated in 2019, "which has greatly diminished local budgets that provide for resident services such as road repair, public safety, beautification, parks and more," Gallagher said.
With stay at home orders limiting travel to essential workers only for nearly three months in the spring and then again in December, annual hotel performance numbers were not surprising, said Gallagher.
However, "It is encouraging to note that when leisure travel was allowed to resume, Napa Valley average daily rate (ADR) was higher than competitor destinations and in July was just 4.5% lower than 2019," she said.
Local hoteliers echoed the grim findings.
"There is no doubt that if there is any industry that has been affected by COVID, it's the lodging industry," said Zertuche. "Some industries have flourished during this pandemic, we have not."
"It's painful. It's painful in many ways."
The hotel GM said the pandemic has been the most trying time in his professional life, "and I've been in this business for 30-plus years."
Searching for new revenue and controlling costs has been paramount, he said.
"Every day and every week you are hoping for some light and we had it yesterday," he said, referring to Gov. Newsom on Monday lifting the statewide stay-at-home order.
"Coming to work yesterday and knowing we could solicit tourists was fantastic. We are still far away from occupancy levels that are encouraging but we keep going at it."
He expects 2021 to be a better year, with a 10 to 15% increase in revenue, said Zertuche. "Unfortunately January is not starting out that way," because most of the month was spent under the stay-at-home order.
"But not anymore. We are now open for business again and really excited and now we need the weather to cooperate with us."
News of predicted heavy rains and flood warnings/watches might cause people to avoid the area, he said. "I'm checking on the hour to see if reservations are coming in."
Rick Swig, a St. Helena hotel consultant and owner of the Wine Country Inn in St. Helena, described 2020 as "the worst possible situation for Napa Valley" lodging.
The pandemic and its effects were "uncontrollable and there was no way that any tourism agency or hotel could change what occurred."
"Thank God I sold the Napa Winery Inn in February 2020," said Swig, referring to a second hotel in Napa he previously owned. "I would have lost several hundreds of thousands of dollars over the last 10 months and the value of the hotel would have declined significantly."
That doesn't mean the Wine Country Inn didn't suffer.
"I called my investors in April and I said, 'This is gonna be a disaster,'" recalled Swig. He thought the hotel could be empty for months – even into August.
He got a few breaks, said Swig. First, there were some guests at the Inn in June, July and August — not a lot, but some, he said. The Inn also received Paycheck Protection Program (PPP) funds from the Small Business Administration which covered just over two months of payroll.
"The third lucky break is that I have a good lender who said you don't have to pay me for a year." Of course, he ultimately has to pay the lender, but his loan payments are deferred. "I have a good relationship with them," explained Swig.
"Now we're running out of money again," said Swig, but he's hoping to apply for a second round of PPP grants.
"We will make it," said Swig, "But it's a tightrope. It's been a trip."
Swig said that smaller hotels that mainly cater to visitors should expect to mostly see a return to 2019 hotel revenue in 2022, "assuming that we have this virus under control by the end of June or August.
Larger hotels that depend on group and corporate travel may have to wait until the end of 2023 "and maybe into 2024."
"Leisure (travel) is going to come back," said Swig. "If the pandemic ended tomorrow, they're coming back the next day." Demand to get out of the house and travel is pent up, he said.
Gallagher said Visit Napa Valley is optimistic that 2021 will show significant improvement for the Napa County hotel industry.
"The combination of pent-up demand for leisure travel and expected wide availability of a coronavirus vaccine by early summer will boost visitation in the second half of 2021, particularly from fly-in markets," she said.
Until then, "we expect the leisure drive-in market to remain strong, particularly on the weekends, with stay-at-home restrictions eased," Gallagher said. "However, without long-haul travel and group business, leisure transient demand will likely not make up for the shortfall in 2021. Research suggests Napa County tourism numbers will not return to pre-pandemic levels until at least 2022."
"On a positive note, we look forward to two new Napa County hotel openings, the Cambria Hotel in Napa and the Four Seasons in Calistoga, bringing new jobs and additional TOT to Napa County," said Gallagher.
Watch now: How one Napa Valley hotel protects guests from COVID-19
Photos: Napa County's most expensive home sold in December
Catch up on Napa County's top news stories