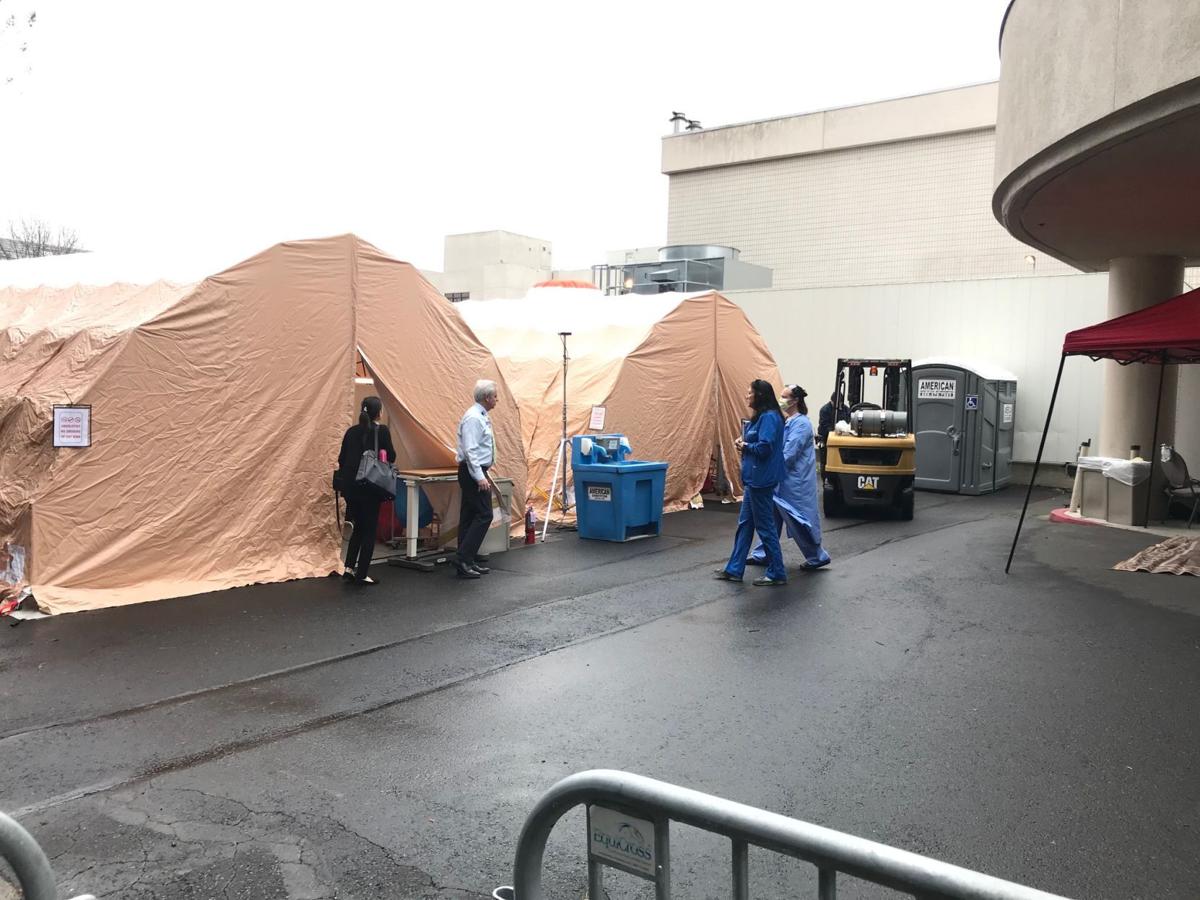 Napa County over the last two weeks has been reporting 0% ICU capacity for the first time.
The number does not mean the county's hospitals are not accepting new patients into their intensive care units, officials emphasized. But the number of patients in ICUs — both infected with the coronavirus and not — means hospitals will be forced to adjust staff to patient ratios.
"We have hit our capacity and then some," Amy Herold, chief medical officer at Queen of the Valley Medical Center, said in an interview Wednesday. "Typically ICU nurses in California are only allowed to take care of two patients, but the California Department of Public Health has put out a waiver granting hospitals in the state permission not to follow those ratios at this time. That's out of necessity."
Queen of the Valley has requested help from the state and the National Guard, Dr. Herold said. They received three nurses — two for their intensive care unit — this week. Under normal circumstances, that would only increase ICU capacity by four patients, Herold noted.
The county has intermittently reported 0% capacity several times over the last two weeks, according to County Public Health Officer Karen Relucio. It has reported 0% four out of five weekdays this past week; Tuesday, it reported 45% capacity, only to fall back down to 0% Wednesday.
"There are going to be massive swings when your numbers are smaller to begin with," Relucio explained. "What happens is there's maybe a discharge — someone stepping down to a regular floor (of the hospital), or a death."
California is experiencing a statewide surge, Relucio said, adding that several regions within the state have remained at 0% ICU capacity sometimes for days on end, even stretching into week-long streaks. The Bay Area region on Friday reported ICU capacity at 3%, its lowest to date.
"I am not surprised, given the number of cases we've had," Relucio said. "In December, we had 2,500 cases — the month before that, 1,200. So it's more than doubled."
On Friday, Queen of the Valley Medical Center officially re-established its tented respiratory triage area, Herold said, where individuals experiencing severe COVID-19 symptoms can be assessed and potentially amitted to the hospital. The hospital had previously erected a triage area amid early springtime lockdowns, though it was subsequently taken down after limited utilization. The triage area is essentially an extension of a waiting area, Herold explained. No patients are being given long-term care in the tent.
The county was bracing for additional cases and hospitalizations born out of holiday gatherings, according to Relucio.
This latest spike has come even as Napa's coronavirus testing structure has seemed to operate in fits and starts over the last few weeks; residents reported wait times of between two and three hours the last week of the year, the Register previously reported, after OptumServe, a new testing vendor, took over operations.
A new, privately-owned testing site is set to open on Soscol Avenue this month. Owner Brad Feliz, a pathologist at Queen of the Valley Medical Center, expects to run as many as 400 tests each day, with the ability to run as many as 1,000.
Results from Feliz's site, run out of the building that previously housed Jimmy Vasser Toyota, can be expected as quickly as three hours because the lab and testing site share the same facilities, he said.
The site does not take insurance, though test recipients will be provided with a receipt for which their insurance companies may reimburse them, Feliz explained. The cost for a COVID-19 test is $125.
Napa County reported 139 new cases of COVID-19 Friday afternoon. Thirty-five people — a possible peak number — were reported hospitalized in the county's two acute care hospitals with the virus.
Watch Now: California Surpasses 25K COVID Deaths
The year in videos: A look at some of Napa County's most memorable stories
The year in videos: A look at some of Napa County's most memorable stories