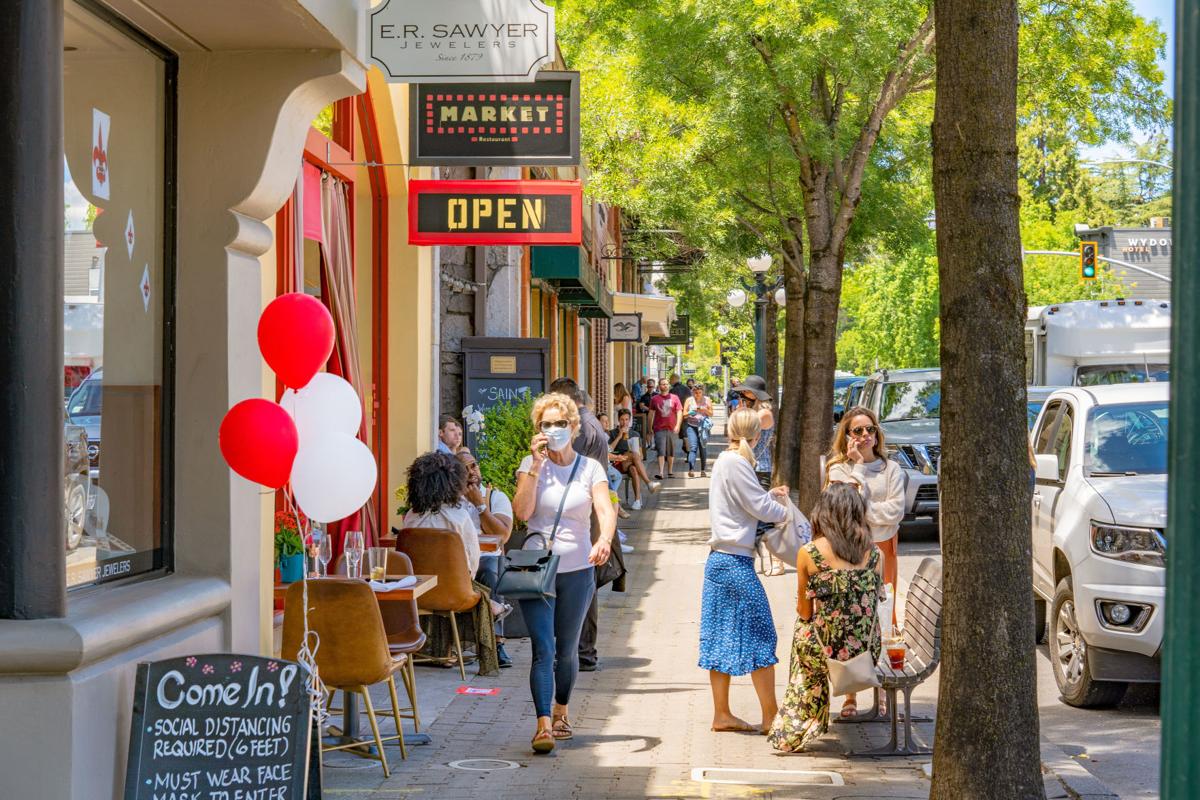 Constantly evolving Napa County and state COVID-19 shelter-at-home laws are enough to make a person wonder what's legal to do nowadays.
Expectations were simple in late March. People were to stay home unless working at an "essential" business, going outside to walk, run or bike or attending to "essential" chores such as buying food. Downtown Napa looked like a ghost town.
These days, all kinds of stores are open and many people have returned to work. Residents – even tourists – can be seen strolling downtown. Hotels and outdoor wine tasting have returned.
Napa County has entered a new normal that is far different than the pre-COVID-19 normal of less than four months ago. Here is some guidance for figuring out exactly what that new normal means for daily life in early July.
Should people still have the mentality that for the most part they should be sheltering in their home?
"The shelter-at-home order remains in place," said Dr. Karen Relucio, county public health officer. "Households should stay home unless they are seeking those services that are allowed to open."
And when households seek those services, members should stay together and keep at least six feet apart from other households, she said.
But treating friends and extended family members as if they are radioactive at distances closer than six feet can grow tiresome. County officials acknowledged that COVID-19 shelter-at-home fatigue can set in.
"The very challenging part is how we do this for months and months and months," Board of Supervisors chairperson Diane Dillon said.
How does Napa County maintain a shelter-at-home mentality if people can go on shopping sprees and tourists can stay at hotels and go wine tasting? Is there mixed messaging?
A 20-year-old Napan who didn't give her name touched on this topic during phone-in public comments at a recent Board of Supervisors meeting. Her visit to downtown unsettled her.
"It is very scary to see the amount of people I see gathering, wearing no masks, clearly not social distancing," she said.
In an email message to the Napa Valley Register, Relucio clarified what message the county is trying to send.
"While we can start to return to some normalcy, we must continue to take precautions – washing hands, wearing face coverings and maintaining physical distancing," she said.
Also, businesses are required to have adaptations in place to help prevent coronavirus spread, she said.
Can friends come over and sit in the front yard if everyone stays six feet apart and wears a mask?
Relucio again recommended staying in one's household. That said, she recognized that isolation is difficult and can lead to mental health issues.
"If you are going to mix outside your bubble, safety measures should be practiced," she said. "This includes staying outdoors, maintaining six feet distance between households and wearing face coverings."
And don't enter another household's residence, she said.
Can people drive to another county to visit parents and stay at their house? Have a son or daughter drop by their house?
Relucio replied with the same answer – she recommended stay in household bubbles. If people break their bubble, they should observe the social distancing and face covering rules.
People can be seen playing basketball on local, public basketball courts. Is this permitted? What about kids on public playground slides and swings?
Vine Hill Park in the northwest city of Napa can be a busy place at times. A few weeks ago, the city repaved the basketball court and added free throw lines and three-point lines, a tantalizing attraction to basketball buffs. Sure enough, more than a dozen youths can be seen there at times playing full-court games.
Under the county's shelter-at-home order, that's still off-limits.
"Shared recreational facilities including basketball courts and playgrounds should remain closed," Relucio said. "Non-contact training and conditioning can occur without using shared equipment and while physical distancing."
When can people be outside without a mask?
"When exercising and maintaining six feet of distance from those not in your household," Relucio said. "If you are outside and in line waiting to enter a public space, you must wear a face covering."
What about the Vine Trail? Is a face covering required there given its narrowness?
The Vine Trail is 10 feet wide and during busy times is packed with runners, bikers and walkers passing each other. Some are huffing and puffing. Still, county officials don't portray the trail as a COVID-19 corridor.
"Since people are passing each other rapidly, face coverings are not needed," Relucio said.
Some cities have fines for people who don't wear face coverings in public – West Hollywood has a $250 fine, Santa Monica, $100. Is Napa County considering a fine?
All potential actions and options are being discussed with the new COVID-19 Compliance Task Force Coalition established by Napa County, its cities and town, Relucio said.
More may be known after Tuesday's county Board of Supervisors meeting. The county announced Friday that supervisors will consider allowing county staff to issue citations, similar to parking tickets, to people and businesses violating COVID-19 health orders.
If the city of Napa someday does have fines for not wearing face coverings in public, it won't be the first time. The city took such action more than a century ago when the deadly Spanish flu pandemic struck the region.
Mayor Drussel on Oct. 29, 1918 ordered that everyone appearing on public streets and in stores wear a mask. Masks had to be at least three thicknesses of cloth that covered the mouth and lower half of the nose.
Napa was serious. Judge James Palmer a day later threw two men in jail for 10 days for failing to wear what the Napa Daily Journal called flu masks. The penalty eventually became a $5 fine, which is $85 in today's dollars.
This law remained into effect until Nov. 25, less than a month. Then, with the Napa Daily Journal proclaiming the Spanish flu as being as routed, the mask law ended.
"The thing to do is make a heap of the pesky things somewhere, set them on fire and ring the bells, blow the whistles as they are consumed," the paper said. "So throw up your hats and cheer – they're coming off."
A century later, residents are again waiting for that day.