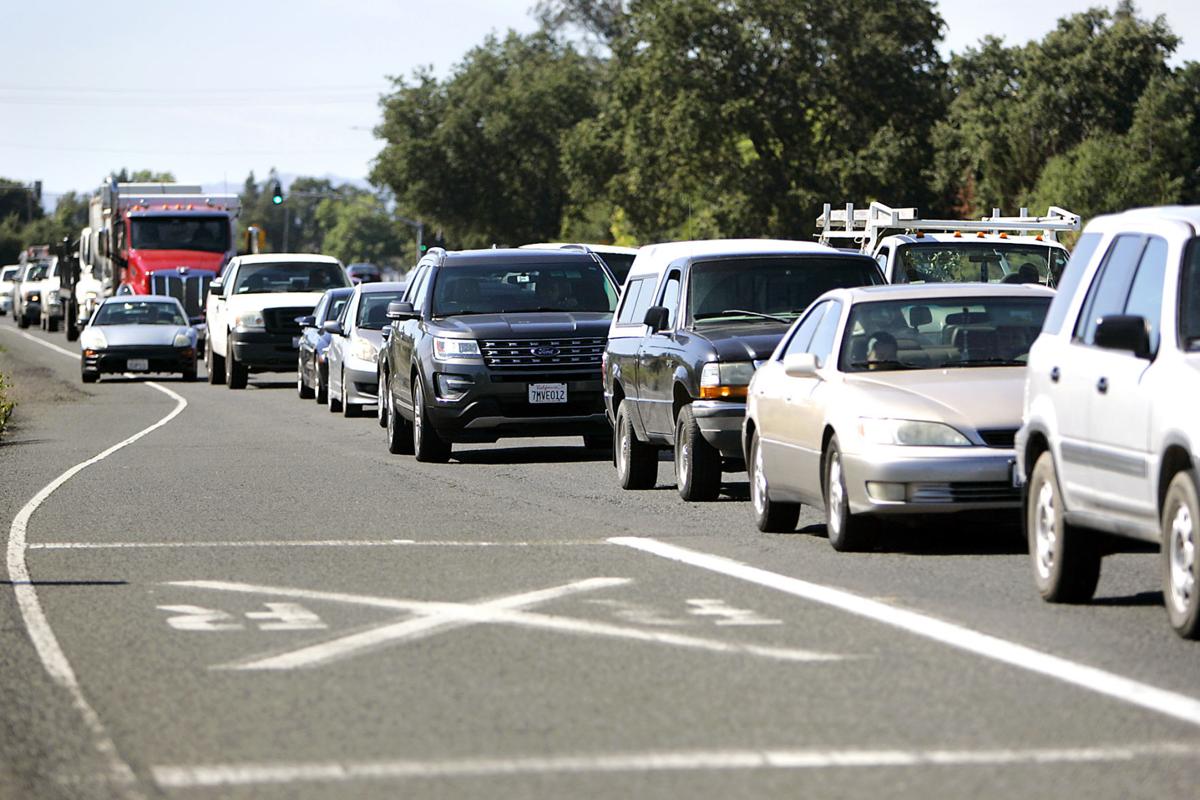 Napa County's big planning effort turned Friday to the problem of how people can get from Point A to Point B without waiting in lines of rush-hour traffic.
A possible answer – the county could make trains, more bike trails and other non-automobile travel options available.
Napa County is holding 38 community meetings on various topics as it works on a three-year strategic plan. The transportation session took place in the morning at Napa Valley Transportation Authority headquarters and attracted eight participants.
"What does a vibrant transportation sector look like in 2022?" county Public Works Director Steven Lederer asked, summarizing the task at hand.
American Canyon City Manager Jason Holley gave his answer. His south county city has congested Highway 29 running down the middle.
"Transportation isn't a barrier," Holley said of that hoped-for day.
Some American Canyon residents at times drive to Trader Joe's in Contra Costa County rather than to the one in the city of Napa, Holley said. They endure added mileage and a bridge toll to avoid Napa traffic.
"What that translates into is frustration," Holley said.
While there is talk of widening Highway 29 to six lanes in American Canyon and improving south county intersections, the Napa Valley stretch poses a challenge. The county in the 1960s scotched the state idea of building a valley freeway. The existing road system will have to make do.
"You can't make the roads magically carry all the traffic," said Chuck McMinn of the Napa Valley Vine Trail Coalition.
McMinn envisions light rail on the local railroad tracks running Upvalley frequently. The challenge is the $200 million price tag, he said.
He also wants to see the Napa Valley Vine Trail bike-and-walking path completed from Vallejo to Calistoga. Most of the Vine Trail to date is in the Napa-Yountville areas.
Madeline Oliver wants to see bike lanes and paths along major corridors and routes to school. The member of the Napa County Bicycle Coalition said having a bike lane on Jefferson Street in Napa would help students cycle to Napa High School.
Nicole Cummings, who is on the NVTA Citizen Advisory Committee, said local modes of transportation should connect with those in other counties to serve employees and visitors.
The group didn't forget about the car. McMinn suggested synchronizing traffic signals and fixing traffic choke points at such places as Silverado Trail and Skellenger Lane. He also suggested the county start planning for autonomous vehicles.
"We actually have a coherent vision here," Lederer told his group.
Another suggestion to emerge during the session is putting solar arrays on all county buildings to help charge electric cars.
Participants also looked at possible unintended consequences if the various transportation ideas became reality. Cummings and Holley said some people might think Napa County feels less rural.
What ideas end up in the strategic plan to be adopted by the county Board of Supervisors on Dec. 18 remain to be seen.
"We will not have every single answer on the 18th, but we'll know what direction we're going," said Marissa Murphy-Becerra of the county.
Go to https://bit.ly/2NijotM to learn more about upcoming Napa County strategic plan events. Upcoming topics include environmental sustainability, social services, the Spanish-speaking community, public safety, children and veterans.