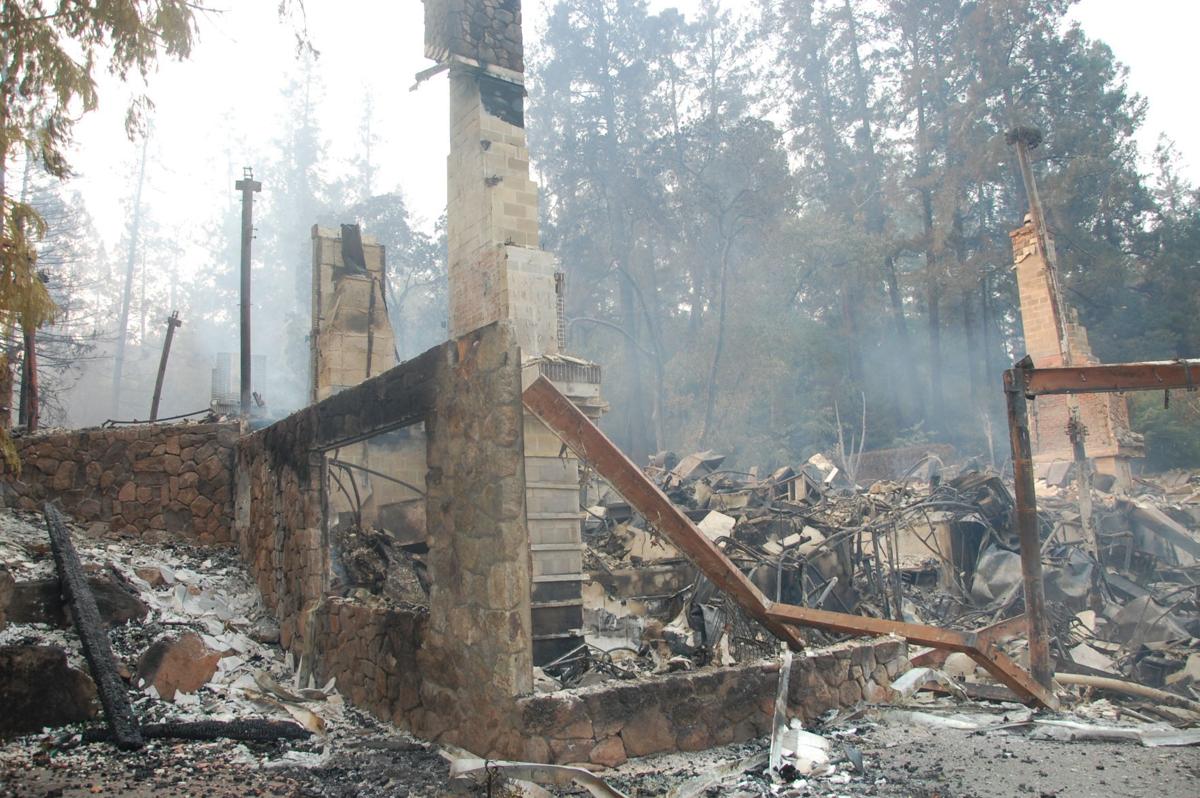 Napa County and Meadowood Napa Valley have begun hammering out terms to streamline the rebuilding of the luxury resort areas damaged in the Glass Fire.
The Glass Fire burned through part of the resort at about 1 a.m. Sept. 28, 2020, causing what owners previously said was $100 million in damage. Among the structures lost were the clubhouse that was home to a three-star Michelin restaurant and 50 rooms.
Meadowood reopened to members in May and hotel guests in August, with cottages, pools, tennis courts, terrace café and other features available. But it still faces recovering from the fire.
Support local news coverage and the people who report it by subscribing to the Napa Valley Register. Special offer: $1 for your first 6 months!
"Meadowood's owners are committed to rebuilding the property better than it was ever before," said Chris Birdwell on behalf of the resort. "Today is the first step to making that commitment a reality."
On Tuesday, the county Board of Supervisors endorsed the broad outlines of a proposed development agreement between the county and Meadowood.
This is only a first step. County officials said the actual agreement could go before the county Planning Commission in October or November and the Board of Supervisors in December or January.
Proposed terms call for streamlined county approvals for structures described in the development agreement. Permits for buildings complying with the agreement's concept plans could be approved without further public hearings.
Reconstructed buildings wouldn't increase the uses at the resort, but could be reconfigured and be 25% larger to meet future hospitality trends. Lodging units would remain at 106.
"They're not adding any additional rooms or facilities. They're just making the existing units larger," county Planning, Building and Environmental Services Director David Morrison said.
Rebuilt buildings would meet fire safety standards and defensible space would be increased. Birdwell said the resort's efforts will serve as a model in California and nationwide.
While reconstruction occurs, some Meadowood functions could be relocated to the nearby Napa Valley Reserve winery property for up to five years.
A development agreement would give Meadowood flexibility on building design. It would provide a clear path for the county and Meadowood. And it would reduce financing risk, Birdwell said.
The draft terms sheet also lists benefits for Napa County. Among them are the return of one of the unincorporated county's largest employers and the return of $3 million to $4 million in annual transient occupancy taxes, the nightly levy paid by hotel guests.
Supervisors unanimously endorsed the broad outlines for a development agreement, though they took no formal action.
"It's gotten more exciting to me as I've heard people talk about the future for this place," Supervisor Brad Wagenknecht said. "This part of our county that has been a wonderful member our county for so long — it's good to hear there's a future here."
Meadowood resort is located at 900 Meadowood Lane in the hills along Napa Valley near Silverado Trail, northeast of St. Helena.
Freeman Nicholls began developing Meadowood in the early 1960s, according to newspapers from the time. It was conceived to have five subdivisions, a golf course, an Olympic size swimming pool, trails, tennis courts and a gourmet restaurant.
In 1981, the St. Helena Star reported that Meadowood owners wanted to expand their resort to provide lodging, food, and recreation for the wine industry and its guests. They turned then to a development agreement with the county.
Birdwell on Tuesday said Meadowood is seeking another development agreement for the Glass Fire rebuild because of how well that 1981 effort turned out.
Napa County/American Canyon housing dispute
Also on Tuesday, the Board of Supervisors approved an agreement with Kaplan Kirsch Rockwell to provide the county legal advice on American Canyon's Oat Hill housing development.
American Canyon recently overruled a county Airport Land Use Commission finding that part of the proposed Oat Hill multi-family housing development is in a Napa County Airport compatibility zone banning new homes. Napa County owns the airport.
Supervisor Belia Ramos stressed getting legal advice doesn't mean Napa County will sue American Canyon.
"I don't want to send the wrong message that this is embarking on an intention of litigation," Ramos said. "We continuously strive to work with the jurisdictions in the county." 
The county will pay Kaplan Kirsch Rockwell up to $73,400 from Aug. 11, 2021 through June 30, 2022.
Catch up on Napa County's top news stories
Get unlimited digital access to the Napa Valley Register for just $1 for your first 6 months! Enjoy every article without restrictions and find tons of subscriber-only perks, such as access to our daily eEdition. Click here for details!