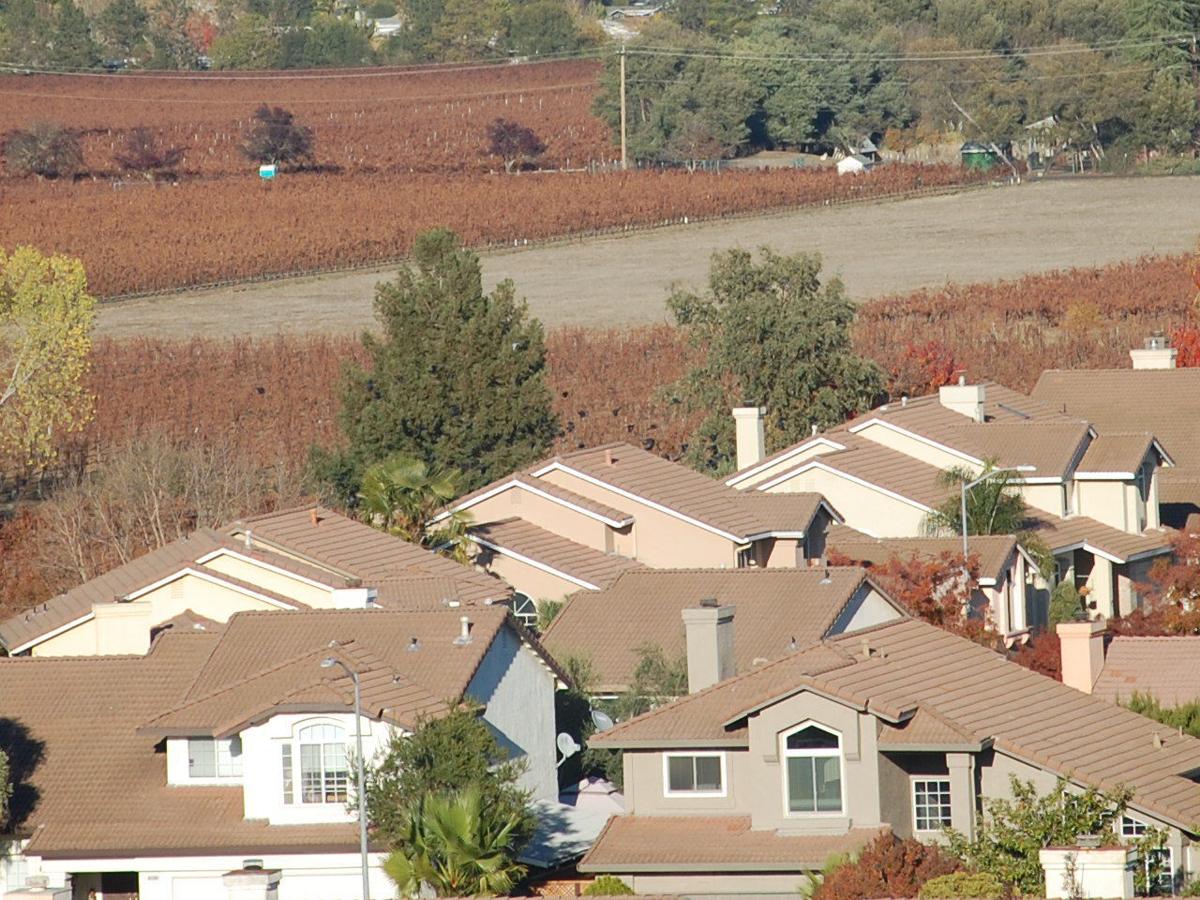 Here is a Napa County wine country conundrum: find ways to build a few thousand new homes to dent the affordable housing crisis without paving over world-famous vineyards.
The Jack L. Davies Napa Valley Agricultural Land Preservation Fund is looking for answers. It had Tom Daniels, a land use planning expert from the University of Pennsylvania, tackle what has become a thorny topic.
"The primary challenge facing Napa County is how to plan effectively for growth, especially for affordable housing, and yet protect its valuable agricultural land," Daniels wrote.
He presented his ideas on Thursday during a virtual community forum. About 60 people participated, with those registered ranging from elected leaders to open space advocates to housing advocates.
Napa County has little choice but to plan for more housing, given state housing growth mandates. The updated allotment being proposed for the county from 2023 to 2031 is 3,523 new homes, down slightly from the previously announced number.
The county has such land preservation laws as Measure P, which in most cases forbids re-designating farmland for other uses without a vote of the people. The city of Napa and American Canyon have voter-approved growth boundaries.
Daniels produced a 108-page report on how to deal with the housing need/farmland preservation challenges amid these dynamics. Among his recommendations:
Napa County should ask voters to pass a quarter-cent sales tax to buy and retire development rights for agricultural lands. Two open space tax measures in recent years failed to top the necessary two-thirds margin to win.
The community should consider creating a nonprofit community housing trust to create and preserve affordable housing.
The Napa County Regional Park and Open Space District and Land Trust of Napa County should consider formally coordinating agricultural land-preservation efforts.
In addition to the city of Napa and American Canyon, the remaining county cities should also establish voter-controlled growth boundaries.
The county Local Agency Formation Commission should consider requiring farmland mitigation for annexations. For each acre of farmland annexed to a city, at least one acre of farmland would be preserved.
Communities should identify where they can appropriately increase housing density.
Napa County should look at additional farm labor housing opportunities.
Daniels pointed to Vermont. Vermont recognized that preserving farmland would mean having less land available for development, resulting in higher housing costs, his report said.
The Vermont Legislature in 1987 created the Vermont Housing and Conservation Board and funds it with revenues that come mainly from property transfer taxes. The Vermont Board has preserved more than 164,000 acres of farmland and helped build more than 12,000 affordable homes.
"Affordable housing is a priority, as is land preservation," Daniels wrote. "Thus, public and private funding for both priorities is needed."
Daniels' presentation on Thursday was followed by a question-and-answer session. Sandy Elles, a Jack L. Davies Ag Fund board member, said key takeaways were that everyone needs to work together on agricultural preservation and housing issues and that there is no single answer.
Hugh Davies, president of the Jack. L. Davies Ag Fund, said tackling the challenges will require cooperation and coordination among people with different views.
"The people who want to preserve agriculture long-term, they also need to be housing advocates," he said.
The Napa County Board of Supervisors on Tuesday expressed concern about that proposed, eight-year state housing mandate of 3,523 new Napa County homes. Each city and the unincorporated county is assigned part of the total, as is done in counties throughout California.
"This will arguably be the toughest cycle we've faced yet, stressing our city limits and ag preserve more than ever," county Supervisor Ryan Gregory said.
Gregory is among those who participated in Thursday's forum. He pointed out to the virtual gathering that local jurisdictions are already cooperating on housing issues, with Napa County, the city of Napa, American Canyon and Yountville forming a subregion for their state housing mandates.
"It's a way to pool our (mandate) numbers among ourselves, instead of each being left on our own," Gregory said on Friday.
Gregory said California used to take into account Napa County's agricultural preservation laws when looking at local housing policies.
"Seems those days are over," Gregory said. "The state is saying, 'Napa, we love your ag preserve, but you've got to participate like everyone else.'"
The Jack. L. Davies Ag Fund report and forum tried to bring some possible actions to the forefront to tackle the challenges.
"It was one step," Hugh Davies said on Friday. "But as there always will be, there is work to be done."
Go to jldagfund.org/book to see the Jack L. Davies Ag Fund report by on agricultural preservation and housing.
WATCH NOW: VIEW THE AMAZING BUTTERFLY JUNGLE
Barry Eberling's memorable 2020 Napa Valley Register stories
Napa Valley Register reporter Barry Eberling share his most memorable stories of 2020.
SEE NAPA'S LEAST EXPENSIVE DECEMBER HOME