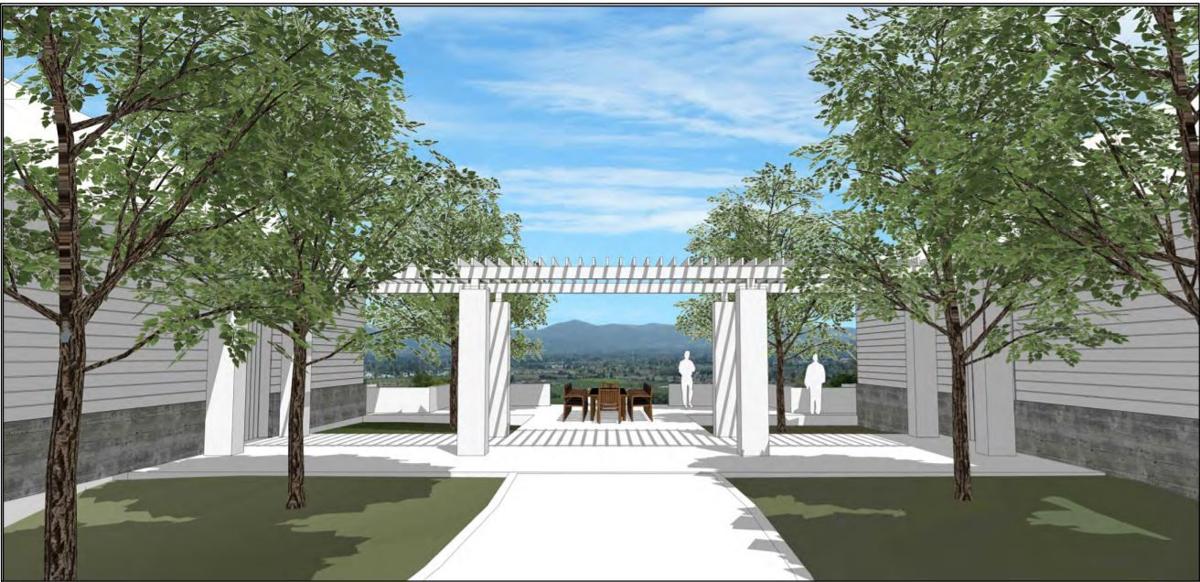 Anthem has become Napa County's latest winery proposal battle royal.
The winery, off Redwood Road, just outside the city of Napa wants to expand. That has many neighbors speaking out in opposition and some prominent Napa Valley vintners lending their support.
It all landed before the Napa County Planning Commission on Wednesday. After hearing from a couple dozen speakers, the commission postponed what chairwoman Anne Cottrell called "a large number of complicated issues" until Dec. 5.
Anthem Winery touches on a trio of winery development hot-button issues: groundwater use in an area where neighbors say wells are running low, the number of proposed visitors and requested county rules exceptions for the winery building and long access driveway.
"What I see here is a real need for more cooperation, collaboration and communication between the neighbors and the applicant," Commissioner Terry Scott said. "This is not a finished product in my mind as it stands now."
Anthem is on agriculture watershed land zoned for wineries. That is the highest and best use of the land according to the county General Plan, Scott said.
But agriculture is permitted as a right and wineries are conditional uses hinging on the county's review of all relative factors, Cottrell said.
Anthem Winery is located at 3454 Redwood Road. It wants to increase annual production from 30,000 gallons annually to 50,000 and increase annual visitation from 260 guests to 15,532 guests between tastings and marketing events.
The winery wants to switch access from Redwood Road to Dry Creek Road about a half-mile north of Linda Vista Avenue. It wants to build a 10,388-square-foot winery facility that includes a 1,508-square-foot tasting room and have 29,053 square feet of caves.
Julie Arbuckle, who along with husband Justin is the project applicant, called herself "a winery owner who thinks Napa Valley is paradise on earth."
"We propose changes to our existing use permit because we need them in order for our family winery to survive," Julie Arbuckle said.
Several residents expressed concerns that the proposed winery growth is outsized for what the land can sustain.
"I think this project is their dream," Ginna Beharry said. "I see that they have pursued this dream very voraciously. But I think they have done it slightly with rose-colored glasses and blinders."
Betsy Moulds of neighboring Moulds Family Vineyard said her family has trouble with groundwater quantity and quality for the wells on their property. She was among those who challenged the Arbuckles' well water assumptions.
"It's my hope they will step back and not challenge the limits of the ecosystem," she said.
Neighbor Jeff Atlas said the construction traffic and dozens of visitors daily on the proposed access driveway from Dry Creek Road will pass near his house, taking away his peace and quiet and privacy.
"It will be terrible," Atlas said.
Consultant Rob Anglin later said Atlas' house is very close to the property line, as close as legally allowed. The Arbuckle team has offered to pay for landscaping and a fence to provide Atlas more privacy.
"That's not true," Atlas said from the audience.
"If it's not true, sir, then through the chair I'll say that we are making that offer," Anglin said. "I believe we have made the offer and we can continue to make the offer, not withstanding anyone being upset by the project."
Neighbor Patricia Damery said the Arbuckles are trying to shoehorn in the project using various county rules exceptions.
Debra Dommen—who works for Treasury Wine Estates—supported the winery expansion. She praised the Arbuckle's proposal for rainwater harvesting and said the concept has worked at Beringer winery.
"These people are exactly what we want here in Napa for small wineries," she said.
Tom Davies of V. Sattui Winery said wineries are allowed in the agricultural watershed. Grapes don't magically sell themselves but need to be made into wine. Wineries need visitors to sell wine, he said.
Davis said he is worried about agriculture in Napa County.
Vintners Dario Sattui of V. Sattui and Chuck Wagner of Caymus Vineyards are among those who sent to the county letters supporting the Anthem proposal.
The state Department of Fish and Wildlife wants more information. The agency wrote that 130 trees would be removed and it wants to know what the impact would be to oak woodlands.
"Oak woodlands play a critical role in protecting soils from erosion and landslides, regulating water flow in watersheds, maintaining water quality in streams and rivers and providing shade and shelter for wildlife, among several other environmental benefits," the agency wrote.
It recommended that three oaks be protected for every oak removed. The Napa County General Plan calls for a two-to-one ratio.
The proposed winery would need an exception to county rules called a variance because it would be 65 feet from a private access drive on the adjacent property, with a 300-foot setback required. The Arbuckles own this adjacent property.
"We're literally getting a setback from ourselves," Anglin said.
The proposed, nearly half-mile Dry Creek driveway would need exceptions to county standards for reduced widths and for grades exceeding 18 percent. Anglin said the new entrance would be better than the existing, 10-foot-wide driveway from Redwood Road and provide better emergency access to the area.
Planning Commissioner Dave Whitmer praised the Arbuckles, though he said he doesn't make decisions based on people's reputations.
"I want to acknowledge there's a wonderful family here," he said. "They have a family farming business, a winery, that they are interested in."
He also acknowledged the neighbors' concerns.
"I think the level of concerns I'm hearing have raised this to an issue for me over whether or not this is an appropriately sized application for this particular location," Whitmer said.
The Planning Commission may deliver the answer on Dec. 5.