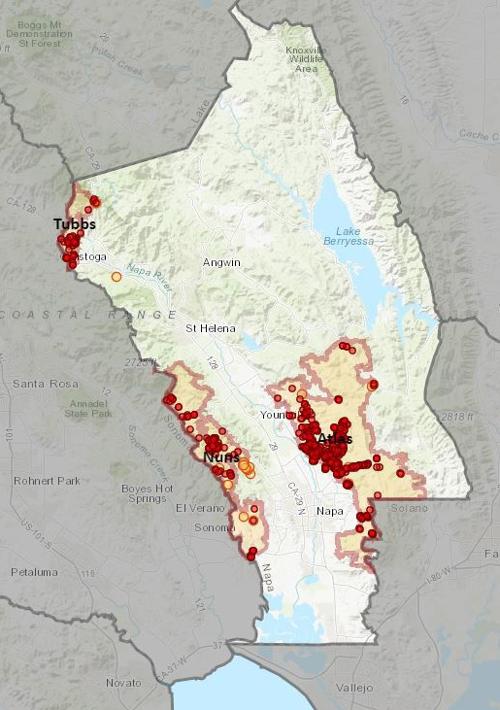 Napa County released an interactive online mapping tool that shows the status of local structures impacted by recent fires.
The map includes a search feature that detals whether a building has been red tagged or yellow tagged as a result of the fires. Here's what red and yellow tag means:
— Red Tag: A red-tagged building has been deemed unsafe and should not be occupied as occupancy poses a threat to life safety. Buildings or structures posted with this placard shall not be entered under any circumstance except as authorized in writing by the Napa County Chief Building Official. This placard is not to be used or considered as a demolition order.
— Yellow Tag: A yellow-tagged building has been tagged for restrictive use. Damage has occurred and has resulted in some form of restriction for current occupancy. The yellow tag notice will note the type of damage and the restrictions on continued occupancy.
For additional information on red or yellow tagged buildings, contact the Napa County Planning, Building and Environmental Services Department at 707-253-4417. For information on calamity reassessment, property tax deferral and rebuilding options please go to this link: http://www.countyofnapa.org/calamity/.
The Napa Sheriff's Office has increased patrols in damaged areas.
Napa County has opened a Local Assistance Center (LAC) for those affected by the 2017 wildfires at 2751 Napa Valley Corporate Drive, Building A. Information on hours of operation and available services can be found at www.napalac.com or by calling 707-299-2190.