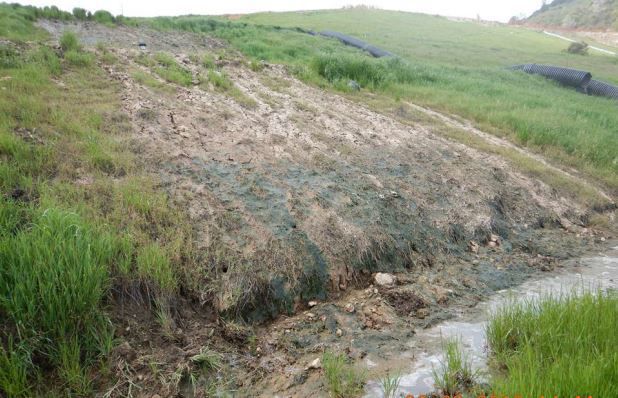 Napa County officials say Clover Flat Landfill near Calistoga is making progress in clearing up water pollution and other violations that in April prompted a franchise agreement default notice.
The Upper Valley Waste Management Agency Board of Directors on Monday heard an update. Board Member and county Supervisor Alfredo Pedroza wanted to know what the confidence level is that the situation is being resolved.
"Compared to a few months ago, very high," county Solid Waste Program Manager Peter Ex replied.
The landfill had one violation in May involving debris removal that had been cited previously, Ex said. It had eight to nine violations in previous months.
"Overall, it's continual improvement," Ex said.
Regulatory issues involving Clover Flat Landfill came to a head in March, when the county said water contaminated with chemicals and metals had run from the landfill into nearby Dutch Henry Creek. The creek ultimately runs into the Napa River.
A March 29 county notice summed up landfill violations ranging from the leakage to the creek to erosion to failure to install needed fire protection infrastructure. That prompted the Upper Valley Waste Management Agency to take action.
The authority's breach of contract finding gave Clover Flat Landfill time to cure the breaches. Failure to do so could result in revocation of the franchise agreement to run the landfill.
Clover Flat Landfill is located at 4380 Silverado Trail. It is owned and operated by Clover Flat Land Fill, a California corporation with Bob Pestoni listed by the state as the corporation's agent. The Pestoni family has been involved in upvalley garbage collection since 1963.
Landfill General Manager Bryce Howard in April told the Napa Valley Register that the landfill problems resulted from a number of factors. Among them was not having a full-time site manager for about a year, a position Howard said proved hard to fill because of high Napa County housing prices.
Clover Flat Landfill once again has a site manager.
The leak from the landfill into Dutch Henry Creek is being investigated by several agencies. Napa County's Local Enforcement Agency, the San Francisco Bay Regional Water Quality Control Board and state Department of Fish and Wildlife are all involved.
Ex wrote up the results of a June 4 inspection of the landfill by the three agencies.
Clover Flat Landfill has provided a plan to remove leachate – contaminated water that leaked from the landfill after rains – that is stored in tanks and a retention area by an estimated date of July 10. Some will be used at the landfill for dust control and some will be hauled to the Yolo County Central Landfill.
Fire control has been a big issue. Last year, local officials criticized Clover Flat operators after a string of fires at the landfill, with fears that landfill fires could become major blazes.
The Napa County Fire Marshal has temporarily approved such things as increased water tank capacity, piping and a fire hydrant. Six hundred feet of hose is at the fire hydrant, the inspection report said.
"We're ready for the fire season," said Evan Edgar of the landfill.
One issue mentioned by the report is the presence of three tanks contaminated with radiation. The landfill uses tanks with capacities in the range of 20,000 gallons to store leachate, which is not radioactive.
The tanks had previously been used in fracking operations and that is the source of the radiation. Landfill consultant JC Isham said the soils of the Bakken oil fields in North Dakota have naturally occurring radiation. Now, with less fracking taking place there, hundreds of these tanks are being moved around the United States, he said.
"What happened at Clover Flat is also happening at many places around the country where these fracking tanks are being rented and sold," he said.
Clover Flat is evaluating the situation and will ultimately remove the frack tanks with radiation, a county report said.
Get local news delivered to your inbox!
Subscribe to our Daily Headlines newsletter.