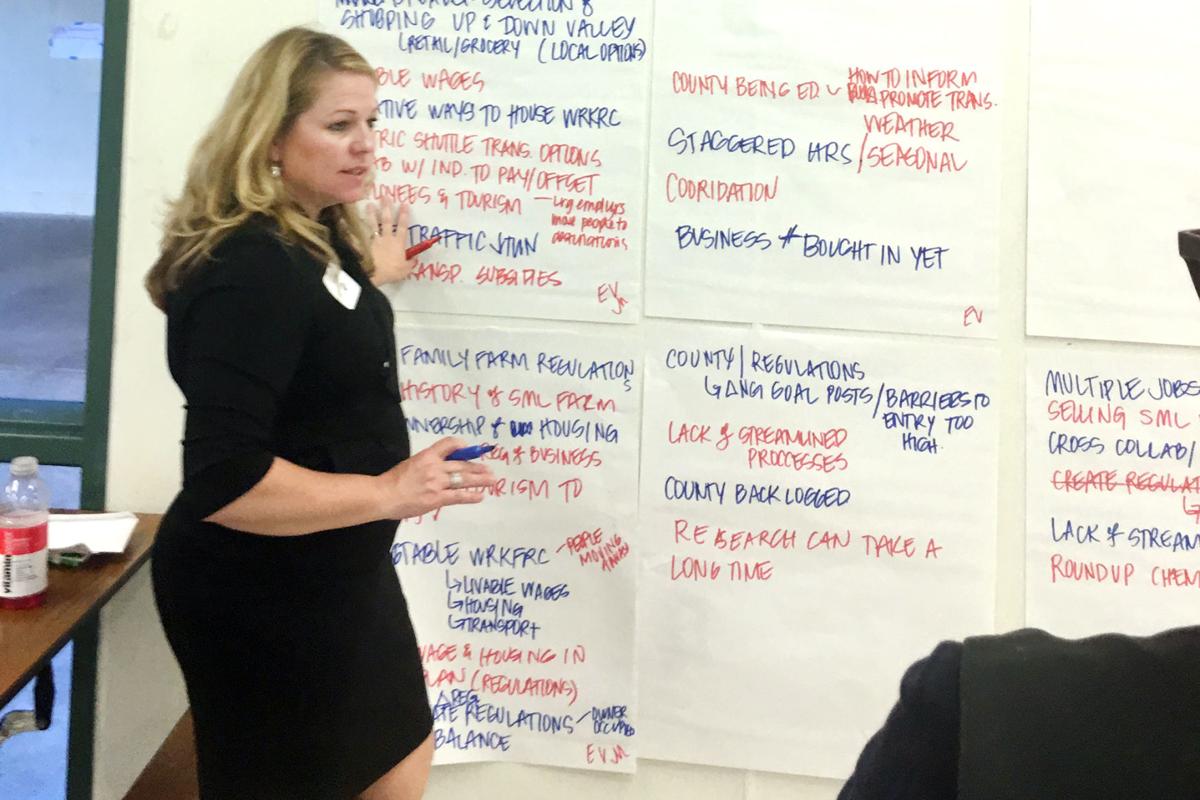 About 60 residents delivered their own State of Napa County messages on wine country tourism, traffic, vineyard development on hillsides and other local hot-button issues.
County officials did the listening Monday evening in the Harvest Middle School cafeteria. Supervisor Brad Wagenknecht hosted one of three dozen meetings to help the county develop a three-year strategic plan.
Wagenknecht called the series of meetings being held up and down Napa Valley "a true listening tour."
The underlying theme – is Napa County headed in the right direction or does it need to do something different?
David Layland came to the meeting. He's a member of the Napa County Local Food Advisory Council and president of the Napa Valley Farmers Market Board.
"I would like to see more people getting access to the food bank," Layland said. "I'd like to see our Latino population becoming part of that. I think too often they are left out."
Also, the food bank on Yajome Street in Napa is several blocks from the nearest bus stop, so accessibility is an issue, he said.
Ian Stanley Posadas came to the meeting. The program director for the local LGBTQ Connection said he is interested in a planning effort with diversity, including different languages and ages.
"I grew up here in Napa and I'm interested in helping to shape the direction of its future," he said.
Participants went to various stations grouped by topic, such as natural resources, social services, arts and culture and transportation. County officials wrote the participants' ideas in marker on papers attached to the walls.
For example, one station was on housing. Resident Carol Barge suggested the county have a housing land trust that helps people own homes, such as is done in Sonoma County.
"It's an old idea that's being used all over California," Barge said.
After half an hour, the papers on the walls showed a barrage of ideas—"Diversity beyond wine, food and hospitality." "One year moratorium on development." "Campaign finance reform (money in politics from the industry)." "Fire—notification beyond Nixle in rural areas—solve cell service problem." "Homeless population … the group that is resistance to assistance."
Marissa Murphy-Becerra of the county told participants that the strategic plan will be a road map of where the county wants to go over the next three years. She compared it to setting the goal of reaching San Francisco without detailing how to get to San Francisco.
Citizens who missed this meeting still have plenty of chances to speak out. The strategic plan update effort by the Napa County Board of Supervisors is scheduled to last until Dec. 18, with 33 meetings overall.
Each county supervisor is hosting a community meeting in his or her district, with Wagenkecht's being the first. Still to come are:
- Supervisor Diane Dillon's meeting at 5:30 p.m. Sept. 26 at St. Helena High School, 1401 Grayson Ave., St Helena.
- Supervisor Ryan Gregory's meeting at 6:15 p.m. Oct. 2 at Las Flores Community Center, 4300 Linda Vista Ave. in the city of Napa.
- Supervisor Belia Ramos' meeting is at 6:15 p.m. Oct. 1 at the Boys and Girls Club, 60 Benton Way, American Canyon.
- Supervisor Alfredo Pedroza's meeting is at 5:30 p.m. Oct. 3 at Vichy Elementary School, 3261 Vichy Ave., near Napa.
Plus, there are issue-focused meetings on such topics as environmental sustainability, transportation, older adults and health care. Go to https://bit.ly/2NijotM for information and to register.
The Board of Supervisors will discuss the Strategic Plan on Oct. 16 and Dec. 18.