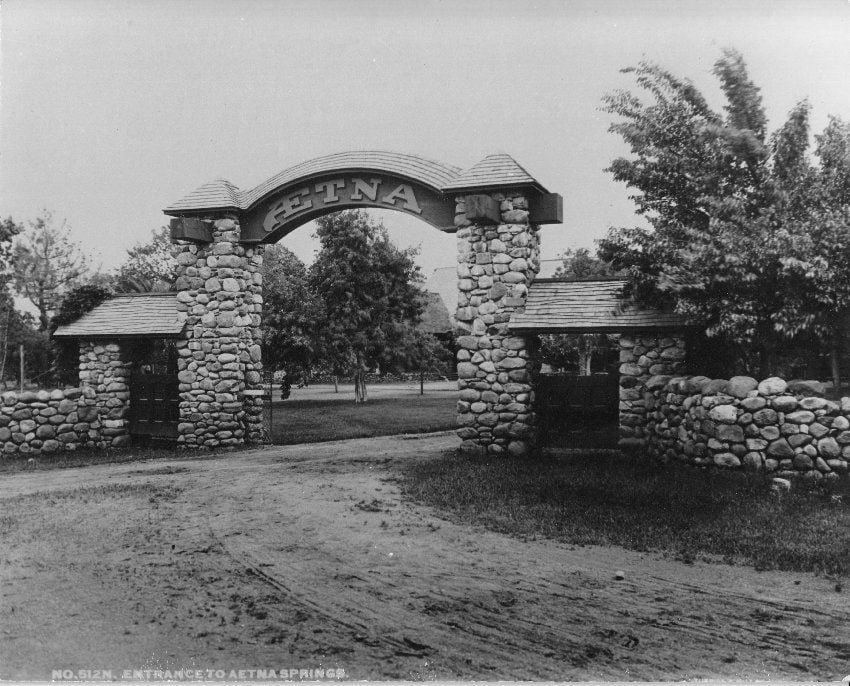 Historic, deteriorating Aetna Springs resort in rural, remote Pope Valley has a new owner with the stated goal of creating a world-class luxury destination.
CBRE Hotels and Compass Real Estate announced in a press release they had successfully marketed 3,100 acres. The deal includes the 672-acre resort property, the 125-year-old, nine-hole golf course that closed abruptly in January and land around Lake Luciana and Turkey Hill.
The new owner is Alchemy Resorts. The plan is to "restore the historic property to its original grandeur through the development of a world-class luxury resort that showcases Napa's food and wine combined with leading wellness programs," the press release stated.
"It will make for a perfect wine country destination resort," said Henry Bose, senior vice president of CBRE, in the release. "The Pope Valley region as a whole has also seen a surge of investor interest in the vineyard potential."
Alchemy Resort CEO David Wickline couldn't be reached for a comment on Thursday.
Wickline's career includes being a Goldman Sachs investment banker and developing various resorts. He helped create the Cali 351 Napa County wine label. He took part in a 2016 Global Wellness Summit round table talk on wellness tourism.
Napa County in 2012 approved a plan to restore Aetna Springs Resort to host 100 guests Monday through Thursday and 200 guests Friday through Sunday. It approved restoring 28 historic structures and building a 12,000-square-foot lodge, among other things. A separate approval allows for a winery.
How that vision fits in with Alchemy Resorts' plans remains to be seen.
"I don't know how big they're talking," Napa County Board of Supervisors chairman Brad Wagenknecht said on Thursday. "I stand behind the approved project. At the time, it looked like a good project for the area."
The new owner could get started immediately on the county-approved project, Wagenknecht said. Anything beyond that would involve seeking further county approvals.
County Planner Jason Hade said the new owners had several meetings with the county to do their due diligence prior to purchase and find out what's permitted on the property. They did not talk about seeking further approvals.
Aetna Springs has been a name to be reckoned with over the years, Wagenknecht noted.
"For a long time, it was the premium name in Napa County, known throughout America," Wagenknecht said. "A lot of famous people have come and gone through there. I think Ronald Reagan is probably the most notable in the last 80 years."
In addition, it has some of Napa County's greatest historic inventory with wonderful buildings, he said.
Aetna Springs has craftsman-style resort structures that are listed on the National Register of Historic Places. Restorations in the 80-acre historic resort core are to comply with U.S. Department of Interior preservation standards.
CBRE Hotels and Compass Real Estate said the terms of the sale are confidential.
Napa County Assessor's Office records indicate the deal was about $22 million for more than 50 parcels. The previous owners are listed as Aetna Preserve LLC, Lake Luciana LLC and Napa LLC. The official buyer name is Aetna Springs Resort, LLC.
"I would say it's a mid-range purchase in the size of changes of ownership we've had," Assessor John Tuteur said, adding the Vintage Estate deal in Yountville topped $140 million.
The press release mentioned the purchase as including home sites, but didn't elaborate. Napa County allows a home to be built by right on each parcel in its agricultural watershed zoning district.
Restoring Aetna Springs resort has long been on the wish list for local historic preservationists. In 2010, Napa County Landmarks placed Aetna Springs on its Ten Threatened Treasures list, noting many of the buildings were in an advanced state of decay.
The resort began in the 1870s after the discovery of warm minerals springs along Aetna Springs Creek. People could travel there by catching the Aetna Spring stagecoach in St. Helena at 1 p.m. each Sunday, Tuesday and Thursday.
"The Aetna Springs are truly booming," the May 13, 1881 St. Helena Star reported. "Each day adds new names to the list of guests, both as patients who seek the sanitary effect of the waters and those that need but recreation and rest."
From 1972 through 1976, a development company that had bought the resort made three proposals for large residential communities. The county Board of Supervisors denied the first two proposals and the company withdrew the third, a county report said.
In 1976, the resort was bought by New Educational Development Systems (NEDS), a nonprofit corporation associated with the Unification Church. NEDS operated an educational/recreation/retreat center and clashed with the county over land use.
NEDS leased the land to a Southern California development company in the late 1990s. In November 2000, county voters turned down an attempt to redevelop the site with a 200 person-per-night resort, the report said.
Aetna Preserve LLC bought the site in 2006 and retained famed golf course architect Tom Doak to revamp the nine-hole golf course. In 2010, Golf Digest rated the reborn course as the fourth-best nine-hole course in the nation.
In 2009, the county Planning Commission turned down the owners' plans to create the adjacent Lake Luciana project, which called for converting farmland into an 18-hole golf course and luxury home sites.
In January 2012, the county Planning Commission approved a permit to restore and revitalize the Aetna Springs resort and those approvals remain in effect.
But the planned resort revival didn't take place. Aetna Springs golf course closed last January amid talk that a prospective buyer wanted to purchase the resort.
Now a new owner will try to write the next chapter in the long history of Aetna Springs.
Get local news delivered to your inbox!
Subscribe to our Daily Headlines newsletter.