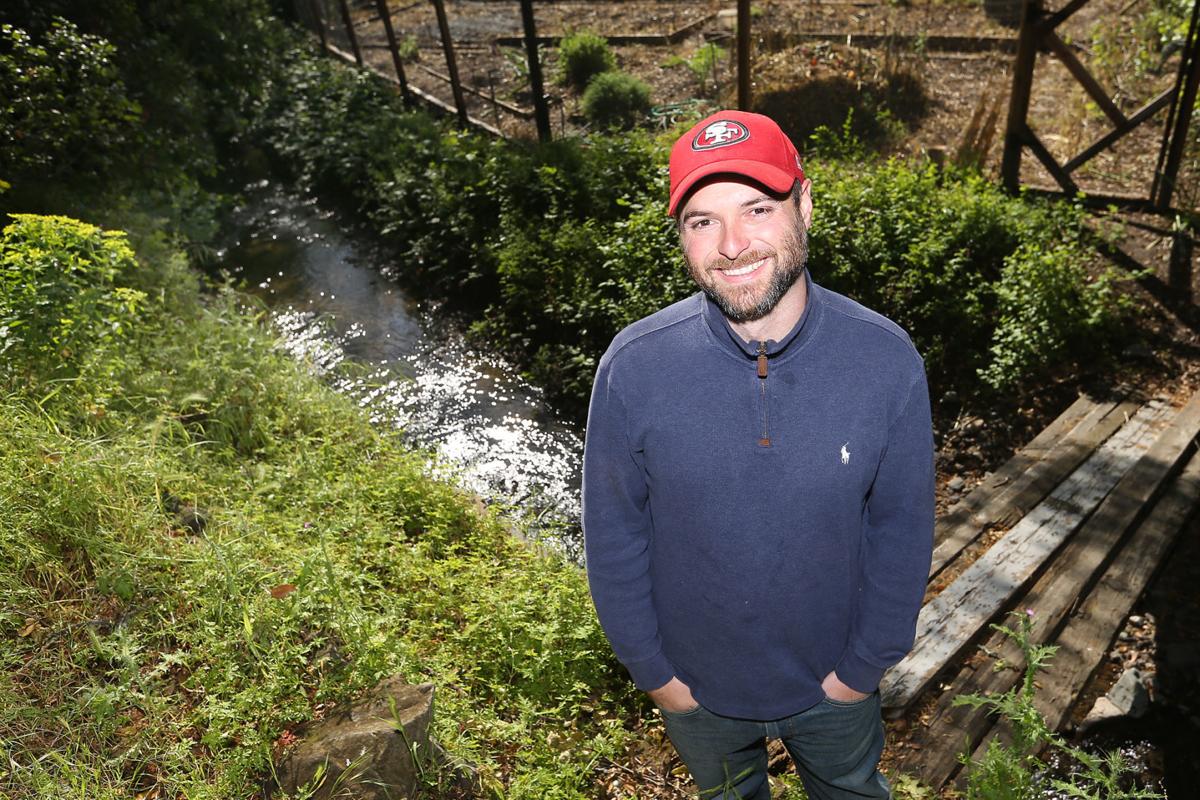 Grape grower Graeme MacDonald worked in 2017 to name the creek near his cottage "To Kalon" and now Constellation Brands – owner of nearby Robert Mondavi Winery – wants the name removed.
A creek near Oakville small enough to jump over has become part of a big battle involving trademarks and money.
MacDonald said it's magical for him to walk outside his cottage and see the area where pioneer Napa Valley vintner H.W. Crabb lived and worked in the mid-to-late 1800s. Crabb called his vineyard and wine To Kalon, which roughly means "the highest good" or "highest beauty" in Greek.
"For me, those kind of ghosts of the valley are what I find fascinating about the history, not the lawsuits and the people trying to use it for monetary gain," MacDonald said recently.
The MacDonald family grows grapes on 15 acres that Crabb owned at one point and Graeme MacDonald, as a child visiting his grandparents, waded in the creek near the family house. MacDonald convinced the U.S. Board on Geographic Names to name that creek To Kalon.
To Kalon is a big name in today's wine world. Robert Mondavi Winery, which opened in 1966 and acquired much of the historic Crabb estate, trademarked "To Kalon" in 1988 and "To Kalon Vineyard" in 1994 for its premium wines.
Constellation Brands, Inc., which owns Robert Mondavi Winery, has petitioned the U.S. Board on Geographic Names to strip To Kalon Creek of the To Kalon name with the stated intention of protecting the trademarks.
"Whether intended or not, Mr. MacDonald's proposal was not about assigning an innocuous name to an otherwise non-descript feature – it was the first shot in a campaign to weaken or usurp Constellation's To Kalon trademark rights," Constellation's attorneys wrote to the board.
If To Kalon is a place, the Mondavi trademarks might be at odds with trademark policies. The U.S. Patent and Trademark Office on its website says it can refuse trademarks for names that are "primarily geographically descriptive" of the origin of the goods.
But if To Kalon is merely a brand and not a place, then having the name gracing a creek could be problematic.
"Our board won't approve a name that is clearly intended to promote a commercial product," said Jennifer Runyon, a researcher with the U.S. Board of Geographic Names.
The argument over place versus brand is about more than To Kalon Creek. The Vineyard House, with Jeremy Nickel as president, is challenging Constellation's To Kalon trademark in court.
The lawsuit said To Kalon is a "geographical indication of a location in Napa Valley." It also claims that The Vineyard House has grapes grown on land once owned by Crabb and should have the right to use the To Kalon name.
MacDonald, who isn't part of the lawsuit, is afraid To Kalon Creek could be collateral damage.
"Now I've found myself in quicksand with these two dueling entities," MacDonald said.
Constellation attorneys in a letter to the U.S. Board on Geographic Names said MacDonald is far from a disinterested party in the place vs. brand disagreement. If McDonald could use the name on his family's grapes and wines, their values would increase immensely, the letter said.
You have free articles remaining.
MacDonald said the naming of To Kalon Creek was not a backdoor ploy to try to sabotage the Constellation trademark.
"I love where I live and it's very important to me," MacDonald said. "I'm not fighting for this as a commercial product. We don't actually apply To Kalon to any of our wines. We don't use it in a commercial way."
MacDonald said Constellation attorneys verbally offered to allow his family to use the To Kalon name on its label if he would help overturn the To Kalon Creek name. He declined.
"It's really about honoring the site," MacDonald said. "I don't think they really understand that ..."
Asked for comment, Constellation spokesperson Alex Wagner said the company "is committed to conducting all its business with the utmost integrity, including partner relations, as we have for over 70 years."
MacDonald said the To Kalon Creek naming goes beyond his interest in the area's history. He several years ago talked with geologist David Howell, who co-wrote "The Winemaker's Dance: Exploring Terroir in the Napa Valley." Howell was interested in having creeks named to aid scientists in their alluvial fan studies.
Human history and scientific need merged in bestowing the name To Kalon on the creek near his cottage, MacDonald said.
"It's the perfect marriage between telling a story and being useful," MacDonald said in 2017.
MacDonald prior to the U.S. Board on Geographic Names' 2017 approval submitted letters supporting the naming of To Kalon Creek. Supporters included Rep. Mike Thomson, D-St. Helena, state Sen. Bill Dodd, D-Napa, the Napa County Board of Supervisors, Howell – and Robert Mondavi Winery.
Constellation's attorneys today say two virtually identical letters of support from Robert Mondavi Winery are not what they appear to be.
The letters are printed with a letterhead that Constellation does not use and neither has a signature, though one has a name. But even if the Mondavi official did send the letter – and the attorneys didn't concede that point—he had no authority to act on behalf of Mondavi or Constellation on trademark matters, the law firm wrote to the board.
MacDonald took issue with any insinuation that the letters might be fakes.
"For me, I'm really upset with what they said about me in their various arguments, which I don't find to be true." MacDonald said. "I just want to go and defend my integrity."
What happens to To Kalon Creek is up to the U.S. Board on Geographic Names. The Board has agreed to revisit the case at Constellation's request.
That could happen next spring, Runyon said. In the meantime, the California Advisory Committee on Geographic Names, which previously recommended the To Kalon Creek name to the national body, will have a chance to weigh in again.
"As far as we are concerned, the name is still To Kalon Creek," Runyon said. "We have not voided the decision. We are just taking another look."
But the tale of To Kalon Creek has become a tangled tale indeed.
Constellation is also opposing MacDonald's efforts to have To Kalon Vineyard added to the National Register of Historic Places. That led to an Aug. 1 hearing before a state Historical Resources Commission – an initial step—being delayed.