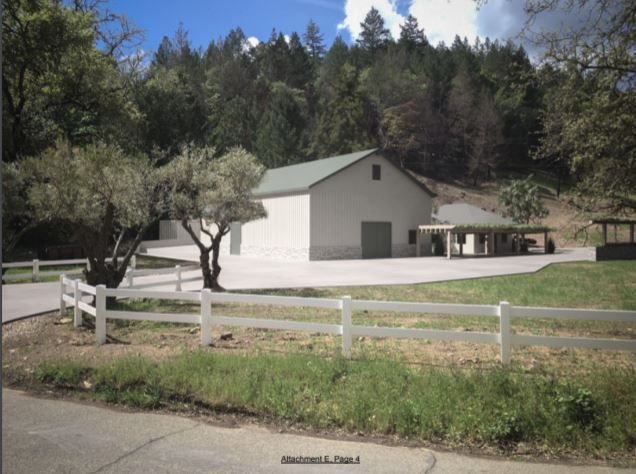 Winery construction is heading to the hills and that has Napa County looking at how to deal with the situation.
The days of new wineries coming to the Napa Valley floor aren't over, but they are waning. More and more, new wineries are being located away from the thoroughfares of Highway 29 and Silverado Trail.
Unincorporated Napa County has 484 wineries, and 57 percent are located in hillside areas and the Carneros region, county officials said. Thirty-eight percent are located on the valley floor. The rest are in such places as the airport industrial area.
"The majority are not located in the area that has traditionally been associated with winemaking in Napa County," Planning, Building and Environmental Services Director David Morrison said.
County supervisors on Tuesday discussed how to regulate "remote" wineries, though some of them didn't like using that word. Supervisor Diane Dillon suggested putting the emphasis on such factors as road width and topography.
The issue came up in part because of the proposed Dry Creek-Mount Veeder winery on a hilly property without a vineyard along a mountain road. A withdrawn appeal in August left supervisors without the chance to render a decision on that idea.
Still, supervisors wondered how the proposal went so far, causing expense for the applicant.
"To have a commercial building out in the middle of the ag watershed zone up a rural road with zero agriculture would have been the poster child for years to come for losing our connection to agriculture," Supervisor Ryan Gregory said.
Supervisors received plenty of advice from the audience on the topic of wineries in off-the-beaten-track areas with narrow roads.
Cynthia Grupp lives on dead-end Soda Canyon Road, which winds for six miles into the mountainside northeast of the city of Napa. She said the county has approved three wineries along the road over the last few years.
Grupp said that the county shouldn't allow remote wineries to have visitors. If a Soda Canyon winery at the end of the road had been holding a large event the night of last October's Atlas fire, the guests would have had trouble evacuating.
"I live four miles up the road and barely got out of there," Grupp said. " A number of us were stuck behind a fallen tree. You can't increase that risk."
Dillon later said that perhaps wineries in certain areas should cancel events during red flag fire conditions.
Michelle Novi of Napa Valley Vintners said the group wants to be part of the discussion, but needs time to bring the issue to a committee and its Board of Directors. The group found out about the remote winery hearing only 10 days earlier.
"But in a community like ours that is largely focused on agriculture, to be having discussions on these type of policies right in the middle of harvest is very challenging," Novi added.
The county is just beginning its discussion on the topic, Board of Supervisors Chairman Brad Wagenknecht said.
Julia Winiarski raised the issue of sustaining community support for agriculture. When residents feel they don't have a voice and are bullied by the wine industry, that support is weakened, she said.
"I think we really struggle with the idea of limiting the wine industry in Napa County, because we do see all the benefits we get," she said. "But there's nothing good without a limit."
Chris Malan lives on narrow, winding Atlas Peak Road and expressed concern about winery-related truck traffic in this type of area. She said trucks have jackknifed three times there, though she didn't give a time frame. She said she used a tractor to help one truck straighten out.
"All three times, we couldn't get off the hill for six to eight hours," Malan said.
Keith Glantz of Angwin noted the county is considering the proposed Aloft winery on narrow Cold Springs Road where he lives, a prospect he fears could endanger children who bike there. A winery would result in grape trucks, tankers, flatbeds with bins on them and other traffic on the road.
He expressed concern that the county might create a remote winery policy and then hide behind it, instead of scrutinizing a proposal.
"You don't have to think about it," Glantz said. "You've got this wall of paperwork and words – 'It's our policy '… every one of these applications needs to be considered."
During the Board of Supervisors discussion, Wagenknecht returned to the statistic of almost 500 wineries.
"That's still quite a few boxes in the whole Napa County," he said.
He recently went to the Rhine Valley, Mosel Valley and Alsace region in Europe. The vineyards there have almost no boxes in them, with most of the wine production taking place in villages, Wagenknecht said.
"I can see some value to that," he said. "So in my mind, we may be talking already that we are near carrying capacity for the numbers of wineries, the numbers of large boxes we have in the county."
His goal isn't to turn down projects. He wants clear enough rules and expectations that bad projects don't come forward, Wagenknecht said.
The county's discussion on what the expectations should be for wineries in harder-to-reach locations is to continue at a date to be announced in October.
Get local news delivered to your inbox!
Subscribe to our Daily Headlines newsletter.