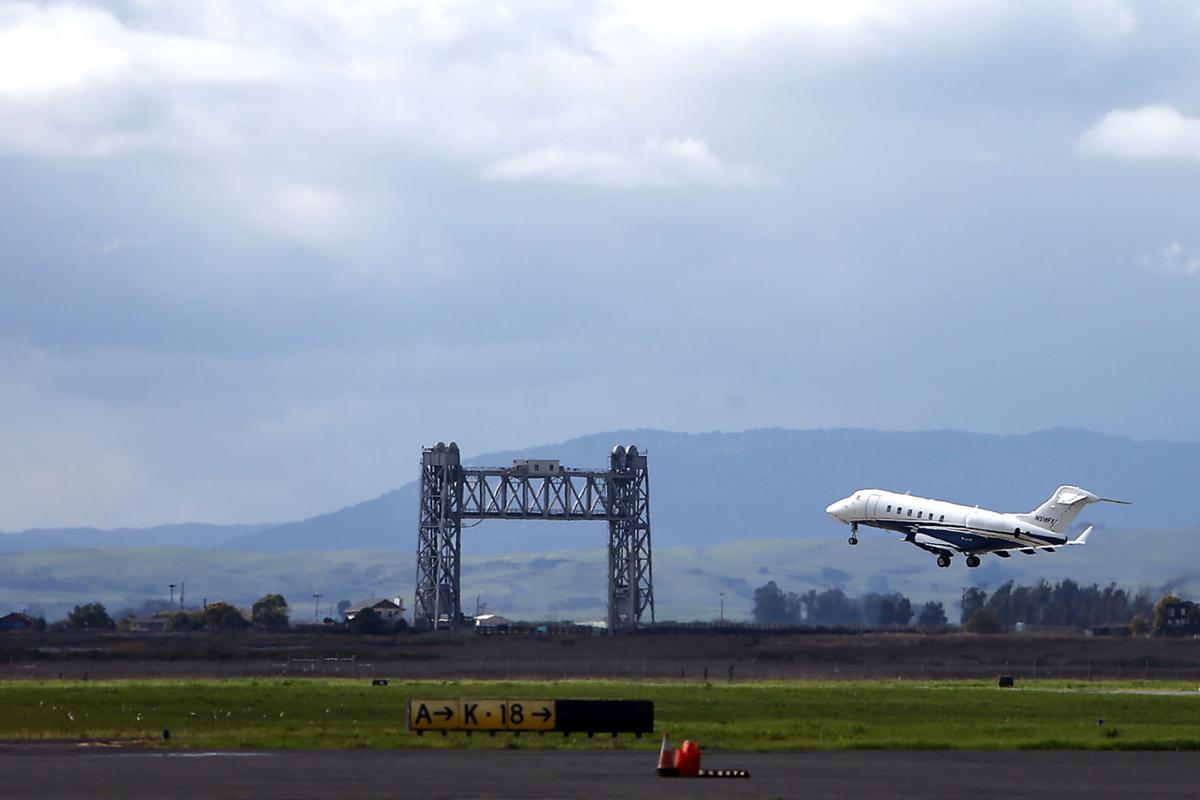 Wanted by Napa County: an aviation services business to help remake and improve the wine country aerial gateway that is the Napa County Airport.
The county Board of Supervisors voted last week to seek a second fixed base operator to expand aviation services. It wants a business that will among other things build another terminal and more hangars.
"This has been a long time coming," Supervisor Belia Ramos said.
Napa County Airport, built during World War II near the wetlands of the south county, is probably off the beaten track for many residents. The county-owned airport doesn't have commercial flights that they would catch to travel to other cities.
Rather, the airport is used by corporate jets, charter and cargo flights and private aircraft owners. It bills itself as "Skyport to the Wine Country."
"Increasing this traffic will benefit the airport and bring this clientele into the region to the benefit of local businesses and the surrounding communities," a county document said.
Fixed base operators provide aviation services such as such as hangar space, maintenance services and fueling. Napa County Airport since 1946 has been served solely by Bridgeport Flying Service and its successors Napa Jet Center and today's Lynx FBO Network.
The question is whether the airport can sustain two fixed base operators. Napa County intends to find out.
Taking this step helps the county comply with Federal Aviation Administration policies that foster competition. But supervisors appeared interested in pursuing a second fixed base operator as a good in itself.
"We started just knowing we had a great airport and we had a partner," Supervisor Alfredo Pedroza said. "Now we're seeing what we can become. And that's exciting."
The county recently issued its request for proposals for a second fixed base operator. Businesses have until 5 p.m. March 27 to respond. The Board of Supervisors could discuss the results in June.
Both Lynx and a second fixed-base operator would lease 10 acres apiece to shape the Napa County Airport of the future.
Lynx predecessor Napa Jet Center in 2016 came to the Board of Supervisors with proposals to renovate its facilities. There was no follow-up presentation. The county put negotiations on hold while it updated airport rules and regulations, a task it recently completed.
Deputy Public Works Director Liz Habkirk said Tuesday the county will re-engage with Lynx. Proposals by Lynx and a second fixed base operator for airport improvements might go to the Board of Supervisors at the same time next year.
Officials with Lynx could not be reached for a comment.
Napa County in seeking a second fixed base operator is pitching Napa County Airport. Napa Valley has grown into a highly desirable tourist destination, with events such as Bottlerock and 3.85 million visitors in 2018, the county said in the request for proposals.
"The airport plays a significant role in attracting and welcoming these visitors to the region," the county said.
Over five years, the airport has averaged 47,000 take-offs and landings annually without the delays experienced at municipal airports with commercial flights. The flights translate under an FAA formula to about 117,500 passengers annually, the county said.