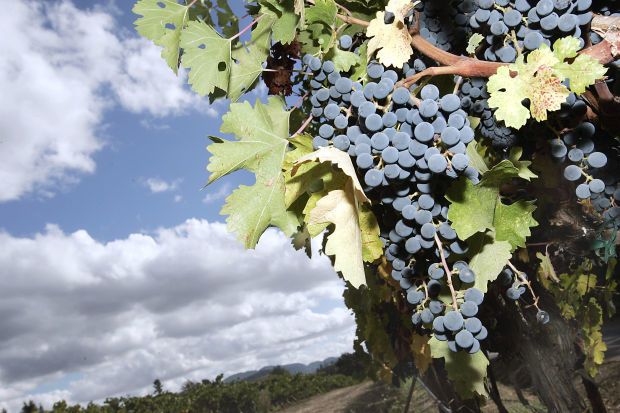 Mansions in the Napa Valley agricultural preserve can reach what some county officials fear is farmland-gobbling size, raising the possibility of new rules to rein in future development.
County law allows one house per parcel. Some of these structures on the valley floor bear no resemblance to the quaint farmhouse of a Norman Rockwell painting.
"As though rising amid the St. Helena vineyards like a megalith" is how Zillow describes one home. It is 6,700 square feet and has 17 rooms, with such outdoor features as a pavilion, pool and tennis court.
Napa County Supervisor Diane Dillon said an area west of Highway 29 south of Rutherford pretty much looks like a subdivision of McMansions. Plus, the 5- to 10-acre parcels have the potential to be covered in patios and outdoor lights.
"It's really hard to tell where the ag is anymore in that swath of land," Dillon said.
She's not the only person concerned about home-building on the valley floor. In 2015, the county's Agricultural Protection Advisory Committee (APAC) sounded a similar warning.
"The biggest threat to the valley isn't wineries; it is the proliferation of mansions," the APAC report stated.
On Tuesday, the Board of Supervisors started grappling with the issue. Several supervisors wanted to explore having a building envelope for each parcel that home development must stay within. The county plans to reach out to interested parties and groups before moving forward.
As things stand now, the major restraints on home size—besides money—are such things as setbacks from roads and streams.
Like Dillon, Board of Supervisors chairman Brad Wagenknecht talked about the area along Highway 29 south of Rutherford that has a number of homes. It becomes one big mass after one big mass, he said.
"We don't need that huge mass everywhere," Wagenknecht said.
Real estate agent Kimberly Kinsel urged supervisors to involve the public in the discussion. She talked about clients who want to develop land not in the agricultural preserve, but the agricultural watershed area of Mount George.
"I can tell you firsthand the amount of bureaucracy they're going through," Kinsel said.
Dillon said her husband is a real estate broker. She acknowledged there is bureaucracy.
"But we have to have rules because there are some people who don't respect some of the values of this place and what we're trying to do in terms of protecting it," she said.
One thing supervisors want to move quickly on is the color of large structures. Several noted that when the county demands earth tones, the result can be structures colored white – "white whales," Dillon said some of her constituents call them.
The public is voicing concern about large, white structures, Dillon said. The county needs to move quickly because a few months down the line, more might go up.
County officials plan to bring a potential palette of earth tone colors to the Board of Supervisors that, if approved, would give builders a choice of accepted hues. White won't be among them.
"We've warned people it is earth tones, and some people need to have earth tones defined for them," Wagenknecht said. "That is what this is going to be. I don't think it's going to be a big shock to people."
The discussion on large homes in the agricultural preserve will continue at future Board of Supervisors meetings.
"The goal is to keep the ag in open space as the top priority," Wagenknecht said.
Napa County already limits how much agricultural land wineries can develop on a parcel. That development area is no more than 25 percent of a parcel or 15 acres, whichever is less.
From 1993 to 2016, the unincorporated county had 486 acres of farmland converted to non-farm uses, a county report said. The leading cause at 206 acres was residential development, followed by wineries at 112 acres, roads or driveways at 51 acres, reservoirs and agricultural infrastructure at 22 acres and other causes at 94 acres.