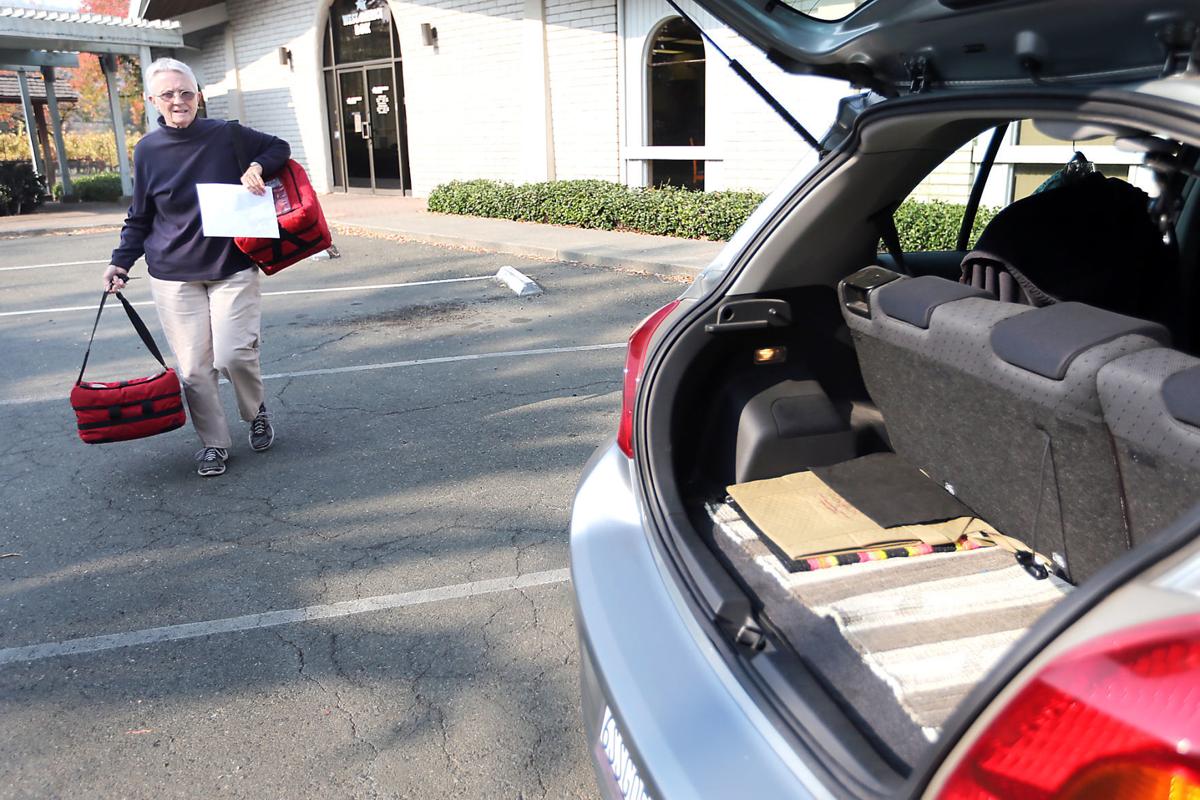 Local advocates for seniors are sounding the alarm that such senior services as Meals on Wheels, transportation and legal aid face possible funding cutbacks.
Heather Stanton is on the oversight board for the Napa/Solano Area Agency on Aging (AAA). She said proposed AAA funding allotments for Napa County groups are scheduled to drop in the 2020-21 fiscal year, while funding for Solano County programs increases.
That's because this agency that passes on federal and state money will start apportioning it based on population. Solano County's share of funding will grow and Napa County's share will fall.
"This is a crisis of our own making. There are no bad buys here," Stanton told the Napa County Board of Supervisors last week.
Stanton later provided details to the Napa Valley Register. Napa County's overall portion could drop from $1.14 million in 2019-20 to $695,062, she said.
Molly's Angels provides such services as transportation to seniors suffering from cancer, memory loss and other ailments. Stanton said the AAA allotment is to fall from $75,000 to $40,765.
The group worked last year to come through fiscal challenges, Molly's Angel's Executive Director Julia Orr said.
"And then at the beginning of the year, we got the slap in the face, that the AAA was cutting our funding, funding we really relied on," Orr told the Napa County Board of Supervisors last week.
Community Action of Napa Valley (CANV ) could see its AAA funding drop from $470,084 to $357,907, Stanton said. The group runs the Meals on Wheals program and serves 460 meals daily.
"We'll feed no matter what, if we have to go out in the street and beg," CANV Executive Director Drene Johnson told the Napa Valley Register on Thursday. "No one's going to be cut from our program."
CANV wants to add to its services by starting congregate meal sites in Calstoga, Angwin and Lake Berryessa, Johnson said. That will be more difficult with the proposed cut.
Bay Area Legal Aid could see its AAA money drop from $50,000 to $27,177, Stanton said.
Kristi Lesnewich, managing attorney for the Napa office, said she has opened 4,600 cases since 2003. A recent case involved an 86-year woman who faced eviction over the holidays. A defeat would have forced the woman to leave her lifelong friends and medical providers for another community.
"It's not criminal cases, but they are very, very hard cases," Lesnewich told the Board of Supervisors last week.
County supervisors listened to the public comments at their Jan. 28 meeting, but couldn't take up the matter because it wasn't on the agenda. They want to do so at a future meeting.
"This is an issue that's very real," Supervisor Alfredo Pedroza said. "And the people who need the services aren't here today. They can't be here today ... Solano County needs to fight for their seniors too. But we do too."
The old version passed on federal and state funds for senior programs based on what it saw as the need, with Napa County receiving 33 percent and more of the total. The new version approved by the boards of supervisors of Napa and Solano counties divides money based on population, with Napa County receiving 26.5 percent of the funds.
That population-based formula enshrined in an agreement between the two counties is just kicking in.
"We are taking this very seriously," Napa County Health and Human Services Agency Director Jennifer Yasumoto told supervisors last week. "I have heard the concerns. We share the concerns. And we're actively looking for solutions to these sticky-wicket problems."
Stanton told supervisors the county might consider providing other money to help. The vulnerable elderly face such challenges as isolation, homelessness and mental illness, she said.
Another possibility is adjusting the funding allotment for the two counties. Both the Napa and Solano board of supervisors would have to agree.
Solano County Health Officer Bela Matyas said last week that the multi-county area agencies on aging that he knows of all divide money based on population. Solano County administers the Napa/Solano Area Agency on Aging.
"We're getting $3 million to serve the needs of all the seniors in the two counties," Matyas said. "That's really very little money."
The notion that Napa County has greater senior needs than Solano County is not proven by the data, he said.
Supervisor Diane Dillon last year cast the lone "no" vote about forming the Napa/Solano Area Agency on Aging with Solano County as administrator. Napa County turned down the administrator role, to the disappointment of Dillon and local senior advocates.
"I wasn't for this from the beginning," Dillon said last week after hearing about the funding situation. "This is exactly what I feared would happen. We need to look into this sooner rather than later."