A sheriff's sergeant's fatal shooting of a 47-year-old Napa resident, Juan Adrian Garcia, took place in a three-second, six-bullet burst, body camera footage of the encounter shows.
Napa County Sheriff John Robertson identified Sergeant David Ackman, a 21-year veteran of the force, as the officer who shot Garcia the night of Oct.5. Ackman made a traffic stop that night after seeing Garcia's vehicle driving without headlights on, Robertson said.
The minute-long video shows Garcia pulling his car over to the side of the road and almost immediately opening the driver's side door of his car. He can be seen throwing his cell phone over the car's roof, still seated, while Ackman points his gun at Garcia's vehicle. No audio can be heard until about 30 seconds into the video, Robertson confirmed.
At the 19-second mark, Garcia can be seen emerging from his vehicle with Ackman's gun still trained on him. Garcia ambles toward Ackman and, at 26 seconds, can be seen slowly placing both of his hands behind his back.
Ackman holsters his gun, and can be heard telling Garcia to turn around, believing Garcia meant for Ackman to handcuff him, Robertson said during the press conference. But Garcia does not heed Ackman's calls to do so and begins to walk toward Ackman once more, leaving only one of his hands behind his back.
Then Ackman redraws his gun, and once more points his flashlight toward Garcia, who can be seen takes a step backward, almost fumbling, and hesitating for a moment. Garcia then begins walking once more — the footage does not make clear in which direction — and Ackman circles his police vehicle, backing away from Garcia and walking toward the front of his car.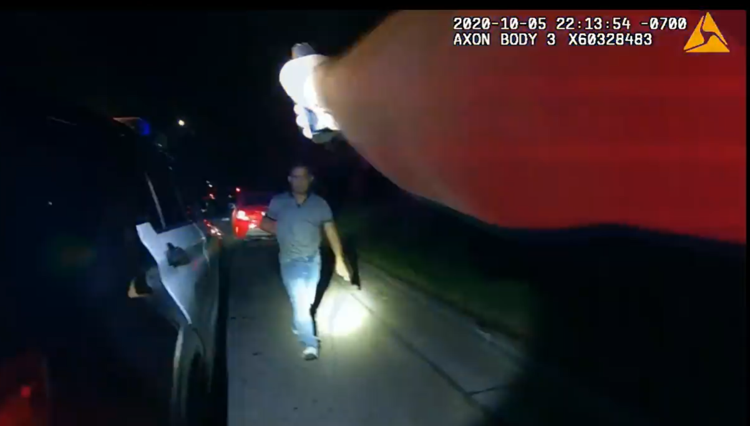 At 51 seconds into the video, Ackman once again points his gun at Garcia, this time from over the hood of his vehicle. Garcia then begins to walk toward Ackman, who shouts for Garcia to stop.
Ackman's two subsequent cries of "Stop!" then escalate in their urgency: Garcia continues to approach Ackman, who then shoots six successive shots at Garcia over the span of three seconds. Five bullets hit Garcia in the torso, Sheriff John Robertson confirmed during Wednesday's press conference, and one in the leg. Garcia was rushed to Queen of the Valley Hospital, Robert said. Subsequent bloodwork revealed his blood alcohol level to be .338%, more than four times the legal limit in California.
Operations Division Captain Cullen Dodd, addressing a question from a reporter, said Garcia's behavior in exiting his vehicle was "abnormal" and "absolutely" would have been regarded by an officer as threatening. Dodd affirmed he believed the six shots fired by Sergeant Ackman were justified, though said the specific rationale behind the justification "was not our call to make."
"At no time did (Ackman) believe Mr. Garcia was not a deadly threat," Dodd said, adding that "a taser" would not be "the right tool to bring to a situation" in which an officer believed his life to be in danger.
The county's Major Crimes Task Force—which includes the county District Attorney's Office, the Sheriff's Office and the Napa Police Department — is continuing to investigate, according to Robertson. An investigation could take anywhere from six to eight months, Dodd said.
The Sheriff's Office first released news of the shooting on Oct. 6, after the shooting occurred late October 5. An initial statement described how Garcia had exited his vehicle during a traffic stop and "advanced aggressively toward" Ackman with a hand tucked behind his back.
Garcia had previously been arrested for driving drunk at least three times, most recently in 2019.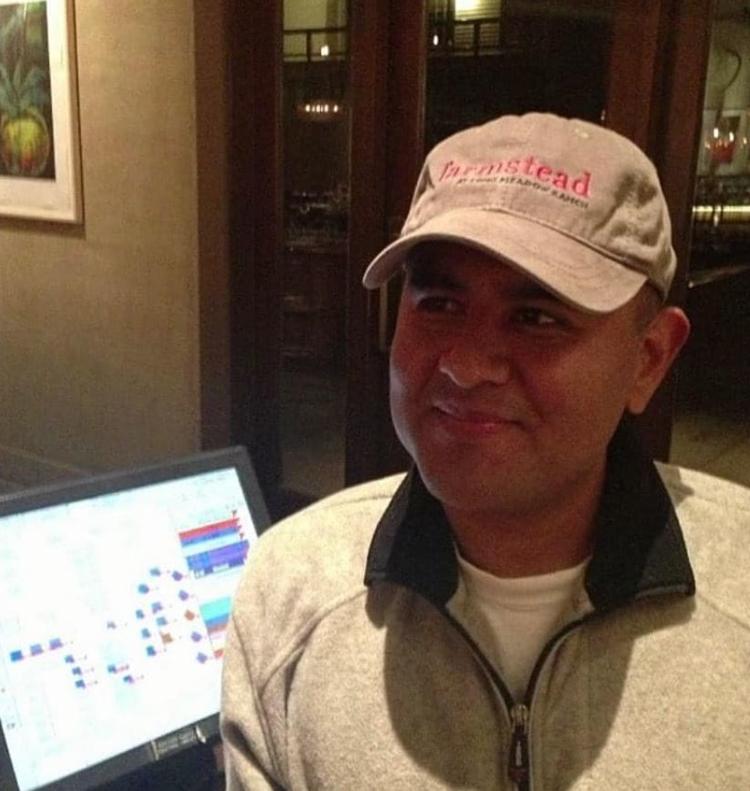 Community members in recent days had voiced frustration with what they perceived as a delay in releasing the body cam footage. Gabriela Fernandez, an activist and leader of the People's Collective for Change, which was founded in Napa in the weeks after George Floyd's death wracked the nation, said she had hoped the department would recognize the importance of releasing the footage to the community and act accordingly.
"Ten days go by, and there's nothing out there except for a one-sided narrative they utilized in a Facebook post," Fernandez said Tuesday, ahead of the footage's release. "Language is so important. Using words like 'aggressively' paints a picture… of the narrative, which isn't fair without footage."
Sheriff Robertson, in an interview, said the Sheriff's Office "owed facts to the community" as well as Garcia's family and loved ones.
"We have to do a thorough and transparent investigation, and those take time," Robertson said. "We will not be held to some false timeline."
The People's Collective for Change held a protest followed by a vigil Oct. 10 in lieu of Garcia's death, Fernandez said.
Garcia was a line cook at Tarla Grill, according to Chef Jason Naaman, where his coworkers knew him as Sergio. He'd been employed at the restaurant off and on as business fluctuated, Naaman added, but had been back consistently working at Tarla for about a year. News of his death was shocking, Naaman said, describing Garcia as someone who "was always out to help others."
"It was always about the team, not about him," Naaman added. "He was consistent, he was very kind-hearted, and he always had a smile on his face no matter the circumstances, even amid crazy Saturday nights."
Eduardo Lopez, Garcia's son, wrote in a post on a gofundme campaign page he launched to cover his father's funeral expenses that his family had been struggling financially in recent months.
"…Most might know that my dad past (sic) away on Tuesday and it's a hard moment for my whole family but we just want to thank everyone for helping us on (sic) these hard times," Garcia wrote. The campaign as of Wednesday afternoon had raised nearly $8,000.
Mayoral candidate Gerardo Martin said Garcia's three sons had all spoken very highly of their father. Over the weekend, Martin said, he'd attended a benefit carwash for Garcia's family, run by Garcia's friends, extended family and coworkers from his long career as a member of the valley's service industry.
"They all donated their time to raise money for a family who now doesn't have a father," Martin said. Like Fernandez, he expressed a desire for transparency from the Sheriff's Office.
"I think it's just a sad, sad, situation, especially given everything that's been going on nationally. Hopefully, we'll have some answers (from the footage)," Martin added.
Garcia's death marks the second shooting of its kind in less than six months. In May, Deputy Gregg Lee shot and killed 24-year-old Brandan Reid Nylander after Nylander led police on a car chase and exited his vehicle holding a loaded shotgun. Napa County's Major Crimes Task Force has not yet released findings of its investigation into that shooting.
Editor's Note: a previous version of this story misstated the last name of the Napa County Sheriff. It is Robertson.