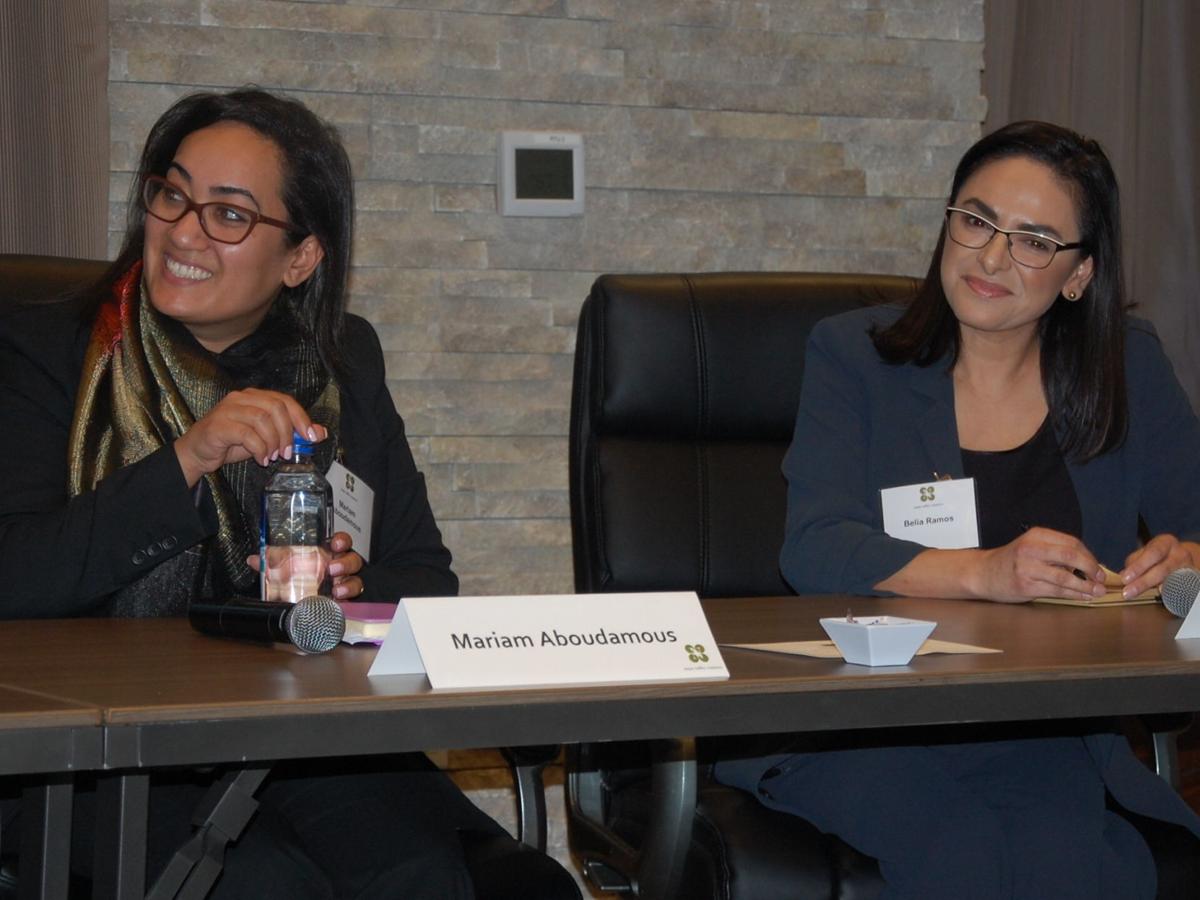 At a forum that resembled PBS more than bare-knuckle politics, Napa County supervisor candidates weighed in on commercial cannabis cultivation, a proposed open space tax and other issues.
Incumbent Supervisor Alfredo Pedroza and scientist Amber Manfree are competing for the 4th District seat. Incumbent Supervisor Belia Ramos and American Canyon City Councilmember Mariam Aboudamous are competing for the 5th District seat.
These candidates on the March 3 ballot met Wednesday evening at a forum held by Napa Valley Vintners at the Hampton Inn & Suites in Napa. They mostly expressed nuance of thought rather than polar-opposite views.
Commercial cannabis
Commercial cannabis cultivation proponents want to allow limited cultivation in parts of the county outside of Napa Valley and the Carneros region. The Napa Valley wine industry is worried about protecting the Napa Valley wine brand, a concern all four candidates shared.
None of the candidates enthusiastically embraced having cannabis join wine grapes in the rural landscape. They gave their varying ideas on how to handle the cannabis issue.
In the 4th District race, Manfree noted that voters legalized cannabis in California. Napa County could be consistent with the state and allow some level of cultivation while protecting the Napa wine brand and the quality of life, she said.
She suggested perhaps starting with a pilot program and provisional cultivation permits that must be renewed.
"I've certainly been to communities on the North Coast that turned into places I wouldn't necessarily want to live. One day they were really nice places, 30 or 40 years ago. I think that's what we need to be very careful about, considering exactly how this is going to unfold," Manfree said.
Pedroza said he will keep an open mind, given the Board of Supervisors is looking at the issue. But, he said, the bar is high. He has yet to see a community allow commercial cannabis cultivation without facing consequences.
"This is not about chasing revenue for Napa County," Pedroza said. "And we have seen, when cannabis goes into communities, it can be disruptive, whether it's Santa Barbara or other counties."
In the 5th District race, Aboudamous said commercial cannabis cultivation uses a lot of water, has a terrible odor and isn't aesthetically pleasing.
"But what I like or what I want isn't what's most important as an elected official," she said. "It's about what my constituents want and what the stakeholders want."
She described how American Canyon officials talked to residents about the cannabis issue. The City Council approved having six permits for indoor cultivation in an industrial area.
"It's much easier to start small and add stuff later if our residents want, if the constituency wants (to). It's a lot harder to give everybody everything and try to take it away later," she said.
Napa County last year had a report done on a cannabis cultivation ballot measure that was later withdrawn. Ramos said the county can use the report to look at the pros and cons of cannabis cultivation.
"I'll be honest, I think the cons are plentiful," Ramos said.
She wants to look at such issues as soil depletion and public safety. She pointed to a picture on the hotel wall of vineyards and contrasted that with a possible view of cannabis hoop houses.
Ramos said she looks forward to planned community engagement on the cannabis issue. But she wants to treat access to cannabis through dispensaries and other means and commercial cultivation in rural areas as separate issues.
Measure K
All four candidates backed Measure K, a March 3 ballot measure for a quarter-cent sales tax that would go toward open space and parks. The county Regional Park and Open Space District would oversee revenues estimated at $9 million annually.
In the 5th District race, Ramos said the tax would provide a chance for a bond for money to buy the Skyline Wilderness Park property from California. Napa County leases the 850 acres east of the city of Napa from the state for $100 annually.
"We are merely tenants at Skyline," Ramos said. "While it's been great to have it, it's not ours. In order to ensure it remains open space forever, we need to make sure we purchase it."
Aboubamous talked about her efforts in American Canyon to renovate existing city parks with limited resources. Measure K would help with the effort, she said.
Measure K is to provide an estimated $1.8 million annually for parks and recreation needs in the county's five cities.
"One of my favorite pastimes is to go hiking," Aboudamous said. "I love being outside, whether it is at Skyline Park or Westwood Hills or the Marin Headlands. I absolutely love it. It's because you get to be out in nature. In order for us to be able to protect it, we need to have a little bit more control over it."
In the 4th District race, Pedroza said he is cautious about overtaxing citizens. Yet he sees Measure K as being worthwhile.
After a previous open space district tax measure failed, the proponents, himself and Napa Mayor Jill Techel met. One idea was to get the cities more engaged by recognizing neighborhood parks are just as important as open space, Pedroza said.
"That way, kids can grow up like we did, not being dependent on an iPad," Pedroza said. "They can be outside, being engaged and being productive."
Manfree said it would be wonderful if Napa County had more parks such as Skyline close to urban areas so people could easily reach them.
"We've got to fund the Open Space District if we want to basically add to the portfolio of open space options for residents," she said.
Endorsements
Candidates talked about their favorite endorsements. For Pedroza, it was the backing of state Sen. Bill Dodd, D-Napa, who previously represented the 4th District on the county Board of Supervisors.
"When we've had to work on issues like farm worker housing, I've had to rely on that relationship to secure money that was so needed for our community," Pedroza said.
Aboudamous said she received endorsements from Napa County Farm Bureau and Napa Vision 2050, which are extreme opposites. That shows a willingness to bring people together.
"I just believe endorsements are mostly about relationship-building," she said. "As an elected official, it's very important to continue to develop relationships."
Ramos mentioned endorsements by Napa Mayor Jill Techel and American Canyon Mayor Leon Garcia. The county needs these partnerships as it works on keeping housing in cities to protect agriculture, she said.
Manfree said she's proud of her endorsement by the International Brotherhood of Electrical Workers. Her family is full of electrical workers who were in unions. She also mentioned endorsements by former county Supervisors Kathryn Winter, Ginny Simms and Sam Chapman.
Napa Valley Vintners does not endorse candidates. The organization has about 550 members.
Get local news delivered to your inbox!
Subscribe to our Daily Headlines newsletter.