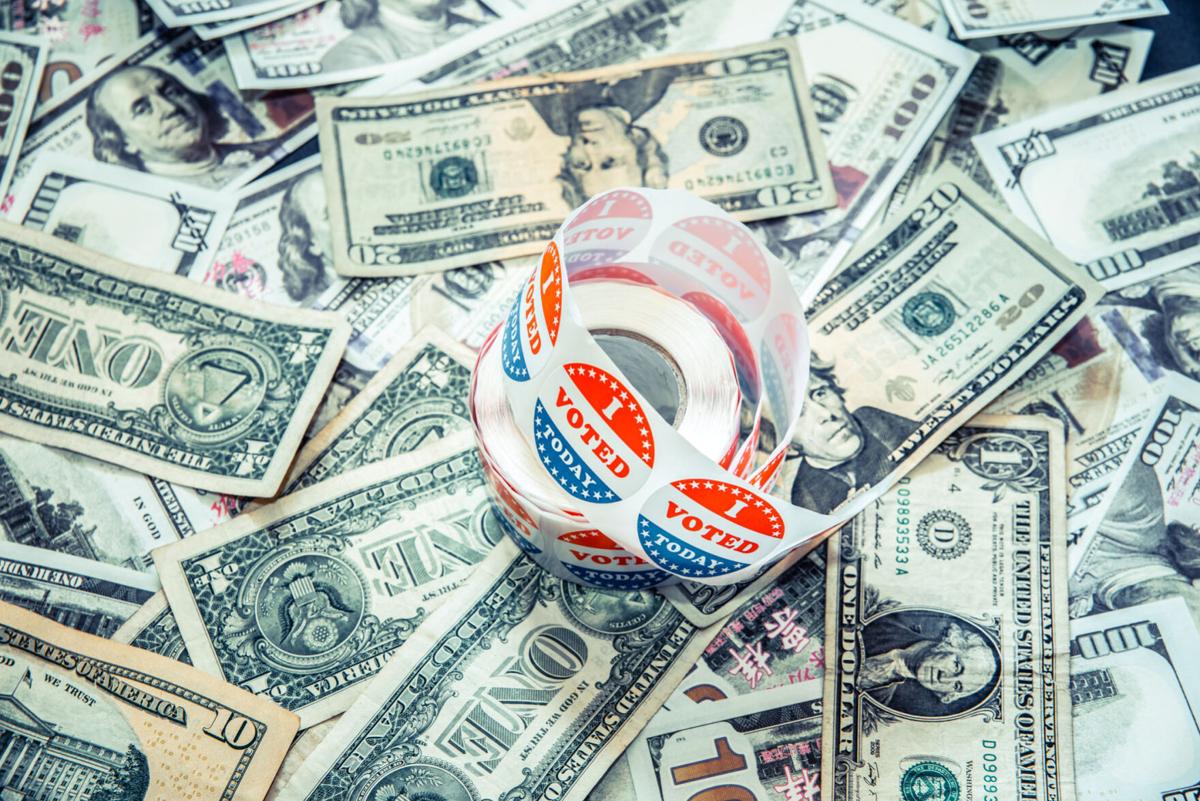 Napa County will forgo tightening a new state-imposed campaign contribution limit of $4,900 per contributor for future county elections, but will explore limits on loans.
The state-imposed limit comes from Assembly Bill 571 and took effect this year. It is a default amount for counties and cities that don't set their own limits, either stricter or laxer.
Is $4,900 the right fit for Napa County-wide races such as the Board of Supervisors? Supervisor Brad Wagenknecht sought to go stricter.
"I was thinking a flat rate of $2,000," Wagenknecht told his colleagues at the Jan. 26 Board meeting.
Then candidates couldn't get a huge amount of money from any one place. A $2,000 limit could prevent the perception that elected officials are beholden to contributors, he said.
California will enforce the state-imposed $4,900 limit. Counties and cities must do the job if they adopt their own limits, a county report said. That had some supervisors wanting to stick with the state limit.
"One recalcitrant candidate could cost a lot of district attorney time," Supervisor Diane Dillon said. "It seems hard to take all that on, especially in the COVID world."
She instead focused on loans. A candidate could loan his or her campaign up to $100,000. Then contributors could after the election write $4,900 checks to cover the amount, leaving voters in the dark about the contributors' identities until after the votes are cast.
Dillon proposed a $10,000 limit on loans. That issue will come back for exploration at a future Board of Supervisors meeting. Actions taken by the Board of Supervisors would apply only to county races, not city races.
"I can read the tea leaves and see my $2,000 isn't catching on," Wagenknecht said.
But he was still happy to see something done on the loan issue.
"It can be totally dishonest to give yourself money at the beginning of the campaign and then collect it afterward when no one cares who gives you what," Wagenknecht said. "That would be wrong."
A 2016 report by California Common Cause found that about 28% of the state's counties and 23% of its cities have adopted their own campaign contribution limits, many of them stricter than the new $4,900 state default limit. The average limit for county board of supervisors races was $2,465.
For example, the Santa Cruz County campaign contribution limit for its Board of Supervisors races is $500. Sonoma County's is $3,350.
"Candidates for local office should not be funded by just a few mega-contributions from the mega-wealthy," Rey Lopez-Calderon of California Common Cause said after Assembly Bill 571 passed in 2019.
Assembly Bill 571 was sponsored by Assemblymember Kevin Mullin, D-San Mateo. He chose the $4,900 default because that is the amount that applies to state Assembly and Senate races.
The $4,900 state default contribution limit doesn't look to drastically reshape Napa County's political landscape. In the 2020 Napa County Board of Supervisors races, most contributions were $5,000 or less. Many were for a few hundred dollars.
For example, incumbent Supervisor Alfredo Pedroza reported raising $257,000 in monetary and non-monetary contributions in 2019 and 2020. His challenger Amber Manfree raised $74,000. Pedroza won the March 2020 election, 55% to 45%.
Spending forms from the race show most contributions were $5,000 or less. Among the exceptions, vintner Craig Hall gave Pedroza's campaign $15,000. Manfree's campaign received $10,000 apiece from vintner Andy Beckstoffer, Julia Winiarski and Faith Ozmen of the Sierra Nevada Corp.
Manfree said on Monday that a contribution limit to keep any one contributor from having undue influence is "a very honorable goal." But such a limit could have loopholes, she said. For example, a wealthy contributor could have a spouse or business also contribute.
She suggested looking at a cap on how much candidates can spend on an election. Some California counties offer candidates incentives to accept voluntary expenditure caps.
"I think it would keep it to be far more competitive and fair," Manfree said.
For now, though, Napa County campaign finance reforms look to focus on the new state-imposed $4,900 default limit for individual contributors and some type of loan limit.
WATCH NOW: HOMELESS AND PREGNANT: ONE NAPAN'S STORY
Catch up on Napa County's top news stories
SEE NAPA FACES AND PLACES PHOTOS