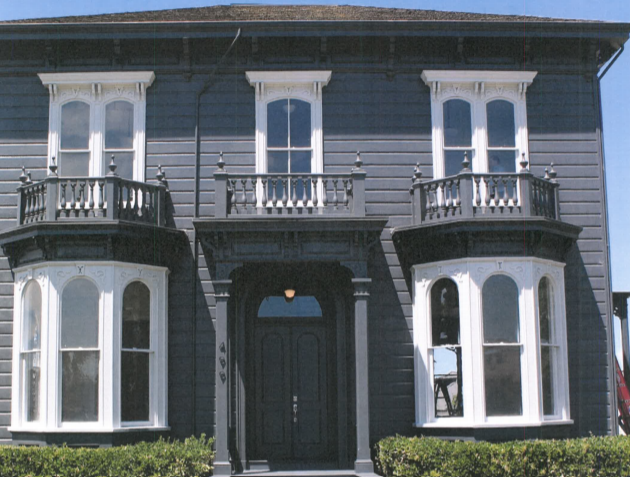 Napa County is poised to allow a Victorian home that was the site of a locally infamous, late-1800s killing become a cafe and wine tasting room.
The county Board of Supervisors last week signaled it favored the proposed project for the Greenwood mansion in the airport industrial area. But it postponed the hearing so staff can address some legal questions and put some additional conditions of approval in writing.
Supervisor Brad Wagenknecht said that not all postponements are equal. He's all for the project and a cafe in the airport industrial area will fill a great need.
"I just wanted to state that so we're not going into this continuance thinking that this is all still up in the air," he said. "I want you to know I'm swayed by where we are on this. We just need to make sure it's all buttoned down."
"Well put," Board of Supervisors chairperson Diane Dillon said.
Greenwood mansion is a farmhouse at 499 Devlin Road that in recent decades has served as offices. Before 1990, it was located about a half-mile to the east near South Kelly Road, where it played a role in the county's history.
Lucina Greenwood was killed there on Feb. 9, 1891 after two robbers broke into the house. One of the men, Bill Roe, was later caught and hanged on Jan. 15, 1897 in the county jail yard, the last official public hanging in the state.
But supervisors on Tuesday were concerned with today's issues surrounding the cafe, small winery and tasting room sought by Vinum Cellars.
Neighboring businesses represented by the Napa Valley Gateway Condominium Association have expressed concerns about the project. Chief among them is keeping sufficient parking spaces available in a shared parking area.
Supervisors also heard that an opponent represented by a law firm is challenging whether the environmental analyses has been properly done. Among the concerns is traffic in this south county area.
Others voiced support for the project. Joel Green of nearby Safe Harbor Wine Storage said he'd like more food service options on the business park for himself, his employees and his patrons.
"I welcome the opportunity to walk or ride a bike to grab lunch at the mansion, pick up coffee and a breakfast sandwich on the way into work or to stop for a glass of wine and snack after work in this beautiful setting of the classic Greenwood mansion," he wrote.
The Planning Commission on May 20 unanimously recommended approval of the cafe, winery and tasting room. The Board of Supervisors must also take action because the project involves amending the Napa Valley Business Park Specific Plan.
Vinum Cellars wants the Greenwood mansion to have a cafe with commercial kitchen and a wine tasting room with tasting bar and inside seating. It wants to build a deck for outside seating and have a small winery producing 1,200 gallons annually in a 680-square-foot carriage house.
Get local news delivered to your inbox!
Subscribe to our Daily Headlines newsletter.