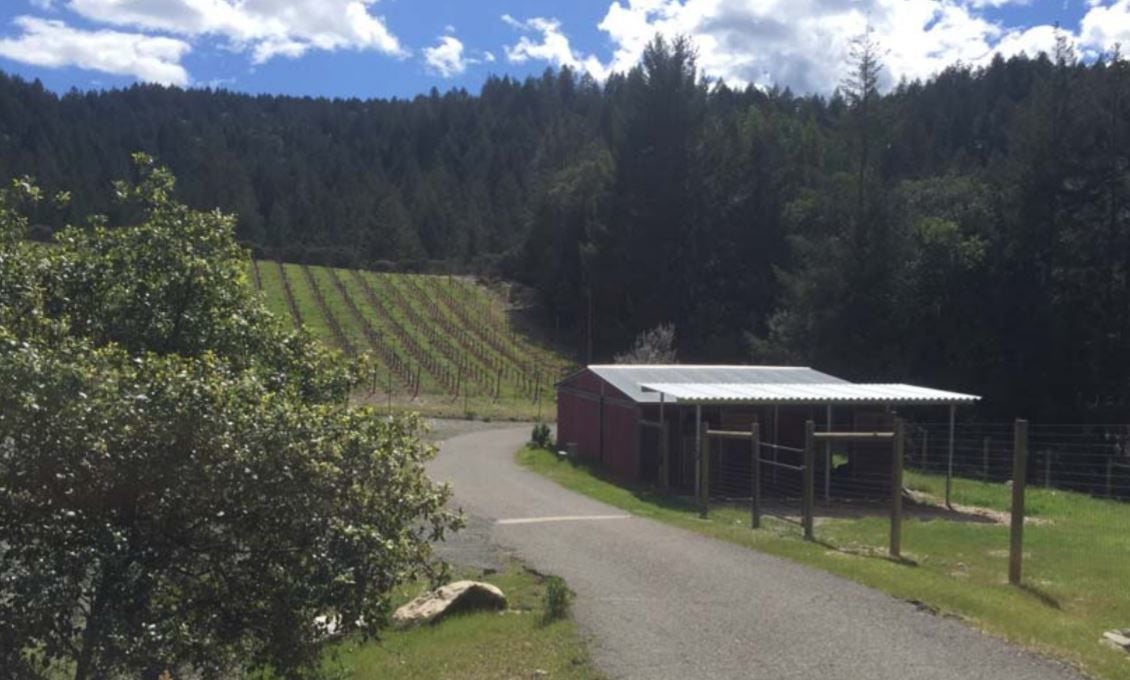 A new Hard Six Cellars winery cannot be built in a remote, mountainous location south of Calistoga, the Napa County Board of Supervisors ruled on Tuesday.
The case of Hard Six Cellars at 1755 South Fork Diamond Mountain Road came before supervisors on appeal. Neighbors Martin Checov and Timothy Bause said the Planning Commission erred last October by approving the project.
By a unanimous vote, the Board of Supervisors signaled its intent to uphold the appeal and reverse the Planning Commission decision, with a final vote to come on April 14. The applicants cannot reapply with another proposal for a year after the final vote.
With its actions, the Board of Supervisors weighed in again on the contentious issue of remote wineries. The outcomes have varied with the specifics of the cases.
"I just don't believe this is the right place for a winery to go," Board of Supervisors chairwoman Diane Dillon said.
She wants to encourage new, young winemakers, Dillon said. She also said the winery application process is arduous.
"There's a reason for that," Dillon said. "We're protecting what some people call a national treasure."
Among other things, Dillon said she felt uncomfortable granting an exception to county standards to allow a narrower entry road at points. She can't live with the possibility of someone being caught in that location during a fire, she said.
"This is one of those I've been pondering for awhile," Supervisor Brad Wagenknecht said. "There have been a number of discussions about these thin, dead-end roads in the middle of nowhere leading to a winery."
Bringing visitors to a Hard Six Cellars winery crosses the line of what he can see working, Wagenknecht said.
Supervisor Alfredo Pedroza drove Diamond Mountain Road and that influenced his decision.
"Just seeing the conditions, the constrained road, I'm not there today …" Pedroza said.
Supervisor Ryan Gregory said the big question is what the county will allow in these type of areas and what it won't. He was willing to entertain the applicants' proposal, but he shared his colleagues' concerns about the location.
Supervisor Belia Ramos said she's concerned about grapes being brought to the winery and where they would come from. The number of visitors is also a concern.
"I think that it's workable. I'm hesitant as it's proposed right now, but I think there are some possible solutions," Ramos said.
But those possible solutions, if they emerge, will have to wait until another day.
Hard Six Cellars was approved by the Planning Commission as a 20,000-gallon-a-year winery with 4,435 annual visitors. Wayne and Kara Fingerman live at the 53-acre site with a 4-acre vineyard and want to take their wine-making to another level.
"A small, family-run winery would allow us to consolidate and continue the progress we've made since 2012," Wayne Fingerman said.
During the meeting, the Fingermans offered to lower annual wine production to 15,000 gallons. They offered to hold no marketing events on red-flag, high-risk fire days.
Consultant Donna Oldford spoke on behalf of the Fingermans.
"This is an applicant who has played by all of the rules," Oldford said. "He's done everything as he's inched his way through four years of processing to do the right thing."
Probably two-thirds of Napa County has roads with constraints, Oldford said. County public works and fire officials considered the road issues associated with Hard Six Cellars and endorsed the winery's plans to deal with them.
Supervisors also heard from the appellants.
Checov objected to having a winery of that size "at the end of a perilous road" in an area with high fire danger. He called the site as remote as it gets in Napa County.
"We do not oppose the construction of a reasonable facility that respects the environment and public safety," Checov said.
Fire scientist David Rich of Reax Engineering said winery visitors unfamiliar with Diamond Mountain Road would be considered a high-risk occupancy group going into a high-risk fire area. Parts of the road are so narrow that two vehicles cannot pass, he said.
Diamond Mountain Road resident Richard Svendsen said during public comments that Napa County has several hundred wineries.
"So we need another winery on Diamond Mountain Road that is already at-risk for traffic, pollution and everything else?" he said.
The Planning Commission approved the winery on Oct. 18 by a 4-1 vote. Several commissioners have said they would like to have clearer direction from the Board of Supervisors on county policies for remote wineries.
Get local news delivered to your inbox!
Subscribe to our Daily Headlines newsletter.