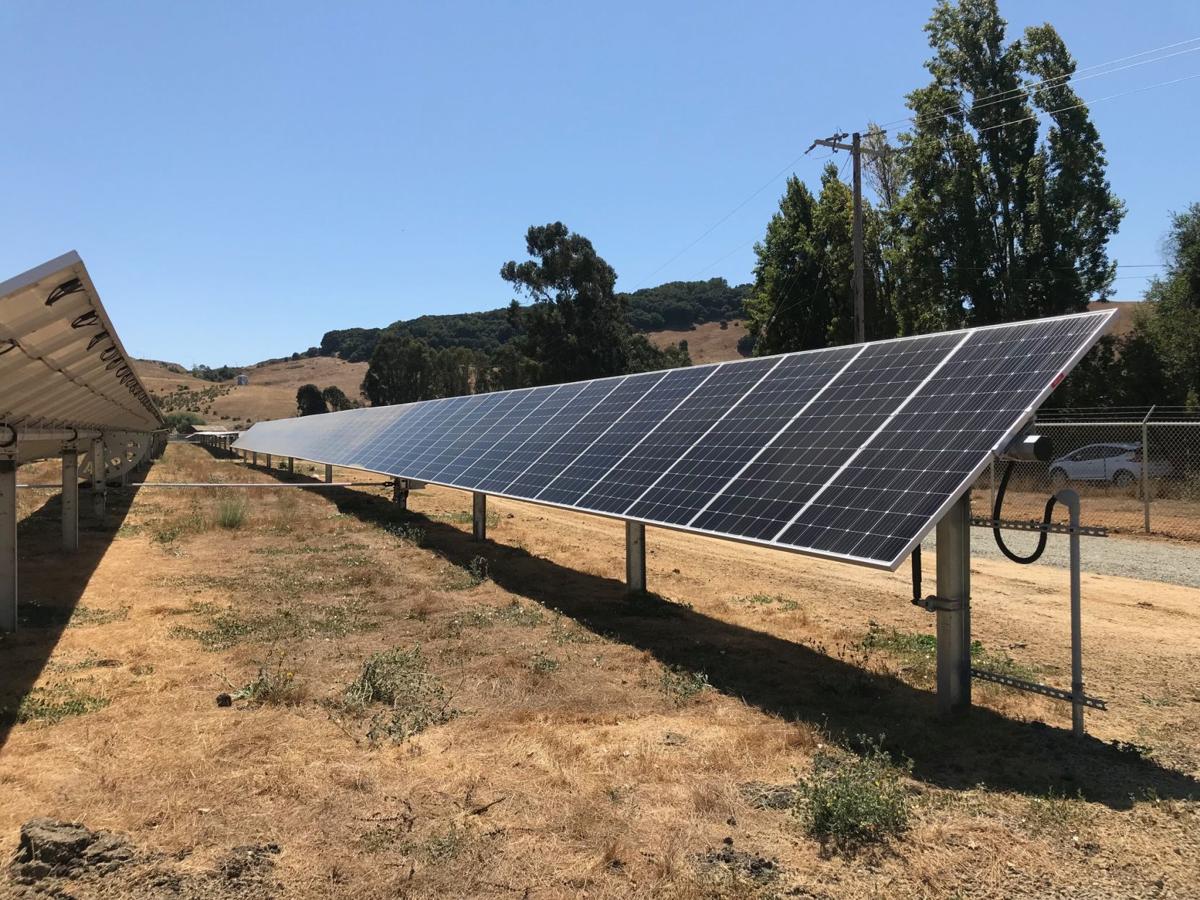 New grid-feeding, utility-scale commercial solar energy projects with acres of photovoltaic panels could be banned from Napa County farmland.
That proposal is part of a draft renewable energy law to go before the Napa County Planning Commission on Dec. 4. The commission had a preview last week.
That solar farm is on land zoned agricultural/watershed. The proposed law would have stopped it from being built. New utility-scale, commercial solar farms in the unincorporated county would be limited to about 3,000 acres of land zoned industrial, commercial and public facility.
Utility-scale, commercial solar farms have proven controversial in wine country, where farmland is valued and views prized. Napa County is trying to figure out where this green source of energy might fit in.
Commissioner Andrew Mazotti suggested the current proposal might need tweaking.
"I'm a little concerned, because I think there are probably suitable pieces of property that we're excluding," Mazotti said. "If we're really trying to move the ball forward and have more solar energy, then why are we cutting off other opportunities that make sense?"
Commissioner Anne Cottrell added a voice of caution.
"If we're valuing ag as the highest and best use, I think we don't necessarily want to be opening up that land to solar development," she said.
Most of the land that would be available for utility-scale solar farms and other commercial renewable energy projects would be in the airport industrial area between the city of Napa and American Canyon. However, there are several sites with the proper zoning in Napa Valley and near Lake Berryessa.
You have free articles remaining.
Mazotti said some of the 3,000 acres that could possibly have commercial solar because of zoning under the proposal probably aren't economically suitable. He wanted to know how many acres might realistically have solar.
"More likely, an industrial building is probably going to be a higher and better use than a solar facility," he said.
Meanwhile, the county has received an application for another commercial, utility-scale solar farm. Renewable Properties—which built the American Canyon project—wants to install 7,896 panels on 15 acres of a 22-acre, industrially zoned property south of Soscol Ferry Road in the airport industrial area.
Renewable Properties would sell power from the solar project to Marin Clean Energy, which provides electricity to much of Napa County using the Pacific, Gas & Electric system. The solar panels would generate enough electricity for about 750 homes.
The property is dry farmed and planted with grapes near the end of their useful lives, Aaron Halimi of Renewable Properties wrote to the county. The property is "orphaned" with no road frontage except for the entrance and is ideal for solar, he wrote.
Renewable Properties is working with Pollinator Partnership to create a meadow for the site. Native plants such as milkweeds interspersed with solar arrays could provide habitat for insects such as the western monarch butterfly.
"Pollinator habitat will benefit local vineyards by increasing the natural enemies of pests," Halimi wrote.
In addition, an increase of beneficial insects would also deter birds that eat wine grapes. Birds would eat the beneficial insects, resulting in less crop damage, he wrote.
Resident Eve Kahn said the county hasn't finished the renewable energy ordinance yet.
"I'm kind of disappointed the county is moving forward with an application for solar while this is in process," Kahn said.
County Supervising Planner John McDowell said the Soscol Ferry solar farm application should go before the Planning Commission on Dec. 18. It is moving forward under the Napa Valley Business Park Specific Plan.
"My view is nothing would change if you adopt the (renewable energy) ordinance as proposed, that the project is being designed to comply with the standards of this ordinance," he said.