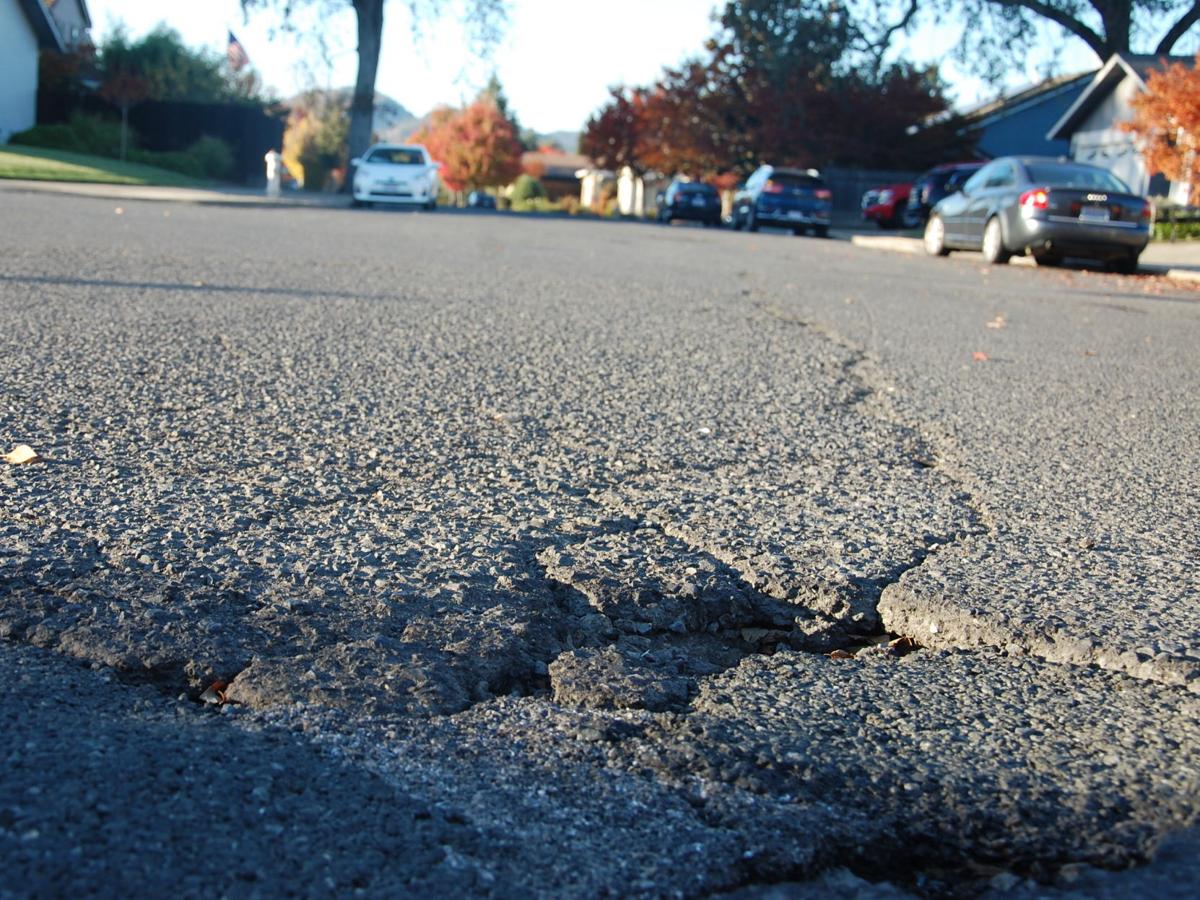 Transportation leaders are weighing whether to ask voters to revamp Measure T, the local half-cent sales tax that fills potholes.
Measure T brings in about $20 million annually for Napa County and its cities. Money can be used only for road maintenance, not new projects. Jurisdictions do projects on a pay-as-you-go basis.
One idea is to allow bonding against future Measure T revenues to bring in more maintenance money sooner. Another is to allow some of the tax money to be used on new road projects.
Support local news coverage and the people who report it by subscribing to the Napa Valley Register. Special offer: $1 for your first 6 months!
Still another idea — though one not being pushed hard at this point — is to raise the Measure T tax by another quarter-cent to half-cent.
Whether a ballot measure emerges is up to the Napa Valley Transportation Authority (NVTA). Local mayors, county supervisors and other elected leaders on the agency Board of Directors will discuss Measure T during a Monday, Sept. 13, retreat.
"This is information we're just bringing to the board, and the board will have to decide whether it wants us to pursue any changes," NVTA Executive Director Kate Miller said on Thursday.
Measure T passed in 2012, with the Napa County Taxpayers Association remaining neutral. Jack Gray of the group said that stance would change if the NVTA pursues a ballot measure for the proposed Measure T changes.
"They can try that," Gray said on Thursday. "I can tell you the Taxpayers will oppose it."
A primary reason to look at changing Measure T is the possibility of bonding off of future revenues, an NVTA report said.
As it stands now, local jurisdictions often bank Measure T revenues until they have enough money for a particular project. The interest earned by saving the money falls behind inflation and rising construction costs, the report said.
"The money trickles in, and it's basically filling a funding gap, but it's not making a meaningful difference in our ability to improve the roadways," Miller said.
Bonding, or borrowing against the promise of future tax collections, would allow funds to be used when needed, which would reduce the long-term costs of rehabilitating roads and would improve pavement condition, the NVTA report said. Jurisdictions could do large paving projects.
Gray said the idea of bonding came up for the original Measure T in 2012 and the Taxpayers Association opposed it. Other examples of bonding in Napa County have resulted in taxpayers paying more in the long run to cover interest, he said.
The other major proposal is to allow some Measure T money to be used for new road projects, such as improving Highway 29 in American Canyon, completing the Napa Valley Vine Trail and creating an interchange at Highway 29/Highway 12/Airport Boulevard.
Measure T money could give Napa County a boost when competing for state and federal grants, the report said. It could provide a local match and help get projects ready to build by paying for environmental studies and design work.
Gray said that, if transportation leaders want a tax for new road projects, they should create a new ballot measure separate from Measure T.
Still another proposed change is to raise the amount of tax measure money allowed for administrative oversight from 1% to 2%. Allowing bonding and capital projects would warrant the additional oversight money, an NVTA report said.
Leon Brauning of the Taxpayers Association said by email that the association worked with transportation leaders on Measure T in 2012. He criticized the idea of changing Measure T to allow bonding and to double administration costs.
"These are things that would have caused the original Measure T to fail at the polls, and we at the Napa County Taxpayers Association still object to them and will fight against the loss of the existing Measure T and any other new tax that contains these provisions," Brauning said.
Measure T passed in 2012 with about 74% of the vote. It needed two-thirds, or roughly 66.6%, to win. It took effect in 2018, replacing the half-cent flood control sales tax that expired at the same time.
An April report on Measure T looked at the spending so far. The tax in 2019 and 2020 raised about $38 million. More than 22 miles of roads and 23,600 linear feet of sidewalk had been repaired and 238 curb ramps installed or replaced.
Among the projects, the city of Napa repaired part of Trower Avenue, American Canyon repaired Chaucer Lane and Kensington Way and Napa County did storm repair work on Mount Veeder Road.
The NVTA retreat on Measure T will be from 10 a.m. to 2 p.m. Monday at the Westin Verasa Napa, 1314 McKinstry St. in the city of Napa.