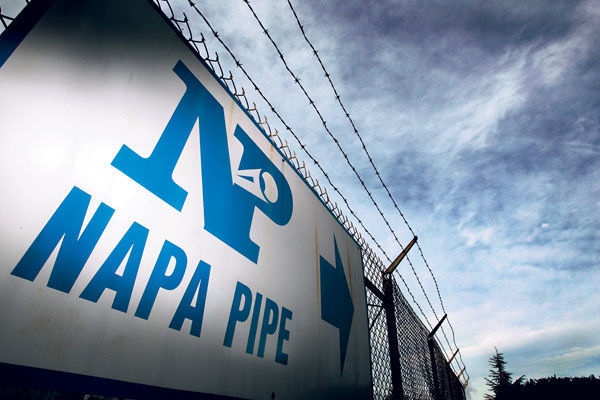 Napa County is lending $750,000 to jump-start the building of 84 affordable housing units at Napa Pipe, with construction of the multi-million dollar project possibly starting in 2021.
The county has used its affordable housing funds derived largely from developer fees to help with other projects, such as the recent, 49-unit Stoddard West apartments in the city of Napa. The Napa Pipe project is to take things to another level.
"It's one of the bigger developments we've done in recent history," county Housing and Homeless Services Director Molly Rattigan said.
Cost of the 84-unit project is uncertain, with one estimate at $49 million. That $750,000 loan will allow the nonprofit group MidPen Housing to do initial architectural, engineering and other work so it can refine the estimate and seek more money.
"State funds are very difficult to obtain unless you do the pre-planning work," Rattigan said. "And the pre-planning work requires a local commitment."
The former Napa Pipe industrial area near Napa Valley Commons along the Napa River in the city of Napa is to have a Costco, businesses, parks and up to 945 homes. Housing is to include market rate units and 142 affordable units that will come in two phases.
MidPen Housing in partnership with Napa Valley Community Housing will develop the 84-unit first phase of affordable housing, which will also have a manager's unit. A three-story building is to have a mix of one-bedroom, two-bedroom and three-bedroom apartments.
Depending on how things go, the first phase could open in late 2022 or in 2023, Rattigan said.
The project is to serve people making 30 percent to 60 percent of the area's median income. The median income is about $100,000 for a family of four, she said.
Rents will be based on the family's income and size and the unit size. Rattigan noted that the recent Stoddard West project has monthly rents of $400 to $900.
Rattigan on Jan. 23 gave a presentation on the housing project to the Napa County Housing Commission. She noted the long history of Napa Pipe, with the county and city of Napa going through protracted negotiations about what should happen on the site.
"In some ways, it is difficult for me to believe we are here after a decade of talking about Napa Pipe," she said.
The Housing Commission endorsed the project. However, commissioners expressed concern that architecture and engineering costs in the project budget were listed at $1.4 million, or $16,500 per unit.
"It's the cost of doing business," said Ali Gaylord of MidPen Housing told them.
Commissioners didn't criticize MidPen. Still, they said they'd like evidence that this is the lowest and best bid that MidPen can secure.
"It's kind of a heads-up to everybody that's involved that these numbers, it's just getting out of hand in my mind," Commission chairperson Chris Gustin said.
MidPen will seek at least three bids for each of the trades to find the best price possible, a county report stated.
The Housing Commission by a 4-0 vote recommended the Board of Supervisors approve the loan. On Feb. 11, the Board of Supervisors did just that.
MidPen Housing over 45 years has developed more than 100 communities and 8,500 homes in 11 regional counties. That includes Vineyard Crossings in American Canyon.
Get local news delivered to your inbox!
Subscribe to our Daily Headlines newsletter.