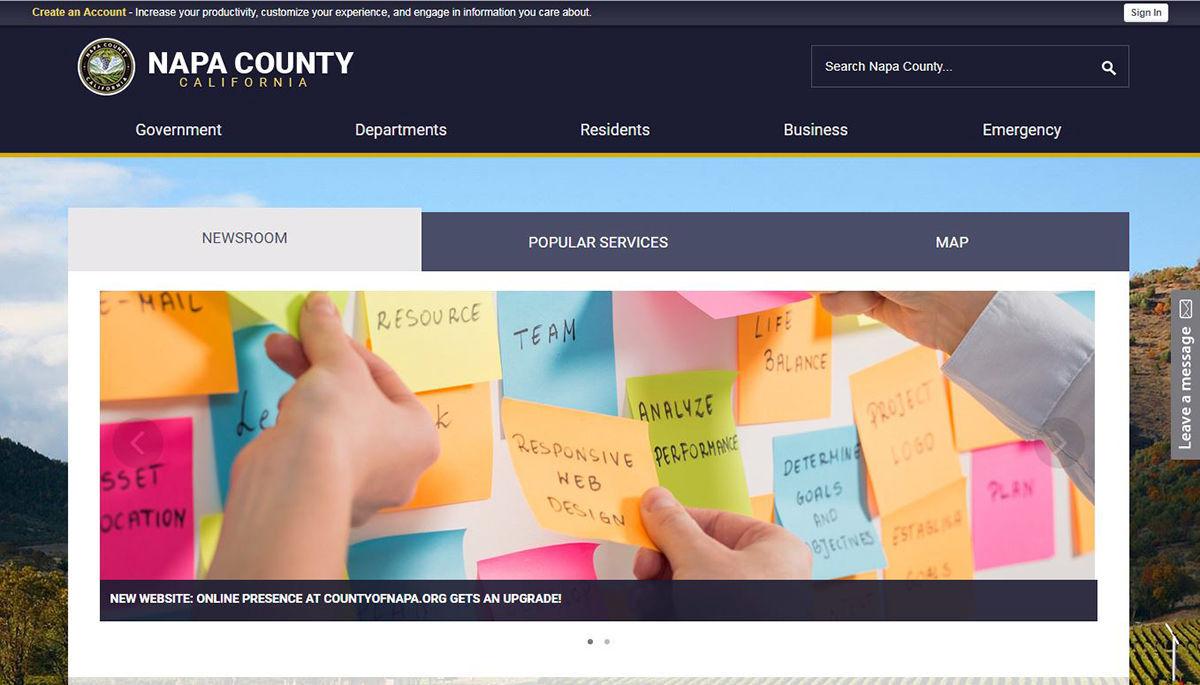 Napa County finally has the website look it's been seeking for years, one designed to have less bureaucratic clunkiness and more private sector-like simplicity.
The county last week unveiled what amounts to its new portal to the world. And if users find a site that doesn't shout "Government!" by its very appearance, the county will have achieved its goal.
County webmaster Meg Ragan said the private sector, not government, is setting the standards in how people are trained to navigate the web. The county is adapting to the consumer.
"We really wanted to look at how people are being wired to communicate in all these different avenues of our lives," she said.
The government wonk can still go to the county website and wallow in details and data. But Ragan hopes the citizens who know little about the county and its services will also find the website inviting.
Napa County's new website has a cleaner, less cluttered, perhaps less intimidating look. The design adjusts automatically to mobile devices such as smartphones and tablets.
People who have no clue which of the county's 18 departments does what can click the "Popular Services" bar. They will find icons for medical, food or cash assistance, marriage licenses and services, home buyers assistance, business licenses and other resources.
The idea is that not everyone knows that marriage licenses are handled by the Recorder/County Clerk or homebuyer's assistance by the County Executive Office. The icons are supposed to provide direct routes to county services that avoid the many county government departmental silos.
Citizens can sign up for an array of county government alerts. There's the popular Nixle alert for emergencies and road work, of course. But that's just the beginning, with more than 80 alert possibilities overall, enough to provide a steady stream of emails or phone pings throughout the week.
Some people might want an electronic heads-up for library events, others for Resource Family Approval Training classes, others for Board of Supervisors meetings, still others for the Health and Human Services Agency Free Friday Market. They can sign up for as many or as few alerts as they desire.
County supervisors at their Dec. 28 meeting praised the new website.
"Telling our story," Supervisor Alfredo Pedroza said.
"I'm really excited to have this," Supervisor Diane Dillon said. "I've just really wanted this for a long time."
Napa County launched its website in 1995 and had about four million page views last year. The framework of the previous version dated to 2007, though the website had updates in its appearance.
"You can only update so far on older technology," Ragan said. "We were limited to how far we could take it."
On Dec. 6, 2016, the Board of Supervisors approved a four-year, $197,250 contract with CivicPlus for its cloud-based management system and hosting services. The Kansas-based company works with 2,500 government agencies on their websites.
The city of Napa has also contracted with CivicPlus to redesign the city website. The new county website and yet-to-debut, new city website will look different, but the functionality and click patterns will be the same, county Library Director Danis Kreimeier told supervisors.
"People will know how to navigate through similar government sites," she said.
Ragan said the new county website has the potential to do even more. She called the current version a foundation to build on. For example, the county can add to its online permitting options.
"It will take time, because it's the businesses processes that now need to be revamped," she said.
Get local news delivered to your inbox!
Subscribe to our Daily Headlines newsletter.