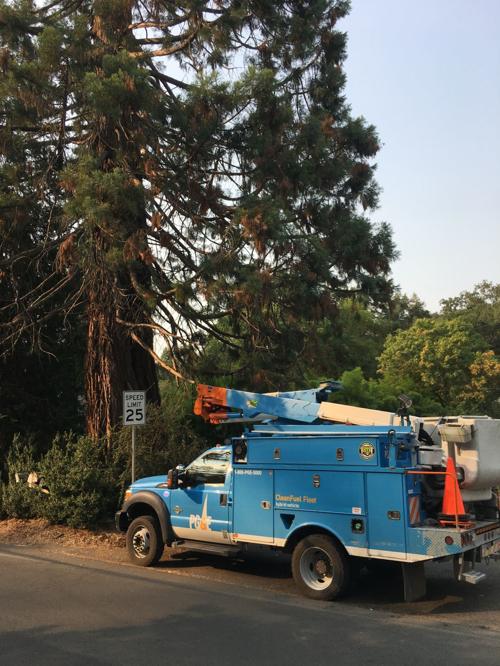 Napa County has a message for all of those who when disaster hits and the lights go out fumble around in the dark for flashlight batteries – be prepared.
Be prepared for a wildfire evacuation, possible multi-day PG&E public safety power shutoff during high fire-danger weather, an earthquake or whatever. Don't depend on the government to quickly come to the rescue.
The county will try to drive the message home during its community open house and emergency preparedness fair. The event is from 4 to 7 p.m. June 4 at the county administration building, 1195 Third St. in Napa.
"Quite honestly, we've done a poor job of educating our public," Sheriff John Robertson told the county Board of Supervisors on May 21. "Not just us, but across the country."
The emergency preparedness fair is part of an effort to change this dynamic. People attending can learn about emergency planning, evacuation routes and emergency kits. They can sign up for county Nixle alerts, if they haven't already been to www.nixle.com to do so.
"It is time to present to the community the tools so they can prepare for the next thing, whether it's a pandemic flu or whether it's an earthquake, a fire, a flood – who knows what it's going to be," Robertson said.
Robertson and other emergency officials updated the Board of Supervisors on the county's emergency preparedness efforts.
PG&E's recent announcements about possible public power safety shutdowns add a new wrinkle to this year's wildfire season. The utility is telling all of its 5 million-plus customers in the state to be ready for multi-day shutdowns during extreme weather to avoid having falling power lines spark fires.
"That would mean our entire county could go down," county Risk and Emergency Services Manager Kerry John Whitney said.
The program in 2018 covered only power lines in the tier three areas that California Public Utilities Commission considers at extreme risk for wildfires. Calistoga last October had power cut for several days. That city is near tier three areas.
This year, the program has been expanded to include transmission and distribution lines in tier two "elevated" fire threat areas. Although south county cities are in tier one areas that are not considered at elevated wildfire risk, they are near tier two areas.
A PG&E report shows transmissions systems serving Napa Valley from St. Helena southward. The systems operate independently of each other.
A set of 115 kilovolt lines crosses the tier three Mayacamas mountains near St. Helena and run south along the eastern valley to Napa, then heads west to Sonoma. It serves 60 percent of the customers in the area, the report said.
You have free articles remaining.
Sixty kilovolt lines run from Fairfield-Suisun in Solano County over tier two hills to Napa to serve the remaining customers. They connect to substations on Burnell Street in Napa and other locations to reduce voltage for delivery to customers.
Local officials aren't making any predictions on the likelihood of a south county shutoff. Rather, Whitney urged people to make certain PG&E has their cell phone numbers so they can receive alerts from the utility. Go to https://bit.ly/2M6qfGs to update PG&E contact information.
"Some may say, 'Oh, they have it, I get my bills,'" Board of Supervisors Chair Ryan Gregory said. "But there's a good chance they don't have your cell phone."
PG&E is holding a wildfire safety open house from 6 to 8 p.m. June 26. It will be at the Embassy Suites Napa Valley Chardonnay ballroom, 1075 California Blvd. in Napa.
Whitney said one challenge is making certain the medically fragile who rely on electricity are warned of pending power shutdowns. The medically fragile range from people on ventilators to those who need refrigerated medicines.
PG&E officials say they will go and knock on doors of the medically fragile, if need be. But Whitney said the utility's list is culled from customers receiving medical-related discounted rates and might total about 200 people. The county knows of 2,000 people who might be at risk.
"In effect, PG&E's not owning this piece, they're owning their less than 200 residents that they've identified as medically fragile," Whitney said. "We've got individuals who are exceeding that number."
County Public Health is creating a plan for outreach to vulnerable clients to help them prepare for a public safety power shutoff, he said. The county will push out information on pending shutoffs to them after being alerted by PG&E.
Supervisors heard emergency preparedness ideas from the public.
Kellie Anderson lives in Angwin, a rural community of about 3,000 people in the mountains east of St. Helena. She said that, if the town had to evacuate during 4:30 p.m. rush hour, all of these people would need to travel congested Highway 29 and Silverado Trail.
"Twenty-nine and Silverado Trail are functionally gridlocked all the way from Deer Park Road to Napa," Anderson said.
Resident Eve Kahn had a suggestion based on evacuations on the East Coast for hurricanes. Napa County during such an evacuation could make all the lanes on Silverado Trail or Highway 29 head south so people can escape.
"Just a thought," Kahn told supervisors. "It works in other areas of the country."
Napa County has had eight federally-declared disasters since August 2014 – the Aug. 24, 2014 West Napa earthquake, the September 2015 Lake County fire shelter response in Calistoga, the Jan. 3-12 storms of 2017, the Jan. 18-23 storms of 2017, the Feb. 1-23 storms of 2017, the October 2017 fires and two sets of storms this year, a county report said.
"The silver lining in all of this is for every disaster, we're way more prepared and ready for the next one," Gregory said, while adding how unfortunate the disaster streak has been.