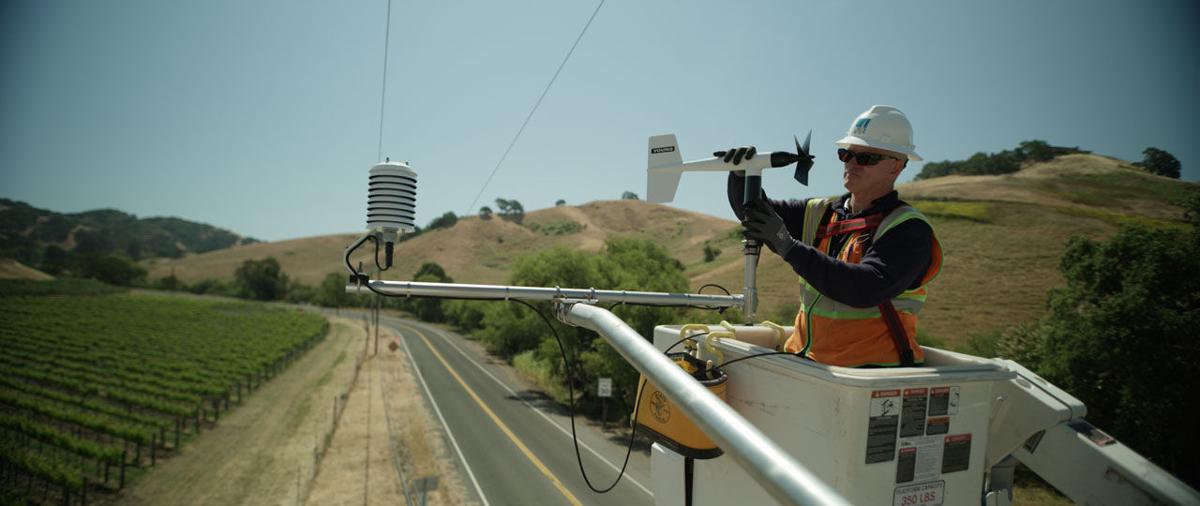 Napa County wants PG&E to improve wildfire prevention policies, among them how it handles public safety power shutoffs that could leave cities and rural areas without electricity for days.
A key county request is that PG&E provide real-time, in-depth information to local emergency managers on potential and active public safety power shutoffs. The county also wants a voice so PG&E isn't simply crafting and imposing plans.
The county is working with Sonoma and Mendocino counties and Santa Rosa to improve PG&E's performance. Local jurisdictions are represented by attorney Megan Somogyi, who on Tuesday updated the Napa County Board of Supervisors.
Somogyi described areas of progress, as well as areas where the county sees room for improvement.
"The story you tell is PG&E is a long way from accomplishing everything that we feel they need to accomplish," Supervisor Brad Wagenknecht said after the presentation.
Napa County in October 2017 experienced the Atlas, Partrick/Nuns and Tubbs wildfires that destroyed more than 600 local homes. Cal Fire later concluded PG&E lines ignited the Atlas and Partrick fires on a hot, windy night.
One response from PG&E to these and other destructive, power line-sparked state wildfires is to de-energize lines during high-risk fire weather. Locally, Calistoga had a public safety power shutoff on Oct. 15, 2018. The Lake Berryessa area had one on June 8.
The Public Utilities Commission this year adopted guidelines on how utilities should handle public safety power shutoffs that might leave thousands of residents and businesses in the dark for days. PG&E recently submitted a progress report to the commission.
"PG&E is working diligently to limit the number of customers potentially affected by a (power shutdown) and to share the information we use in decision-making with our public safety partners and communities," the progress report stated.
Somogyi told supervisors that the report paints "a much rosier picture" than what county officials have seen firsthand.
PG&E said in the progress report it understands the impacts a shutdown can have on residents, their families and businesses, including the use of medical equipment and refrigeration. It understands that shutdowns affect first responders and communication systems.
"We will only consider proactively turning off power when the benefits of de-energization outweigh potential public safety risks," the progress report stated.
Napa County wants PG&E to share more information on how it decides to shut down the power for an area.
"PG&E has not to date provided satisfactory weather and fire threats information or its modeling results," Somogyi said. "We have provided written feedback to the Public Utilities Commission about our disappointment with PG&E's sort of watered-down proposal."
Napa County is having direct discussions with PG&E on how to get the information that it needs, she said.
The county at the Napa Valley Register's request released a July 8 letter it sent to the Public Utilities Commission about the June 8 Lake Berryessa blackout, which affected more than 1,000 rural customers.
County officials said they saw PG&E's weather forecasting and fire-risk indices only after the fact. The letter by Somogyi said it's unclear whether PG&E's decision to cut the power was justified.
PG&E cited wind gusts of 30 mph to 40 mph in parts of the Sacramento Valley on the morning of June 8, short of the 45 mph that is the general trigger for the shutoffs. Also, the county wasn't certain PG&E fully analyzed fuel moisture, the letter said.
On June 7, county officials asked PG&E if it would reverse its decision to cut power on June 8 if the weather changed overnight. PG&E officials said the shutoff would happen regardless, the letter said.
"This response is troubling to the county," the letter said. "Combined with the lack of transparency into PG&E's internal situational awareness information and lack of clarity regarding its decision-making criteria, this raises questions about PG&E's (de-energization) decision-making process."
PG&E in its progress report mentions establishing community resource centers during public safety power shutoffs that would be oases of electricity. People could go to these air conditioned spaces to charge phones, laptops and medical equipment.
Napa County sees flaws in PG&E's community resource center proposals.
Somogyi told supervisors PG&E intends to set up community resource centers only under certain conditions. More than a couple thousand customers might have to be without power, though there is no trigger. Also, PG&E's third party vendors must have the resources available on the day of the outage.
"We have let PG&E know we think this is completely unacceptable," Somogyi said, adding opening community resource centers whenever there is a public safety power shutoff is common sense.
PG&E didn't provide community resource centers during the June 8 Lake Berryessa shutdown. Instead, Napa County established centers at the Capell Valley and Gordon Valley fire stations.
"A short de-energization can still pose a threat to the health and safety of the community's residents; PG&E should provide resources to support the community if the utility decides to de-energize," the county's July 8 letter said.
PG&E during the June 8 Lake Berryessa shutoff held twice-daily conference calls for state and local agencies. But, the county letter to the Public Utilities Commission said, the calls were not as informative as they were intended to be.
Calls were scheduled for 12:30 p.m. and 8 p.m. on June 8. That meant that after PG&E shut off the power at 6:18 a.m., county officials couldn't speak with PG&E's emergency operations center for over six hours, the letter stated.
"PG&E must schedule future conference calls with its (operations center) at times that allow local governments and first responders to obtain useful information in a timely manner; flexibility is important," the letter stated.
Calls were limited to 30 minutes, regardless of whether participants still had questions. Some participants didn't have the chance to ask questions, the letter stated.
Finally, the conference call equipment needs upgrading. Significant background noise made it challenging to hear, the letter said.
Somogyi told supervisors that the county is working with PG&E to address these types of issues.
"They have acknowledged they are not meeting our needs and are making at this point a good-faith effort to try to remedy that situation, Somogyi said. "Time will tell whether they're equal to the challenge."
Somogyi said the Public Utilities Commission during initial hearings on de-energization adopted many of Napa County's recommendations.
Among them are requiring PG&E to coordinate and communicate with local governments on virtually all aspects of public safety power shutoff planning and preparedness. The utility had to create a web portal outage maps, facility information and other information.
"That utility has not wanted to do any of that. The commission saw it otherwise. That is an extraordinary result at the Public Utilities Commission. It's very unusual for a non-utility party to achieve this level of credibility," Somogyi said.
For Napa County, the issue now is making certain PG&E follows the procedures to the county's satisfaction.
Napa County in December 2018 entered into an agreement with Goodin, MacBride, Squeri & Day of San Francisco to represent the county on PG&E-related issues before the Public Utilities Commission. The cost of the agreement as of June 9 was $200,000. Somogyi is with the firm.
As part of the cost, the law firm will also track two PG&E projects: a 30-mile natural gas pipeline along Highway 29 and improvements to the Fulton-Calistoga transmission line.
Get local news delivered to your inbox!
Subscribe to our Daily Headlines newsletter.