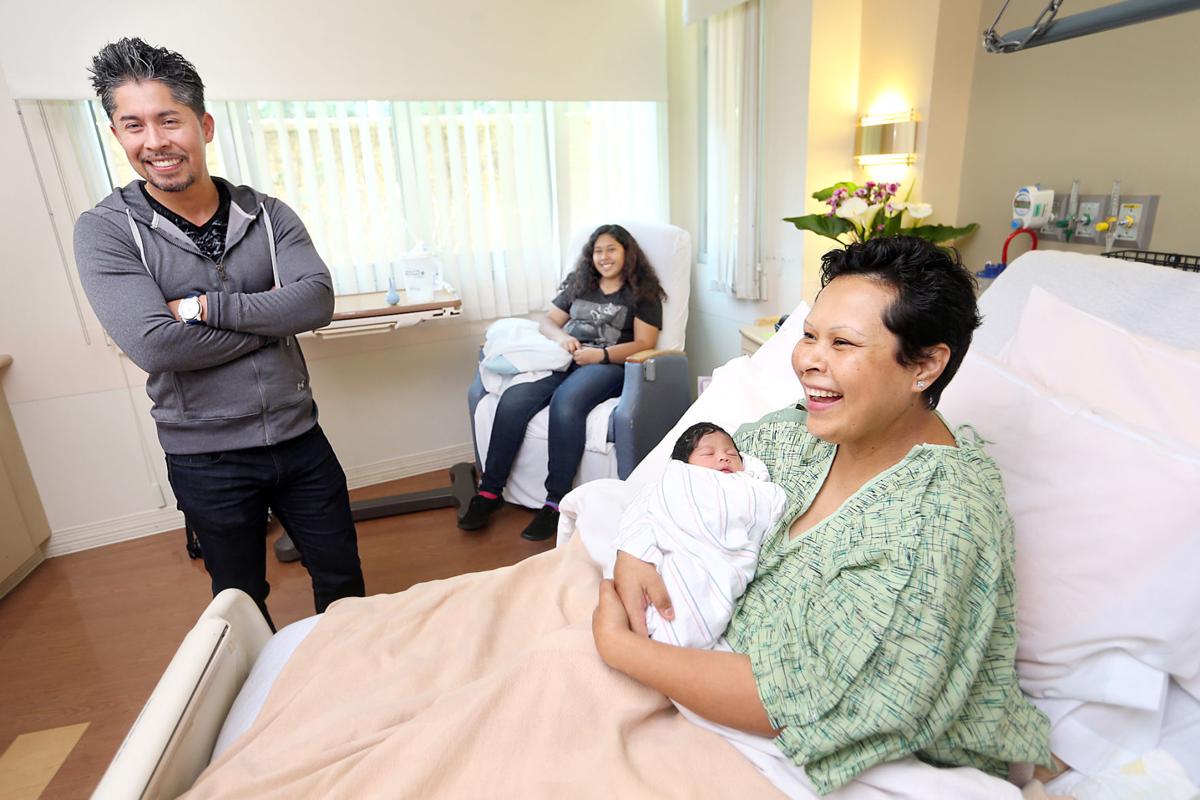 Elisa Aurora Olivera Navarrete came into the world on Monday, but it will be four years before her family can celebrate the exact day of her birth.
The newest daughter of a Napa couple was one of three babies reported to be born in local hospitals on Feb. 29, a day occurring only in leap years. For her parents, Dulce Navarrete and Miguel Olivera, Elisa's arrival was a happy accident both of the calendar and timing.
"No, it was not planned!" the 40-year-old Olivera said with a laugh as his family gathered Tuesday in a maternity suite at Queen of the Valley Medical Center, where the 6-pound, 9-ounce Elisa – the couple's third child – was born by cesarean section at 8:26 a.m. the day before.
Not only was Navarrete, 38, not due for another week, the baby was her first in five years, conceived shortly after Navarrete and Olivera married 13 years into their relationship.
Barely 27 hours into Elisa's life, her father already was speculating lightheartedly about how to celebrate his daughter's mileposts to come. Feb. 29 would show up on the calendar for her Sweet 16 in 2032, but when would she celebrate her quinceañera the year before, when her 15th birthday would be caught in limbo?
Navarrete, holding her bundled, dark-haired newborn in her bed, took the conundrum in stride.
"Actually it's normal to me," she said with her eldest daughter Victoria, 13, translating. (The couple also has a 5-year-old son, Emiliano.) "It won't change the fact that she's getting older; every (non-leap) year we'll celebrate her birthday the day after or the day before."
Elisa's birth was the second at Queen of the Valley on the leap day. Later Monday, at 11:03 p.m., a 6-pound 10-ounce girl, Marielle Frias, was born to another Napa couple, Michelle Lane and Fernando Frias, according to hospital spokeswoman Christina Harris.
A third "leaper" arrived Upvalley, where a 7-pound, 9-ounce boy, Jacob Perez, was born at St. Helena Hospital to Araceli Morales and Carlos Perez, according to spokeswoman Jill Kinney.
No official figures exist for the number of "leaper" in the population, but the Honor Society of Leap Year Day Babies has estimated that 200,000 Americans, and 5 million people worldwide, have birthdays on Feb. 29. American births totaled 3,988,076 in 2014 for an average of 10,926 babies daily, according to figures from the U.S. Centers for Disease Control and Prevention.
Get local news delivered to your inbox!
Subscribe to our Daily Headlines newsletter.