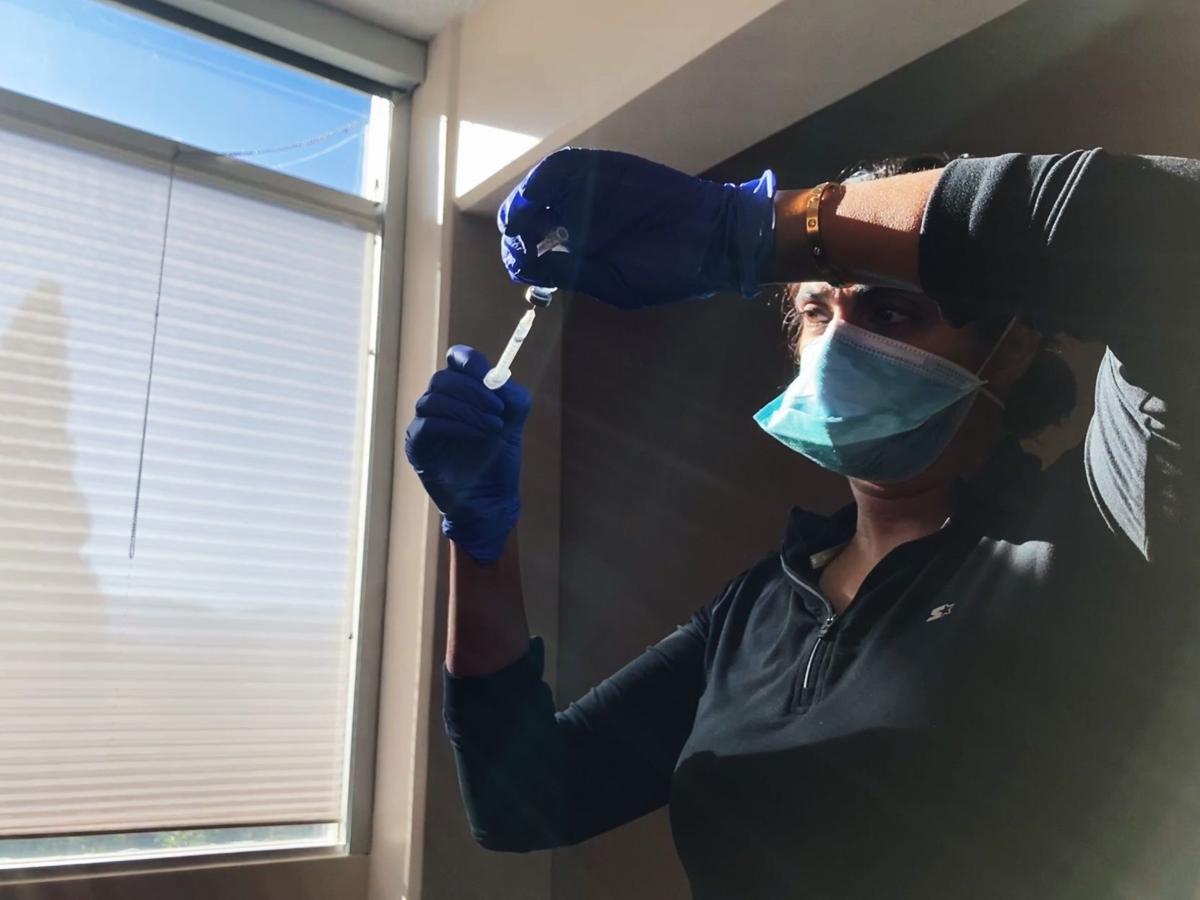 Unusual clusters of coronavirus cases among already-vaccinated residents and patients at the Yountville Veterans Home and Napa State Hospital were the result of a West Coast variant of COVID-19, state and county officials confirmed in a joint statement this week.
At least 49 cases were discovered among residents, patients and staff of the two facilities through the end of March, Napa County Public Health Officer Karen Relucio told the Register in an interview earlier this month. Though some of the staff members at each facility have chosen to remain unvaccinated, all of the infected residents and patients in question had previously been vaccinated, she said.
After a second round of testing following the initial positive results, just five of the 49 individuals again tested positive, Relucio said. But additional, recently completed testing by the California Department of Public Health (CPDH) has "detected viral presence" in all of the original samples given by infected individuals except for three, according to the joint statement CPDH released with Napa County Monday.
CDPH used whole-genome sequencing, a more thorough method of detecting the presence of the coronavirus, to confirm the initial test results, Relucio said.
"In all but two cases, the viral levels were extremely low. The sequencing confirmed that all the samples were strains of the West Coast variant," the statement read.
Support local news coverage and the people who report it by subscribing to the Napa Valley Register.
Breakthrough cases — a phenomenon in which vaccinated people become infected with the coronavirus — are unusual, according to County Public Information Officer Janet Upton, but more common with variants of COVID-19.
The particular strain of the West Coast variant that seems to have prompted the positive cases at the Veterans Home and at Napa State is B.1.429, Relucio said in an interview Monday, a variant that was previously known to public health officials in California and is thought to have been partially responsible for the state's third wave of cases in early 2021.
B.1.429 is thought to be about 20% more transmissible than conventional strains of COVID-19, according to the Los Angeles Times. Experts have hypothesized that the presence of the West Coast variant in California may be staving off a potential fourth wave caused by the U.K. variant like the one now raging in the Midwest, which is thought to be even more transmissible and cause more severe disease, according to the Los Angeles Times.)
What's especially encouraging, Relucio said, is that none of the vaccinated individuals were symptomatic, meaning the vaccine likely reduced the disease's potential severity. Among the positive vaccinated individuals, there is also no proof of "secondary transmission," she said: the levels of virus in their systems were so low that they do not appear to have spread the disease to others.
"For example, one of the cases lives in independent living with his wife," Relucio said. "You'd have thought since they are close contacts that she would have tested positive … but (she) did not."
CDPH and Napa County in the joint statement said it was "likely" that the infected individuals "were not infectious and transmitting to others due to the low viral load," but noted this could not be confirmed with absolute certainty.
Relucio said it was impossible to say how the vaccinated residents and patients had been infected with COVID-19, but said it was plausible that an unvaccinated person had spread it to them. The residents and patients do not appear to have given it to each other, Relucio said, as not all of them live in the same locations on the respective campuses of the facilities in Yountville and Napa and "might not have even been epidemiologically linked."
Out of an abundance of caution, positive staff, residents and patients were quarantined for 10 days, Relucio said. Muted presence of coronavirus variants in already-vaccinated people is a phenomenon that will be increasingly studied as vaccinations progress, Relucio said, and she believes eventually there will be new guidance from the Centers for Disease Control and Prevention (CDC) as to whether infected vaccinated people should quarantine or not.
Vaccinations in Napa County appear to be having a real impact on hospitalizations and death rates, Relucio said: those metrics have gone down, and the county has plenty of space in its ICUs. The county's ultimate goal is herd immunity, according to spokesperson Upton — meaning around 75% of the general population needs to receive a vaccine.
"Until then, there's still risk of transmission," Relucio said. "I think we are going to see that as more people are vaccinated, we might see more cases, but it won't translate into more hospitalizations. That means you can have an outbreak, but you won't have to close businesses because of it."
Napa County is expected to remain in the orange tier even with the cluster of recent cases thanks to an update in state guidance made at the beginning of this month, Relucio said. California's counties will "only move up to a more restrictive tier if hospitalizations are increasing significantly among vulnerable individuals, especially among vaccinated individuals," or if test rates trend upward at a concerning rate, the new guidance says. That has so far not been the case in Napa County, Relucio confirmed.